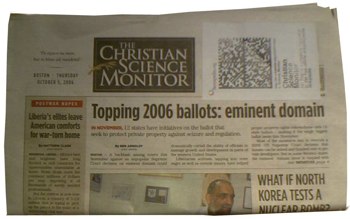 While scanning my network this morning, looking for something I didn't know yesterday, I ran across this very important piece of news, from The New York Times.
After a century of continuous publication, The Christian Science Monitor will abandon its weekday print edition and appear online only, its publisher announced Tuesday. The cost-cutting measure makes The Monitor the first national newspaper to largely give up on print. ((Clifford. Stephanie. "Christian Science Paper to End Daily Print Edition," The New York Times 28 Oct 2008. 29 Oct 2008. <http://www.nytimes.com/2008/10/29/business/media/29paper.html> ))

The CSM will go online-only in April of 2009, introducing a new weekend magazine. The newspaper's editor, John Yemma, said that focusing on the Web would enable it to continue news collection through its eight foreign bureaus.
In an industry that has been conducting layoffs, closing bureaus and shrinking the size of the product, The Monitor's experiment will be closely tracked.
I guess we're all watching to see if this is a trend — or if the trend has already begun. What do we do when virtually all of the information we need on a daily basis is available as digital content over the networks — and exclusively digital and networked.
Essentially, anyone without the technologies for accessing the Internet, and the skills to use that technology, may as well not know how to read. We've decided as a nation that all children should learn to read. For the same reason, it is crucial that every child and family should have convenient access to the Internet.
The NYT article adds,
The Monitor is an anomaly in journalism, a nonprofit financed by a church and delivered through the mail. But with seven Pulitzer Prizes and a reputation for thoughtful writing and strong international coverage, it long maintained an outsize influence in the publishing world…
Of even more importance to our evolving definitions of literacy is the practice among cash-strapped news agencies to buy news coverage and stories from the corporate world. How will we filter out possible biases, when news stories are being produced by Exxon or Haliburton. Does Haliburton have an interest in expanding our notions of literacy.
Powered by ScribeFire.