I had a great day, yesterday, introducing educators in Gaston County to Web 2.0 and blogging. Today I'll be doing sessions on podcasting and a "Telling the New Story" presentation.
During the sessions yesterday, I introduced the audiences to Hitchhikr, as a loose example of a mash-up site. One of the teachers asked an interesting (and obvious) question. "Won't people choose not to attend the conference, if they can visit the event through other people's blogs and pictures?"
Of course, I do not know the answer to this question. But I suspect not. In fact, I suspect that the opposite may be true. EduBlogging found some traction during last year's NECC conference in Philadelphia. I know that I wasn't the only blogger to receive thank you comments and e-mails from educators who were not able to attend the conference, but who followed it through my bloggings and podcasts.
But intermixed with the digital exhaust of the NECC blogs were an almost equal number of blog entries for a little known conference down in Memphis, Tennessee, the Laptop Institute. Because of the nature of the conference, and the sophistication of its attendees, an astonishing number of them blogged the event. Of course their blogs sparked more conversation, and it became something of a buzz.
Certainly we can't be sure if blogging was the reason, but this year their enrollment has nearly doubled. In fact, they have had to close registration and even the waiting list, because they want to be sure to provide a quality experience for all attendees.
It is logical to me, that the blogging served as an advertisement. But it was an honest and authentic advertisement that came from customers. All kinds of interesting implications here.
Technorati Tags: education, hitchhikr, laptopinst, laptopinst06, necc06, warlick
I'll be teaching a 2 1/2 hour workshop today on blogging for educators in Gaston County North Carolina (where I grew up).  In preparation, I have tried to address a question, or a series of questions, that I have sensed more than actually heard in my blogging workshops.  Most of the time in these workshops is spent explaining what blogging is, why it is important culturally and instructionally, it strengths, weaknesses, dangers, and the wonderful opportunities.  We just haven't gotten around the assessment, especially in terms of the ethical aspects of a world with everyday, everybody journalists.
So I will be suggesting five questions that will be asked, not by the teacher, but by the student, as a way to assess blogged content.  I call the questions "Blog'Whats?":
- What did you read in order to write this blog entry?
- What do you think is important about your blog entry?
- What are both sides of your issue?
- What do you want your readers to know, believe, or do?
- What else do you need to say?
These questions assume that blogging is seen as a practice of literacy, accessing, processing, and communicating information.  They also serve to help the writer to focus on the broader aspects of the issues being written about, exploring all sides and perspectives, and even exploring the next phase of the communication.
I think that these same questions, reworded only slightly, can also be used to examine and evaluate the blog writings of others, other classmates, and other blog content being used for learning.  Those questions would be:
- What did the blogger read before writing?
- What was important about the blog entry?
- What were both sides of the issue?
- What do you know, believe, or want to do after reading the blog?
- What else needs to be said?
Please suggest other questions, or other ways to assess blog work?
I just made some code changes in Hitchhikr that I think will make it a little more useful. When a user adds a conference, they suggest one or more tags as suggested tags for bloggers and photobloggers. Before, a visitor to Hitchhikr could see blogs and photos for the one tag that was identified as the primary tag. The visitor could then click other suggested tags to see entries for them, but entries only for one tag at a time.
Now, when the visitor initially selects the conference, they see blog entries tagged with ANY of the initially suggested tags. They can still drill down to individual tags by clicking them, but you can now view blogs for all suggested tags.
This feature does not yet work for the photos, because of limitations in the API. But I'm working on it. It's time now to prepare for today's workshops at the Gaston County Schools Teaching & Learning Conference.
But, before I do that, the top viewed conference right now are:
NECC — next week in San Diego
ALA 2006 — just finished in New Orleans
EduBlogs06 — next week in Spain
TIE 2006 — last week in Colrado
BLC06 — middle of next month in Boston
Technorati Tags: gcstlc, hitchhikr, necc06, necc06prep, warlick
I'm home for a few hours. Because of weather issues on the east coast, I didn't land in Raleigh this morning until 5:00 AM. Most of the day has been spent going through e-mail, making a quick browse of my aggregators, and registering the rising excitement and energy around next week's NECC.
I also scan a few pages of this month's WIRED magazine during a brief break, and ran across an interesting story about how some of the writings of Archimedes were found in 1906, when John Ludwig Heiberg found some of the Archimedes' treatises in a medieval prayer book. The work has been unbound in 1229, and erased to be used in the prayer book, as paper was expensive back then.
Using the Stanford Linear Accelerator, scientists are producing x-rays capable of reflecting themselves from the iron atoms of the original ink. The researchers are able to construct a 600 dpi image of the text.
WEÂ Â Â Â CANÂ Â Â Â SEEÂ Â Â Â  SOÂ Â Â Â MUCHÂ Â Â Â TODAY!
Teaching and learning in this day and time should be incredibly exciting.
---
Tweney, Dylan. "Blast to the Past." WIRED Magazine Jul 2006: 30.
Photo from: Woods, Heather Rock. "Archimedes Manuscript Yields Secrets Under X-Ray Gaze." Interation Point. 20 May 2005. Stanford University. 28 Jun 2006 <http://www2.slac.stanford.edu/tip/2005/may20/archimedes.htm>.
Technorati Tags: education, history, necc, necc06, science, warlick
Provocative level (on a scale of 1 to 10): 9.7

It's 4:00 in the morning and I should be preparing for my presentations today, here in the beautiful Farmington, Connecticut. But it wasn't today's topics that woke me. It was and issue that has been a frequent irritant in my mind, one that I have mentioned out loud to only a few people and only during certain conversations.
You see, there is a part of me that wants to believe in the competence and wisdom of my government, that its intentions are for the common good of all people. Yet it continues to nag at me why writing was left out — conspicuously left out — of the No Child Left Behind (NCLB) legislation. Our nervousness about blogging in the classroom has brought this issue back to the forefront of my thinking, and I simply have to scratch this itch.
There are three Rs in our traditional notions of the basic skills, Reading, wRiting, and aRithmetic. Yet NCLB made almost no mention of writing, as a basic skill, as it emphasized, at the expense of all other disciplines, reading and math, and most recently science. Writing seems less important.
The pragmatic part of me says that it was because writing is hard to assess. It's messy assessment. It's expensive and difficult to automate (bubble, bubble, bubble, bubble, bubble, bubble).
But there is a more cynical side of me that, quite frankly, seems to gain in justification nearly every day.
Reading is important. People can't follow directions without being able to read. Arithmetic is important, because we need to be able to work our stuff. And since our stuff is described primarily with numbers, we need to be able to work the math to add value to our stuff, and make money.
Robot
Writing, however, is mostly a civil skill, and empowering people with the ability to compellingly express their ideas seems to make us nervous. There's a lot about it that makes me nervous. It's why I keep hammering at teaching critical thinking skills and insisting that information ethics be an explicit part of our definition of literacy. But could it be that we are afraid of a population that can express itself.
Please convince me that I am wrong, that education is about more than just making robots.
2¢ Worth…
Technorati Tags: education, literacy, nclb, puppy, warlick
I had a great time at ALA. The talk on Flat World, Flat Web, Flat School went very well, extraordinarily well for a first time presentation. A number of people talked extensively about the presentation afterward, and I got to meet one of my blogging heros, Shifted Librarian, Jenny Levene (her blogged notes). She suggested a different blogging tag for the conference, ALA2006, rather than ALA06, and it revealed a bunch of new blog entries and flickr photos from the conference on Hitchhikr. I really need to figure out a way for the aggregators to handle more than one tag at a time.
Last night, I had dinner with the Rosen Publishing folks and their board of advisors, mostly library people from the university and state library level, and Linda Williams, the current president of the AASL. This was an adventure.
It started when I walked up to the address that had been given to me, and it turned out to be a doorway, with a grated fence, that was padlocked, and the padlock looked like it hadn't been opened in nearly a century. Through the doorway, I saw a walk way that meandered back, but was obstructed by fallen debris that rested under layers of dust and gunk. I was obviously in the wrong place, though the address was write. I called Miriam Gilbert, with Rosen, and she directed me over to the French Quarter hotel that they were staying in, where I waited in a very elegant lobby, see pictures.
Miriam investigated and learned that the room we were supposed to have dinner in was actually in the upstairs of the restaurant across the street, but that the air conditioning was not working in that room, so we would be eating in a different room, in the top floor of the building. We walked there, a couple of blocks, were led up a several flights of almost questionable stairs (this is New Orleans, and you're there for adventure), and into a beautiful dinner room with a long table, a bar, and waiters, waiting to serve. We stood around, talked, quenched our thirsts, waited for others to arrive, and it started to rain.
I said something about adventure before, didn't I? About ten minutes after it started to rain out side, it started to rain in side. First it was one leak, water running off of a rafter. Then there was another leak, and then another. We kept moving around in the room to avoid the water, until we were all bunched up against the an inner wall, unspoken concern beginning to express itself on our faces.
The head waiter came and said that they had secured, for us, another room on the floor below, and that they were moving the food down to our new room. Then he returned and said that there had been an altercation with the food, and that they would have the stairs cleaned up straight away. I think it was the pasta, though there was evidence of calamari involvement.
The rain had eased off, street sounds were returning, and the leaking was subsiding, though there were still a couple of small pond sized puddles on the floor. There was some concern about alligators, but I'm easing a little too much into the spirit of adventure here.
The head waiter arrived and directed us down to the next room where we had a separate bar that was actually an enclosed balcony, and we watched a parade, led by a dixieland band. Great fun.
Finally, we had food, fresh calamari, chicken (amazing how many ways you can fix chicken, pasta, and jamabalaya. Our meal was followed by a meeting, where we brainstormed on Rosen's new database service. This was great fun, with many creative ideas express from these very smart people. The meeting was followed by desert. I had chocolate cake. Some few of you know what this means to me, my relationship with chocolate and all.
Several of us got a cab to our hotels near the convention center, and I took the cab on out to the airport where I had a room waiting for me. I'm in the airport now, 5:17 AM, waiting for a flight to Atlanta, and then on to Connecticut, where I'll speak at a wonderful conference tomorrow, for the Connecticut Association of Independent Schools. I keynoted that conference last year, talking about new literacy. Tomorrow I'll talk about millennial students and also do a breakout session on combating plagiarism. Then it will be off to Wisconsin.
More Later!
Technorati Tags: ala, ala06, ala2006, rosen
This is my first Internet cafe. Just needed to get out of the sun and humidity. The proprietor is very friendly. People are certainly struggling here, too many Catch 22s. Most of the computers appear to be refurbished throwouts. I think I even see an Alien machine. The place is called the Bastille Internet Cafe. It's cool, and it's cool.More later.
Originally uploaded by David Warlick.


Technorati Tags: ala06 ala2006 warlick
Google Library Center
Did anybody know that there is a Google Librery Center? It's an inside scoop on using Google in the library. They also have printable posters. Everyone leaned in on that one. I've recorded the demo, so look for more in my podcast.
Originally uploaded by David Warlick.


Technorati Tags: ala06 ala2006 ala neworleans
I've just arrived at the ALA conference in New Orleans. Landing yesterday afternoon, I stayed in the hotel last night preparing for today's presentation on "Flat World, Flat Web, & Flat Schools." I've not done this presentation before, and am more than a little nervous. I'm sure it's going to be a very sophisticated audience, so I hope I don't flub up.
This conference is huge. I stepped into the exhibitor's area just before coming up to my session room, and happened to easily find Linworth Publishing, who published Redefining Literacy for the 21st Century. It was great to see Donna King again, and I hope to get back down there this afternoon to say, "Hey!" to Marlene Woo-Lun, their president.
I sat in on the preceding presentation, which was about identifying underserved patrons, which seemed about as unrelated to anything that I do, as can be. But it was actually quite interesting.
Well, time to step forward and start setting up. I need to see the light, hear the sound, and taste the information.
BTW, WiFi in the conference hall, is Fantastic.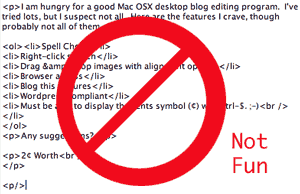 I am hungry for a good Mac OSX desktop blog editing program. I've tried lots, but I suspect not all. Here are the features I crave, though probably not all of them.
Spell Check
Right-click speech
Drag & Drop images with alignment options
Browser access
Blog this features
WordPress compliant
Technorati Tags Generator
Must be able to display the cents symbol (¢) with ctrl-$.
Any suggestions?
2¢ Worth

technorati tags:blogeditor
Blogged with Flock
keep looking »