It's 6:50 (EST) in the morning and in the last 10 minutes Citation Machine has cited:
7,138 books,
841 encyclopedia articles,
10,738 journal articles,
1,946 magazine articles,
2,230 newspaper articles,
630 chapters from compiled works,
1,468 government or corporate documents,
546 interviews,
96 conference papers,
22,731 web pages,
1,185 web-based media objects,
745 blog entries,
65 online discussion comments,
586 documents from databases,
240 radio or TV programs,
690 films or videos, and
195 lectures.
So many very serious people out there.

After keynoting the recent SchoolCIO Leadership Summit and then facilitating their "Digital Content" discussion cadre, I was asked to compile some of the highlights of our case studies and conversations into a 100 word scenario for the SchoolCIO Magazine's followup articles. The word limit made the task feel like a job.  But it is in that sort of efficient deconstruction, reflection, and reconstruction process that we gain new insights — that I learn.
One of the linchpin moments of the recent SchoolCIO Leadership Summit was when one of the attendees, in a rather off-handed remark, said — and I paraphrase:
We should not simply be transitioning from print to digital content.

We should be facilitating a transformation from an old and obsolete way of teaching and learning to a new and more relevant way of preparing our children for their future.
This remark brilliantly packaged a lot of the issues that had been struggling with for quite some time.  It suggests that we take a step or two back and shift our focus away from a new device for content delivery and refocus on something much broader and suggestive of how the game is changing.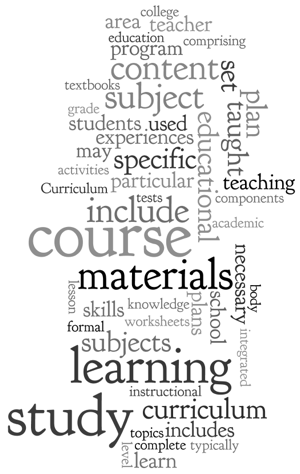 A 50 word cloud, generated by Wordle, compiling more than 20 definitions of curriculum from the Internet
The word Curriculum comes to mind as one way of labeling this broader view. Admittedly, the word is fairly slippery, already having different meanings to different people — even among professional educators. Formal definitions range from a zoomed out departmental view, "..the subjects comprising a course of study.." to a closer micro perspective, "..a predefined series of learning events designed to meet a specific goal." Scan the word cloud to the right.
But as I worked through my notes from the Summit, struggling with the language for my scenario, it occurred to me that a precise and universally accepted definition of curriculum simply has not been very important. Teachers had the textbook; a physical, reasonably durable, easily understood (and operated), dependable, and trustworthy tool that was carefully designed for instruction by experts. We had a practical point of focus that rendered curriculum, as a term, lighter than air, floating to a high and misty place, where its Latin lineage evoked a classical aura to the profession. At least that's the way I see it.
Today, the textbook, consisting of printed pages glued or sewn together and bound in covers, is obsolete.  I believe that its role as the central, dominant, and trusted tool for instructional delivery is been based on a myth and is equally obsolete.  Our information landscape has morphed into something that is larger, more dynamic and vibrant, highly personal and yet broadly shared — and almost entirely unforeseen.
This new info-environment has radically changed how we learn.
Therefore, it must also radically change the practices of teaching and the institution of education.

This is the last book that I bought in order to learn to do something (2000). Today, the idea of buying a book to learn a new programming language seems ludicrous. If we're not buying textbooks to learn after school, then why should we force them on our children's learning?
As the textbook (in the form that I used it in the 20th century) declines, becoming only one optional component of an expanding and shifting array of resources and opportunities, the role of teacher will change.
This notion of  crafting learning experiences by orchestrating webs of content, tools, opportunities and connections implies a broad, partly informed, partly intuitive, and largely personal act of crafting curriculum. It happens as a result of education; experience; professional conversations; research; information resources, tools, and skills; a connection to the community; a genuine caring for children and their self-fulfilling future success; and a professional obligation to be a constant learner and model that practice.
This vision of teachers as curriculum curator is inconsistent with a central and arrogantly authoritative blueprint for everything that learners need to be doing for hours, days, and years of their childhoods and youth.
Curriculum should empower learning, not merely guide and filter teaching.
By relying on teacher currated curriculum over state-adopted textbooks, the transformation we may well see is a shift from classrooms of compliant students to environments of skilled, resourceful, and habitual learners.
…Posted using BlogsyApp from my iPad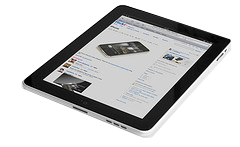 I wrote a blog post last week about home conversations about school.  It ended with a question  of sorts,
I wonder how a school or classroom might start that dinner table conversation by sharing everyday glimpses of teachers and learners exploring, experimenting, discovering, and sharing passionate and inventive learning.
So I thought I would compile some of the responses I got, with just a few of my own insertions into this 12 Ways to Provoke Supportive About Learning at Home.  The items are re-phrased in my own words.  Please return to that original post (So What did You Do in School Today?) to read comments in their original wording.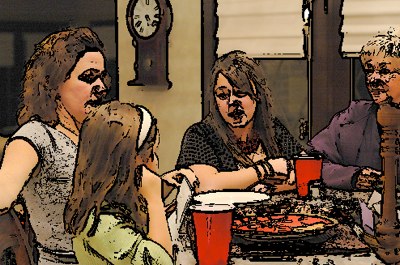 (cc) Flickr Photo by Flatbush Gardener
Edited with Pixelmator
But I want to start off with something that my nephew, Ethan Warlick, student at the University of North Carolina in Wilmington, wrote:
Three years ago, when I was a senior on high school, I had nothing to tell my parents when they asked what I had learned in school. After graduating from high school though, I have noticed that I want to tell my parents what it is I have learned in college classes. I think one of the issues with my high school experience was that I was being taught rules and principles instead of life relevant problem solving tools. (Ethan Warlick)
I still don't know how he found my blog, but his comments feed wonderfully into the first item of this list.
The first thing to do is to ask yourself the question, "What happened in my classroom today that the parents of my students would be genuinely curious about?" (Ecaterina)
Find creative and effective ways to share with parents (and the community) what is being learned this week in my class, how it is being learned, why it's being learned, and what my students are doing with it. Suggest questions that might be asked of children at home to provoke dinner table ((I'm using "dinner table" as a generic term for any chance family members have to talk. For me, it was riding home from a family visit, in the back seat of Dad's '52 Ford Wagon, with my chin resting on the back of my parent's seat (before we had seat belts))) conversations. This can be done via letters and newsletters. But most of today's parents are probably more accustomed to getting information via their computers, tablets or mobile phones. Consider a Facebook page for your class

(observing safety policies)

, a Twitter feed, or daily updates to your classroom Web site. (Christina C & Alfonso Gonzalez)
Ask students (periodically or on a daily basis) to take inventory of their newly gained knowledge and skills and to write a letter to someone at home describing how they are growing through learning. (Christina C & Cary B. Todd)
Make learning more engaging for students by integrating the creative arts. Asking learners to express their learning through art, music, or performance helps to grant them ownership of their learning, and it gives them something to take home on paper, a thumb drive, or a web link. (Christina C)
Encourage students to engage their younger siblings in dinner table conversations about what they are doing in school and to share what they remember about their experiences in those grades. (Jennifer T.)
At open house, encourage parents to periodically excavate their children's book bags for homework and test papers, letters home, unfinished art work, etc. The artifacts that they find can raise useful entry points for family conversations about school. (Jennifer T.)
Integrate social networking into classroom and school operations

(observing safety policies)

. Encouraging students to engage in networked conversations, within the context of curriculum, and then making those conversations available to parents, can give those parents a window on the learning experiences of their children. There may also be opportunities to invite supportive participation from parents. (Ashley Bitner)
Engage students in edgy classroom activities that will not only inspire their curiosity, but also the curiosity of their parents and the community. (Sean Wheeler)

Sean's high school English class just built a chair as part of a quarter-long project. I'm curious as to why!

Record (video or audio) students working or performing, engaging in discussions, and other learner-active experiences, and share with parents through the classroom web site, blog or via email. Update publishings frequently

(observing safety policies)

.
Look at the PBS and BBC web sites, how they often include text and other media to extend specific programs. Here is an alphabetical listing of PBS programs linking to web pages that expand on the issues of the program. If students could enhance some of their reports and presentations, utilizing a full range of media, and publish these multimedia expansions as an integral part of your classroom web site, parents (and community) would want to come in and see, learn, and engage at home.
Set up an ongoing online survey or Tweet out questions to parents (and grand parents) asking how the current curriculum topics connect with their work or personal experiences, drawing that information into the classroom through their children. "Have you ever seen a volcano or experienced an earthquake?" "What were your grandparents doing during World War II?" "Do you ever use algebra?" "Do you use chemicals in your work?"
Enable and empower learners to necessarily, resourcefully and responsibly teach themselves. When they earn their knowledge and skills, they own it — and students will take home with them what they own. (Heather F)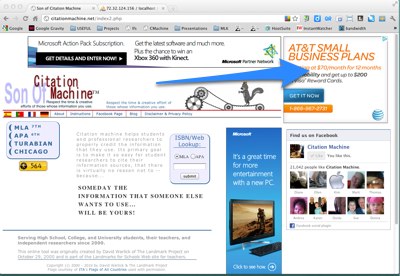 New advertising to pay for additional RAM and the new uber server coming in December
This is a blog post that is way overdue. A combination of economic calamity, rising young edtech stars, and a scheduled move to scale back my public speaking activities have had me in my home office — mostly working on Citation Machine. Some associations with teams running similar web services have bent my attention toward improving this popular tool, that has gone a long time without proper attention and TLC.
I started out wanting and needing to do a total redesign of CM and how it worked, which inspired some rather enthusiastic resistance from commenters about why I should think that something that works so well should be so changed. Although I still believe that the changes made the tool more efficient, efficiency is a personal thing, and practice plays a big part in what makes something work well. So I lamented and went back to the old design.
Since then, I have spent some time adding sources to and populating out the Chicago style section, and making corrections to the other three citation formats. I've also, for a long time, been interested in a way to automate some of the format building. One way was to tie in to Google's ISBN book lookup API, enabling researchers to simply type in a book ISBN, and having the available information plugged into the citation template — automatically. That worked well until its use far exceeded Google's limits on how many lookups were allowed per web service.
I'd also been interested in creating an automated way of doing Web address lookups and tried my hand at page scraping, which is a highly technical and occasionally successful way of writing software that looks at a web page and pulls pertinent information from its text. This, surprisingly, worked far better than I'd expected, but not well enough to consistently make CM more efficient — and it cost way to much computer processing for CM's web servers. So I abandoned it for another solution.
Going back to the ISBN issue, I decided to take a leap and to start archiving book citations that included ISBN numbers. This has quickly generated a database of, at this writing, 45,244 books. So, if you have the ISBN of a book today, you can enter it at the opening CM screen (or APA or MLA book template pages), select either MLA or APA styles, and there's a pretty good chance that the following template form will at least be partially filled out by the database. This seemed such a good idea that I started archiving Web sites as well, by URL. At this writing there are considerably more Web sites in the database than books, showing 859,668. So entering a Web add (with http:// included) avails a fairly good chance of saving some time with at least partially completed template forms.
This, too, costs CPU power, so we had to double the RAM on one of the servers ($), and have concluded that we need to upgrade to a new uber server during the December holidays ($$$). This is the reason for the additional advertising. But increasing the size of CM's pages to make room for a 200×300 pixel ad also provided more space for instructions. So for each CM source there are now some fairly detailed instructions on each form element to be entered in the template form.
The thing that got me writing so early this morning is that I've done most of this in silence, in the closed confines of my man-cave office. So I'm going to try to be more open about what I'm doing, not just here in my Blogger blog, but also through the Facebook page and perhaps even set up a Twitter account, posting periodic updates on what I'm doing with CM and why.
So pay attention!
Oh! And then there's the squirrel. But we'll talk more about him later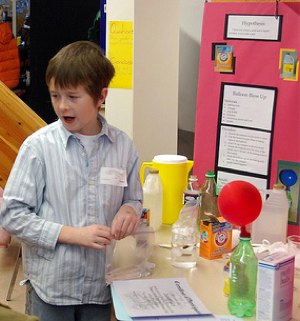 Look what we did in school today
(cc) nordicshutter
It has been a while since I've written, though it's not for lack of anything to say. I've been re-strategizing some of the functions of Citation Machine for the approaching peak usage that comes as the semester hastens forward. Most of my strategies have been abandoned, but some may be fruitful. We'll see.
Nice to have digital grease under my fingernails again
Last week, I ran (via Skype) an unconference session for a PadCamp in Long Island, NY. It was one of those events I'd love to have been there for, where just the right people are having just the right conversations — and that pretty much characterizes my unconference session on the future of the textbook.
There were lots of progressive ideas that resonated loudly in that room. However, I kept wondering how these ideas might resonate in school board chambers or among elected legislators? I kept asking, "What's the story we need to be telling?"
Of course, that was the wrong question, because that simply got more high-minded ideas percolating. What I should have asked was, "Who should tell these stories?"
I keep coming back to the kids.
A principal of a special project school of kindergardeners described some of the fabulous things going on there and I asked, "What do those kids say at dinner, when their parents ask, 'So what did you do in school today?'"
The initial answer was, "Oh, nothing!"
But then they corrected themselves realizing that we were talking about kindergardeners. These young children are excited about school — and their parents are excited about school. So might we ever expect middle school or high school students to talk excitedly about what happened in school today?
I suspect that the answer to that question, with notable exceptions, is, "No!"
But can we help parents to instigate those conversations, to break through their children's adolescent cool, and get them to talk about learning experiences that defy boundaries, generate curiosity, and where innovation and creativity are common and not the exception.
I wonder how a school or classroom might start that dinner table conversation by sharing everyday glimpses of teachers and learners exploring, experimenting, discovering, and sharing passionate and inventive learning.
What do you think?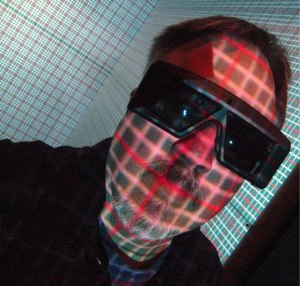 Someone took this picture of me in The Cave, a virtual reality space at Duke University. It was part of ScienceOnline2008.
With tightening (and disappearing) budgets, especially for professional development, making it to conferences that are not core education events has become difficult. Yet, it is these field-oriented PD opportunities that teachers, intent on transforming their classrooms, need to be attending — Real World.
One such is ScienceOnline2012. I attended some of the earliest of these conferences which seemed to be spinoffs from the earlier BloggerCons of a half decade ago. The desire was to explore how the work of scientists and science journalists could benefit from the World Wide Web 2.0. They were fascinating conferences, because they were at their essence, about literacy, (accessing, working, and communicating information) within a context that is real, important, and huge!  From their web site:
Every January since 2007, the Research Triangle area of North Carolina has hosted scientists, students, educators, physicians, journalists, librarians, bloggers, programmers and others interested in the way the World Wide Web is changing the way science is communicated, taught and done.
The focus of the conference has broadened substantially beyond blogs, wikis, and podcasting.  This year will include presentations from leaders in the fields of infographics, data visualization, and how gaming is being used to conduct science research.
There's not much that's better, for this confirmed and long-time nerd, than being in a room filled with scientists. Teachers and students should feel this thrill as well.
This years ScienceOnline will be held at the McKimmon Center on the campus of North Carolina State University, January 19-21, 2012. Links to the agenda, program, and registration are in the box to the right.
Organizers have always wanted to bring precollege educators to the conference, and especially teacher-student pairs.  Event sponsors are providing for scholarships for just such attendees, and you can apply for one of these opportunities here.  In the box at the bottom of the form, include your name, the name of the student, grade, and subject(s) taught.
I sure hope I can talk Brenda into sponsoring me