Watching the Action from the Restaurant
Our Freshly Glazed Krispy Kreme Donuts
Old-Style Pop Bottles at the Farmer's Market
Mostly, I've been preparing for two upcoming and favorite conferences during the past week, my first full week at home in months and months. I haven't worked at the New Hampshire Society for Technology in Education's Christa McAuliffe Conference (NHCMTC) in a number of years — so this will be a real treat. I drive to Greensboro in the morning to take a plane up to Nashua. (hitchhikr)
Then it's back to G'boro for the North Carolina Educational Technology Conference (NCETC), my state's largest ed tech conference. Held at the huge Koury Convention Center, just west of the city, this is probably one of the biggest state conferences in the nation, all be it, a distance from FETC and the Texas conference. The opening keynote speaker will be Jim Moulton, with whom I've had the pleasure of working a number of times in Vermont, South Dakota, and his home state of Maine. Closing the conference, and a perfect closing it will be, is Debbie Silver. (hitchhikr)
But I took some time yesterday morning to see off my Mother in law and her groom, Alvin. Brenda and I raced over to the Krispy Kreme on Peace Street for donuts and coffee. We were thrilled to watch our sales person step back into the windowed plant, and pluck a dozen donuts off the conveyor, freshly glazed, and line them up in the box.
Then we raced over, in the Mini, me balancing six coffee's in the passenger's seat, to the Cary train station, where Brenda's folks, her sister and two of her daughters were in the waiting room. It was great fun family time.
By contrast from Brenda's folks, who lived most of their family years in Raleigh, we'll be spending part of today with my parents and some of my brothers down in Clayton. Having grown up in a tiny mill town in western North Carolina, there will likely be much spitting and whittling
.
The last picture below, I took went entering the Raleigh Farmer's Market on Thanksgiving morning, where Brenda wanted some good home-style pickles as a center for her Deviled Eggs. We also picked up some boiled peanuts and home-made butter. The eggs also came from the Farmer's Market, where the sales woman promised yokes "..as orange as the setting sun."
Powered by ScribeFire.
Kevin Change said it was strange the first time he saw an advertisement across the bottom of his calculus test. But now he and his classmates look for them.

"It's really interesting to see what it is each time," said Change, 16, a junior at Rancho Bernardo High School.

Some are pithy one-liners, hawking the names of local businesses: "Brace Yourself for a Great Semester! Braces by Henry, Stephen P. Henry D.M.D."

Others are inspirational quotes, like "Keep the company of those who seek the truth, and run from those who have found it – Vaclav Havel."
What it is, is advertising appearing on the calculus exam papers issued by teacher Tom Farber — and brought to my attention by Eric Langhorst. Sponsors pay 10$ to place an ad on a quiz, $20 for a chapter test, and $30 for a semester final. The revenue pays for printing and basic supplies, the district having chosen to cut materials and supplies budget by 30% rather than pay for shortfalls by laying off personnel.
I think this is an incredibly creative way of addressing an incredibly sad testament of this society's treatment of its children and its future.
Sorry, I know. I'm supposed to be thankful today…
Powered by ScribeFire.
I posted this survey yesterday, using a hosted service, to resounding response. In fact, we reached my 10 megabyte limit sometime last night, which locked the survey down — even my access to the data.
So, I downloaded some open source survey software this morning (LimeSurvey) and installed it on my own server. I also added a question to the survey.
I hope this works, because we do not want this to get any longer.
So, if you wouldn't mind, please take a few minutes to answer the following questions about how you learn through your networks.
The URL of the suvey page is http://xrl.in/14pe.
Thanks in advance!
Powered by ScribeFire.
The Partnership for 21st Century Skills, along with the National Council of Teachers of English have produced a document [pdf] that provides a framework for educators, with teacher-created models of how 21st century skills can be infused into the English classroom.
Kylene Beers, president of the National Council of Teachers of English (NCTE) said,

"This framework, which includes examples taken directly from proven classroom practices, represents an exciting tool for teachers and students as they move toward a 21st century education system. The map also mirrors the evolving nature of NCTE, as we ensure our organization and members possess the tools and resources that are required for success in the 21st century."
The press release continues,

..the map cites specific student outcomes and provides project models that will result in enhanced student achievement in grades four, eight and 12. For example, fourth graders, after reading several folktales and viewing two to three cartoons, write their own contemporary version of a folktale and present them as a stop-motion or Claymation film. This helps students, through typical reading and project work, learn how to communicate new ideas to others and demonstrate originality and inventiveness in schoolwork.
My hat's off to the folks at P21CS and NCTE for this valuable document. It indicates the kind of momentum that we are starting to witness in the U.S.
It is our tendency, however, to see this as a "problem solved." It seems to me that the nature of 21st century skills (a term that really doesn't mean much to most of our students) is that they are a rapidly evolving mesh of techniques — that as our political, economic, scientific, social, physical environments, and the logic infrastructure of our information landscape continue to change, what we need to know and what we need to know how to do with it will constantly be shifting, growing, and becoming ever more interesting.
Last week, at the Leading & Learning Conference in Central Alberta, I explained in one of my concurrent sessions that when I was growing up and for much of my adult life, I needed to know how to use an index, table of contents, Dewey Decimal system, and have a basic mastery of the alphabet to find the information I needed. These skills represented the information-scarce environment that we lived in.
In contrast, I demonstrated Snaptell Explorer, an iPhone app that enables me to wirelessly access Internet-based information about a book, CD, or DVD, simply by taking a picture of it. One participant suggested that it might be simpler to just write down the title of the book and author on paper and then look it up at home.
Very true.
But my point was not that everyone needs to be using Snaptell. My point was that our information landscape has become so intertwined with the physical world, that we live in, that basic 21st century skills, not to mention basic literacy skills, must be, by nature, adaptable. Information users must be resourcefully adaptable — and hard standards do not serve this reality well.
Again, what I've read through in the 21st Century English Skills Map [pdf] does a great job of illustrating classroom activities that involve creativity, innovation, critical thinking and problem solving, communication, collaboration, and information literacy. they paint a good picture of what this looks like. But collaborative environments for professional educators (master learners) are also necessary to provide for continued conversation and idea development.
Powered by ScribeFire.
From our friend, Ian Jukes, link to an inspiring video produced by Andrew Zukerman. It's The video is a series of short statements about wisdom made by a bunch of old people, whom I grew up with. There is also a book.
Definitely worth the five minutes that it will take to watch it.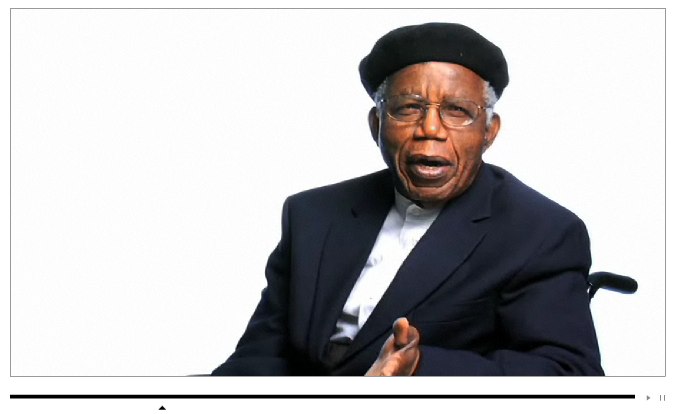 Powered by ScribeFire.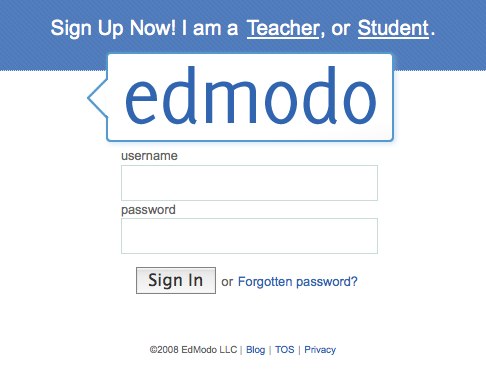 I'm home again and able to surface back up into my learning network, and the first tidbit that I discover is probably already known to you.  But one thing that is noteworthy here is that I learned this from a relatively traditional thread of my web — e-mail.
Kathy Schrock as, for many years, run a mailing list called SOS – Help for Busy Teachers, and this morning's post was about edmodo.  It's something that members of my audiences have been seeking for months, a classroom-ready micro blogging tool.  Here's the about text from the edmodo web site:
Edmodo is a private micro-blogging platform built for use by teachers and students.
Traditional web 2.0 tools in a k-12 classroom environment create concerns over privacy. Edmodo has been built with the privacy of students in mind.
Here are some other blog posts about edmodo posted to one of their blog entries.

Edmodo provides a way for teachers and students to share notes, links, and files. Teachers also have the ability to send alerts, events, and assignments to students. Edmodo also has a public component built by allowing teachers to post any privately shared item to a public timeline and RSS feed.
There is a video of a workshop demonstration posted in an edmodo blog entry that was delivered at the Classroom 2.0 Live Workshop in Chicago earlier this month.  Here is a YouTube video tutorial about the product, which is quite impressive in my opinion.
Powered by ScribeFire.
After doing just a little bit of work in our new Class Blogmeister Ning Social Network for Class Blogmeister teachers, it was past time to start final preparations for today's presentations at the Leading & Learning Conference in central Alberta (Red Deer). I needed to be reminded of my day's schedule so I didn't go to my e-mails tagged for the event, nor the wiki that Brenda and I keep with details for my work, nor even the folder she slips into my computer bag as I leave. I went to Google, and I Googled warlick red deer (see below).
At the top of the listing was "Leading & Learning Conference – Schedule" — Excellent — followed by a Twitter message I posted at an airport yesterday and reference to Warlick Ancestors in Red Deer (Will have to check into that one). But what really caught my attention was the slighted grayed buttons to the right of the title and at the end of the hit entry.
Now, as usually scurries through my mind at times like these, "What was the latest add-on I've put into FireFox — have I really mucked things up now?" So I did the easy thing, I Googled it — or actually, I went to The Official Google Blog and found an entry posted yesterday afternoon (SearchWiki: make your search your own).

Today we're launching SearchWiki, a way for you to customize search by re-ranking, deleting, adding, and commenting on search results. With just a single click you can move the results you like to the top or add a new site. You can also write notes attached to a particular site and remove results that you don't feel belong. These modifications will be shown to you every time you do the same search in the future. SearchWiki is available to signed-in Google users. We store your changes in your Google Account. If you are wondering if you are signed in, you can always check by noting if your username appears in the upper right-hand side of the page.
Go here to read the entire article and even view a video demonstration.
Powered by ScribeFire.
The history teacher in me caught hold of this post from Next Web. I never do get all that deep into my RSS reader. Boris Veldhuijzen van Zanten captured the information from a Neatorama post, The Wonderful World of Early Computing. What drew Zanten's attention was the first computer bug.

Apparently we call them bugs because Grace Hopper found the first computer "bug": a moth stuck between the relays on the Harvard Mark II on September 9, 1945. These early computers were attracting lost of moths who got stuck between the light-bulbs inside the machines. At times there were so many relays malfunctioning that they had a fill time bulb changer working to fix find all the 'Bugs' stuck between relays.
Read the Next Web post to learn more about Hoper and the Early Computing post for a lot of information about the early days.
I must confess that I miss talking about abacuses and Jacquard's Loom in computer literacy.
It seems that Grace Hoper is also credited with coining the phrase…
It is easier to ask forgiveness than it is to get permission.
Powered by ScribeFire.
I just uploaded a Connect Learning podcast, featuring a conversation with the booth rep for Smart Technologies at the T+L conference in Seattle recently. She took me on a tour of their Smart Table and I was very excited to see it and too play. The YouTubes featuring demos of the technology (not to mention Tom Cruise in Minority Report [vid]) have had me itching to get my finger tips down on that surface.
I have to confess just a bit of disappointment, though. To be completely fair, it's a product that isn't even out yet, and they are just now starting to develop applications for it. The ones that I saw quite effectively illustrated how multi-touch works. However, they were not all that impressive in terms of how children learn collaboratively. But, again, this is just the bare infancy of the technology.
Causing my heart to beat even faster was the discovery that the hotel I was staying in (Sheraton) featured about a half dozen Microsoft Surface or Milan tables (MS). The performance was mountains better than the Smart Tech table, and the image quality was much more satisfying.
That said, after about ten minutes, I found myself becoming bored with the thing. Of course, I didn't really have a task to do, I was just playing — and working the thing would probably make a difference. But I suspect that we haven't really discovered the killer app for this technology.
Enter Durham University's SynergyNet, a project whose aim it is to:
To create a radically new technology-rich learning environment that integrates with traditional classroom layouts and collective activities.
To design and implement a new form of user interface for educational multi-touch systems.
To formulate a new pedagogy that eases transition and movement between teacher-centric and pupilcentric interaction.
To analyse pupils' learning strategies to inform fundamental research by capturing data as pupils use the SynergyNet environment.
One of my Twitter chums, Tom Barrett, has visited the project and is working with the U.K. group to facilitate an open conversation among educators about the potentials of multi-touch interface in education. He rights about his visit here, and posted me a e-mail where he says,

They have asked me to help coordinate and facilitate the way that the wider educational technology community can make contributions to the project. They are actively encouraging many voices to assist in an open source style; as opposed to profit focused companies that want their multi-touch development to remain behind closed doors. I believe that this approach puts the Durham project in a strong position.

Part of the process of contributing ideas is a Flickr group that will act as a place to add images and screenshots of learning activities that could be enhanced further with multi-touch capabilities. There is also a Ning group (part of Classroom 2.0) for further discussion.

What now needs to happen is that as many teachers as possible are made aware of the opportunity to contribute, as I think this is an unprecendented chance to help shape what future classroom technology could be like.
So let's imaging the potentials of multiplying the angles upon which we can workable the information.
Powered by ScribeFire.
I'm an iPhone App junkie.  I scan the App Store daily looking for the coolest new tool-oy or update of yesterday's tool-oy.  But, hands-down, my most often activated app is Mobile News, powered by Associated Press.  ..and this morning, I learned that Google has launched an online photo gallery that will ultmately feature millions of images from Life magazine's archives — photos that have never been seen by the public.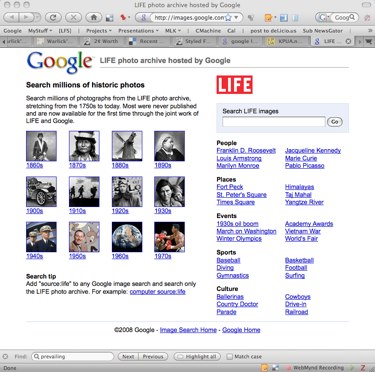 Two Million photos from Life Magazine's Libraries are suddenly available to the lifestyles of the connected world.
Starting today, Google offers to the connected eye and mind, about 2 million photos.  The Mountain View company plans to scan all 10 million photos from LIFE's library.  According to the AP article, "About 97 percent of LIFE's archives have not been publicly seen, according to LIFE." (("Google gives online life to Life mag's photos ." The Associated Press 18 Nov 2008 19 Nov 2008 . ))
My family received Life Magazine when I was growing up.  It was one of the highlights of the month to be able to scan through the photos, those pages providing a window on our world.  It, and other published and broadcasted images and sounds, had a profound affect on my generation.
Today, however, the Internet, and the inventive and often donated efforts of many organizations, like Google (but many others) are providing lenses for drilling so much deeper into our world, its workings, its past, and even the future.
Yet, for many schools today, access to LIFE's library remains limited to that single magazine, perched on the magazine rack, along side many of the very same journals that we perused decades ago — and the shame is in our prevailing belief that schools that limit learners' access to content remain adequate for educating our children.
We know that a crucial part of the formula that describes and defines the education experience that today's children desperately need is access to abundant, rich media that is digital and networked.  Services like Google LIFE photo archive, offer not only access to knowledge, but perhaps more importantly to the pedagogies of a digital world, raw materials for working information in ways that provoke learning, not just administer it.
According to the AP article, "The photos can be printed out for free as long as they aren't being used as part of an attempt to make money."
From Google's blog article (LIFE Photo Archive available on Google Image Search) about this new offering…

One of our favorites is this classic Eisenstaedt image of children watching a puppet show.

Alfred snapped this in 1963, at the climax of Guignol's "Saint George and the Dragon" in the Tuileries Garden in Paris. Just as the dragon is slain, some children cry out in a combination of horror and delight, while others are taken aback in shock. Every child is consumed with emotion, masterfully captured by Eisenstaedt's camera… ((http://googleblog.blogspot.com/2008/11/life-photo-archive-available-on-google.html))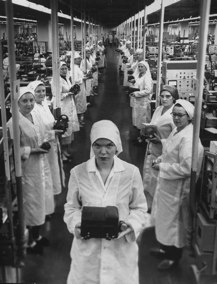 Image from Google's LIFE Photo Archive (("Factory workers displaying gyroscopes from assembly line.." Google Photo Archive.

Google Inc

. 19 Nov 2008 link. ))
[Click to enlarge]
Couldn't we learn to capture learning, instead of just measuring it, like this.
We must make a clear statement, a demand, that 21st century learners and teachers (master learners) must have convenient access to networked, digital, and abundant content and the tools for working that content.
This is not about future schools.
This is not about special schools.
This is about the characteristics of basic education today, for today's children, and their/our future.
Powered by ScribeFire.
keep looking »