From the Consensus Project
97% of scientific papers written by climate scientists state the position that global warming is caused by human activity.  This is not a secret.1 Yet, according to a 2008 Gallup Poll,2 questioning people in 128 countries, only 49% of U.S. citizens believe what these scientists are telling us.  That's a smaller portion of the population than 86 other countries.3
My point is this.  What we typically think of as literacy and what's taught in schools, needs to expand.  In the age of Internet, social media and 24 hour news, literacy is no long just the ability to read and comprehend.  It is equally critical that the literate be skilled and inclination to detect if what they are reading is intended to inform their behavior, or manipulate it.
1 Cook, J., Nuccitelli, D., Green, S. A., Richardson, M., Winkler, B., Painting, R., … Way, R. (2013). Quantifying the consensus on anthropogenic global warming in the scientific literature (doi:10.1088/1748-9326/8/2/024024). Retrieved from Environmental Research Letters website: http://iopscience.iop.org/article/10.1088/1748-9326/8/2/024024/pdf
2 Pugliese, Anita; Ray, Julie (11 Dec 2009). "Awareness of Climate Change and Threat Vary by Region". Gallup. Retrieved 22 Dec 2009.
3 Climate change opinion by country. (2016, March 26). In Wikipedia, The Free Encyclopedia. Retrieved 22:38, May 9, 2016, from https://en.wikipedia.org/w/index.php?title=Climate_change_opinion_by_country&oldid=711997815
Yesterday, Tim Holt wrote "Why I am At a Science Conference," describing his work at this week's Conference for the Advancement of Science Teaching (CAST), and why it is so important that we edubloggers and techspeakers should be sharing our messages into other communities of interest, science teachers for instance. I agree. I've tried, for years, to get into social studies conferences. When I succeed, it's to do a concurrent session, and only 12 teachers showed up. It's part of the nature of the profession, that we owe our professional identity to our particular area of specialty.
I have keynoted foreign language conferences, library conferences, administrator, and even book publisher, real-estate developer and farmer conferences. Perhaps the most receptive to my particular message are school boards conferences. But Tim is right. Little of this actually makes it into classrooms, especially the "Common Core" classrooms.
Part of my Kerbal Space Program Diary
One of my early attempts into orbit, achieving a spectacular fall after a 35 meter ascent.
At about 26 Kilometers, my Kerban pilot decided to do a space walk. Alas he locked his keys in the capsule and burned up during the descent.
These three Kerbans made it into an orbit whose apogee was around 1.4 million kilometers and perigee was somebody's basement on the far side of Kerbal.
Holt referred to the fact that I too will also be speaking to Science teachers this week, in Charlotte, at one of the regional conferences of the National Science Teachers Association – and my efforts to tailor my presentation to that audience. I admit some concern about speaking to science teachers, because I taught social studies, and my examples tend to be more social studies oriented – though I would maintain that any good social studies teacher is also teaching science, math, health, literature, and everything else. It's all societal.
Tim mentioned me because of a string of posts I made to Facebook and Twitter yesterday, reporting my progress in playing with Kerbal Space Program, a sandbox-style game that has the player designing, building, and flying space craft, on missions from the planet Kerbal. It's been fun, regardless of my immigrant clumsiness with video games – though I am experiencing some pride in finally getting a manned (well a Kerban-piloted) space craft into orbit. It cost the lives of 12 fellow kerbans and several billion $kerbols worth of hardware.
Holt writes,
And although (David's) message is VERY general, it is at least a start. He is trying to tailor the message to the audience by demoing the Kerbal Space Program online game (https://kerbalspaceprogram.com) so good for him. But those opportunities are few and far between.
These opportunities rare and priceless. ..and forgive me if I seem overly sensitive and even defensive, but there is nothing general about this. The message is singular and it is revolutionary. It has nothing to do with, "Look, here's something that you can do in your classroom with technology." It is,
"Look, here's what many of your students are doing outside your classroom. It's fun, but it's work. It's hard work. And it is entirely about learning. The energy of our students' youth culture is not based on how high you can jump or fast you can run. It is neither wit nor the appealing symmetry of your face. The energy of their culture is the ability to skillfully and resourcefully learn and to inventively employ that learning."
My message is that children are entering our classrooms with learning skills that, although based on long understood pedagogies, they are skills that we are too often ignoring and sometimes even handicapping. When I say that we "chop their tentacles off," it's not about cutting them off from technology. We're amputating their access to the learning skills that they are so effectively developing outside our classrooms – their avenues to personally meaningful accomplishment.
Perhaps those of us who have chosen to pursue education technology or have been seduced by its potentials are in a unique position to notice our children's 'native' learning skills – more so than science or social studies teachers. But we all must be careful to shed the glow of tech, and get right down to the point of being educated in this time of rapid change.
It's not about being taught.
It's about becoming a learner.
National Science Teachers Association
The National Science Teachers Association (NSTA) will be holding a conference this week in Charlotte, The Queen City of North Carolina. It is both ironic and opportune for science teachers, from around the country, to converge on my state to celebrate science education and to learn more about their chosen passion and techniques conveying it to their students.
I had planned to explain this event's importance as part of my address to the audience. But, alas, I'll have only 45 minutes, so will be getting right to business. Instead, I'll explain it all here, sitting in a Raleigh coffee shop, and proud to be a citizen of this state that owes so much of its recent success to science and education – and a state that desperately needs to be snapped out of its stupor.
Dazed by $80,000,000 worth of campaigning in 2012 ("Follow the money," 2012), we have witnessed an arrogant government, in effect, vilify science and education. Helping to spur this backward thinking is John Droz, a retired real-estate investor and fellow with the American Tradition Institute (which is tied to fossil fuel interests). In a recent presentation [a Droz slidedeck] to the General Assembly, he called smart meters "fascism in a box" and environmentalism a "new world religion backed by the United Nations." Among his cited sources were,
Whistleblower, the monthly magazine companion of WorldNetDaily a website that promotes conspiracy theories about topics such as President Obama's citizenship; Quadrant, a conservative Australian magazine that was involved in a scandal over publishing fraudulent science and the Institute for Creation Research a Texas outfit that rejects evolution and promotes Biblical creationism and the notion that "All things in the universe were created and made by God in the six literal days of the Creation Week." (Surgis, 2013)
Also carrying some influence is John Skvarla, the newly appointed Secretary for the state's Department of the Environment and Natural Resources. He apparently believes that oil is a renewable resource, saying "The Russians for instance have always drilled oil as if it's a renewable resource, and so far they haven't been proven wrong."
And then there are the legislators of 20 coastal counties, where developers have been stifled by the notion of sea level rise. So to make things better for developers, They introduced a bill that outlaws the rise of the sea, or at least how it's measured. From House Bill 819, Section 2.
10 (e) The Division of Coastal Management shall be the only State agency authorized to
11 develop rates of sea-level rise and shall do so only at the request of the Commission.
12 These rates shall only be determined using historical data, and these data shall be
13 limited to the time period following the year 1900. Rates of sea-level rise may be
14 extrapolated linearly to estimate future rates of rise but shall not include scenarios
15 of accelerated rates of sea-level rise. Rates of sea-level rise shall not be one rate
16 for the entire coast but, rather, the Division shall consider separately oceanfront and
17 estuarine shorelines. ("Coastal management policies," 2011)
This whole business prompted comedian, Stephen Colbert to say on the air, "If your science gives you a result you don't like, pass a law saying the result is illegal. Problem solved."
The dramatic decline in Tobacco farming in North Carolina, illustrated in this graphic (North Carolina Department of Agriculture), has meant an enormous hardship for rural NC. As part of Raleigh's efforts to find a new cash crop, the Biofuels Center of North Carolina was established five years ago, researching, developing and testing a variety of crops biomass crops.
The now defunct Biofuels Center of North Carolina web site
The center closed its doors last week. The General Assembly cut the center's entire $4.3 million budget. In the words of Steven Burke, the centers CEO,
"The center, a growing biofuels community statewide, and companies considering new facilities here share dismay that North Carolina has visibly pulled back from the nation's lead state biofuels agency and from long-term commitment to comprehensive biofuels development." "No longer pursuing advanced biofuels with a focused, comprehensive strategy will lessen opportunity to create rural jobs, strengthen agriculture, and create an enormous biofuels and biomaterials sector."
There's not much that a few thousand science teachers can do, except to be mindful that science is neither fact nor theology. It's a way of looking at the world, observing, hypothesizing, predicting, testing, evaluating and adapting. It is both personal and social, and following someone else's standards for what's to know (to be taught) is as repudiating to what science is as outlawing the results.
I look forward to seeing many of you at the NSTA conference this week in Charlotte. I'll be in Convention Center, Ballrooms C&D at 2:00 on Friday afternoon.
Follow the money. (2012). Retrieved from http://www.followthemoney.org/database/state_overview.phtml?s=NC&y=2012
Surgis, S. (2013, February 7). Climate conspiracy theorist returns to NC legislature, warns of threat from science 'elite'. [Web log message]. Retrieved from http://www.southernstudies.org/2013/02/climate-conspiracy-theorist-returns-to-nc-legislature-warns-of-threat-from-science-elite.htm
(2011). Coastal management policies (House Bill 819). Retrieved from North Carolina General Assembly website: http://www.nccoast.org/uploads/documents/CRO/2012-5/SLR-bill.pdf
North Carolina Department of Agriculture & Consumer Services, North Carolina Agricultural Statistics. (n.d.). Crops: Highs & lows, stocks & storage, biotech, varieties, floriculture, county estimates, fruits & vegetables. Retrieved from website: http://www.ncagr.gov/stats/2012AgStat/Page061_098.pdf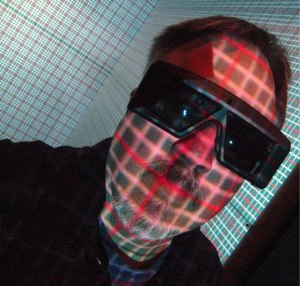 Someone took this picture of me in The Cave, a virtual reality space at Duke University. It was part of ScienceOnline2008.
With tightening (and disappearing) budgets, especially for professional development, making it to conferences that are not core education events has become difficult. Yet, it is these field-oriented PD opportunities that teachers, intent on transforming their classrooms, need to be attending — Real World.
One such is ScienceOnline2012. I attended some of the earliest of these conferences which seemed to be spinoffs from the earlier BloggerCons of a half decade ago. The desire was to explore how the work of scientists and science journalists could benefit from the World Wide Web 2.0. They were fascinating conferences, because they were at their essence, about literacy, (accessing, working, and communicating information) within a context that is real, important, and huge!  From their web site:
Every January since 2007, the Research Triangle area of North Carolina has hosted scientists, students, educators, physicians, journalists, librarians, bloggers, programmers and others interested in the way the World Wide Web is changing the way science is communicated, taught and done.
The focus of the conference has broadened substantially beyond blogs, wikis, and podcasting.  This year will include presentations from leaders in the fields of infographics, data visualization, and how gaming is being used to conduct science research.
There's not much that's better, for this confirmed and long-time nerd, than being in a room filled with scientists. Teachers and students should feel this thrill as well.
This years ScienceOnline will be held at the McKimmon Center on the campus of North Carolina State University, January 19-21, 2012. Links to the agenda, program, and registration are in the box to the right.
Organizers have always wanted to bring precollege educators to the conference, and especially teacher-student pairs.  Event sponsors are providing for scholarships for just such attendees, and you can apply for one of these opportunities here.  In the box at the bottom of the form, include your name, the name of the student, grade, and subject(s) taught.
I sure hope I can talk Brenda into sponsoring me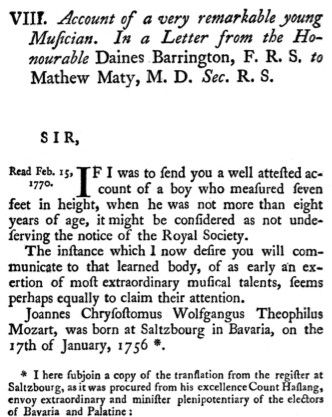 Account of an examination of Wolfgang Mozart as a seven-year-old seeking to determine qualities of a child prodigy.
I've written about two organizations who have utilized Twitter to share important occurances and the thoughs of important figures in history, essentially pretending to be those people or observers of those events and tweeting their experiences in simulated real-time.
I got a number of comments and e-mails from history teachers explaining that although they could not work those specific projects into their highly scheduled curriculums, they thought that it was an amazing way to bring history alive.
It occurred to me, as I was responding to one of those comments the other day, that there is nothing about these projects that require the services and resources of an organization or association — that there isn't any reason why a history (or science or other) classroom couldn't do exactly the same thing — working it into the scope and sequence of their learning facilitations.
The not so insurmountable challenge is finding the material, and the Internet provides access to many primary source documents* — perhaps the most recent of which is the web-publication of papers from The Royal Society — which, according to a 30 November BBC article…

..grew out of the so-called "Invisible College" of thinkers who began meeting in the mid-1640s to discuss science and philosophy.

Its official foundation date is 28 November 1660 and thereafter it met weekly to debate and witness experiments. (("The Royal Society Puts Historic Papers Online." BBC News30 Nov 2009: n. pag. Web. 1 Dec 2009. .))
Among the publications in the Trailblazing web site are:
An article and drawing of an experiment to keep a dog alive by blowing air directly into its lungs with a bellows
Observations of a total eclipse of the Sun in April 1715
An article on using willow bark to treat fever
A letter from Benjamin Franklin to Mr. Peter Collinson, describing his (risky) attempts to show that lightning is a form of electricity by flying a kite into a storm.
So imagine having your students condense into 140 character messages their observations of a battery of tests administered to the musical prodigy, Joannes Chrysostomus Wolfgangus Theophilus Mozart of Saltzbourg, and the frustrations witnessed as the scientists could not seem to get the seven-year-old off of the stick he was riding around the room like a horse. Imagine the fun your students might have and that of their readers as they put themselves in that room on 15 February 1770.
* Here is a link to the most recent web links stored on Delicious that were tagged with primarysources:
http://delicious.com/tag/primarysources
It's an issue I've not weighed in on, except to say that I'm happy with the person who will do the best for our children and our future. In truth, I have to agree with my wife, that it is plain wrong for a….

Education Building in Raleigh, NC
Click image for a close-up of the art work on the center wall.
Well, here's the story in brief. Our elected governor, Beverly Purdue, who ran on an education improvement platform, created a new position at the state's Department of Public Instruction (DPI). She hired William Harris as the agency's CEO, giving him powers that effectively supplanted our "elected" state superintendent, June Atkinson — our first "insider" state superintendent in, well, decades. Atkinson launched a lawsuit, which was recently ruled in her favor. Harrison retired from the $265,000 salary CEO position day before yesterday.
You can read the story here.
But what irked me most, and here is the point of this entry, is that the newspaper article characterizes DPI as "…the state agency that oversees testing, curriculum and policy for 115 local districts in North Carolina."
Maybe I'm being petty. But — that testing is included in this list of three functions of DPI, much less that it comes first, is a mark of the tragic state education has fallen to at the hands of politicians (education amateurs). Good educators know that assessment is part of the teaching/learning process, not something different.
I suddenly realized, while thinking about this, that, if I was the age of my children, in this environment, struggling right now with shaping my own personal future..
…TEACHING WOULD BE NOWHERE NEAR MY RADAR!
Just to have some fun with this — what would you be doing today, if you had not entered the field of education.
As for me, some of you might remember the cartoon show, The Adventures of Johnny Quest. I always wanted to be Johnny Quest's father, this renaissance scientist with a private jet, body guard, some sad untold story that left his son motherless — coming to the rescue with the right knowledge and latest gadgets to save the day. I'd be a scientist of some type.
How about you?
Powered by ScribeFire.
My old friend, Mr. Wizard!
I grew up with science.  I grew up doing science.  I got, as gifts from my parents, a chemistry set, erector sets, do-it-yourself weather stations, and even assembled a three-bit binary processing computer. 
Since this was long before "new math," it took my Dad all afternoon to explain "binary" to me
.  This story, posted by
Tim O'Reilly
, via
Dave Farber's
Interesting People mailing list, describes a world that would have seemed quite disturbing to us in 1962.  Tim writes… [Image ((
Trotman, Kevin. "Ah, My Old Friend, Mr. Wizard!."

The Rocketeer's Photostream

. 5 Jan 2007. 13 Aug 2008 <http://flickr.com/photos/kt/346681395/>.
))]
I grew up with a chemistry set.  You could get them in every corner hobby store. But as liability fears grew, the experimental ethic that built  the US as a science and technology powerhouse faded, and such "dangerous" toys became much harder to find.
So, in April, Make Magazine's Make:Books series (a service of O'Reilly) published Illustrated Guide to Home Chemistry Experiments, "For students, DIY hobbyists, and science buffs, who can no longer get real chemistry sets…" (("Illustrated Guide to Home Chemistry Experiments." Amazon. Amazon.com. 13 Aug 2008 <http://www.amazon.com/Illustrated-Guide-Home-Chemistry-Experiments/dp/0596514921>. ))
On Monday (11 Aug 2008), the following article was posted to the Make blog by Illustrated Guide.. author, Robert Thompson:
The Worcester Telegram & Gazette reports [link] that Victor Deeb, a retired chemist who lives in Marlboro, has finally been allowed to return to his Fremont Street home, after Massachusetts authorities spent three days ransacking his basement lab and making off with its contents.

Deeb is not accused of making methamphetamine or other illegal drugs. He's not accused of aiding terrorists, synthesizing explosives, nor even of making illegal fireworks. Deeb fell afoul of the Massachusetts authorities for … doing experiments.

Authorities concede that the chemicals found in Deeb's basement lab were no more hazardous than typical household cleaning products. Despite that, authorities confiscated ?all potentially hazardous chemicals? (which is to say the chemicals in Deeb's lab) from his home, and called in a hazardous waste cleanup company to test the chemicals and clean up the lab.

Pamela Wilderman, the code enforcement officer for Marlboro, stated, ?I think Mr. Deeb has crossed a line somewhere. This is not what we would consider to be a customary home occupation.?
Now I think I understand both sides of this issue.  We, as a country, are threatened.  But the method of our response either moves us forward, or it moves us backward.  What would terrorists rather see?
O'Reilly continues,
Allow me to translate Ms. Wilderman's words into plain English: "Mr. Deeb hasn't actually violated any law or regulation that I can find, but I don't like what he's doing because I'm ignorant and irrationally afraid of chemicals, so I'll abuse my power to steal his property and shut him down."