I will be speaking at a state conference in April that will be held on the campus of a major university. The entire conference facility will have robust wireless access to the Internet, and the conference planners want to utilize the heck out of it.
A number of edublogerati have talked about how ed tech conferences should be evolving into the new highly connected environments, and the growing ubiquity of personal networked digital devices (handhelds, laptops, tablets).
What do you think? Where might this go? How might this conference utilize a ubiquitou network and promote it?
If you decide to blog about this, please tag it with "newcon".
There has been a long exchange on the TechLearning Blog page, that began with my Letter from the Principal post, apologizing for failing to prepare children for the 21st century. I posted a second blog on TechLearning yesterday, posing several essential questions behind education reform.
T&L Blogerati, Terry Freedman commented on that post asking
…so what am I, the teacher in the classroom, supposed to actually do?
Here is how I responded at T&L, and I'm offering it here as well.
Thanks for the clarifying question, Terry. Often, my high minded (seems that way some times) ideas need grounding. It's one thing that my wife is very good at.

What should the classroom teacher be doing now?

First of all, they should join the conversation, just like Cheryl says. They should start paying very close attention to the world they are teaching our children about and then start talking about it. They should start blogging and reading blogs. I could never adequately describe the learning curve I have ridden over the past 12 months since starting to read blogs, and to participate in the conversation.
Teachers must start looking for, and inventing, new stories. To much of what we do in our classrooms, curriculum meetings, standards committees, and board rooms, are based on old and outdated stories. Find the new stories and start telling the heck out of them to everyone, at every opportunity.
Start coming at things sideways.

We're still teaching like it's all our children will ever need to learn. We need to start helping students learn to teach themselves.
We're coming out of an age of occupational security. So what's the upside of less security? More opportunity. What do kids need to know to leverage and even create opportunity.
Second think literacy. What are the basic skills when information is increasingly networked, digital, and overwhelming, and what are the pencil and paper in that information environment.
Stop talking about integrating technology into the curriculum, and start talking about integrating the curriculum into an information-driven, technology-rich, rapidly changing world.

Find and craft new stories and tell them. To your class…"I read yesterday that at any given moment 2% of the world's gross domestic product (GDP) is in the back of a UPS truck. What do you think we, in our community, put on those trucks — or what do you think we might put on those trucks in the future?"

To the public…"At some point, sooner than we believe, virtually all practical day to day information will be available digitally and through a network, and almost exclusively through digital technology. Anyone without convenient (at hand) access to a networked, digital device and the skills to use that device, may as well not know how to read. We've decided how important it is to learn to ready. How about the tech part?"

We need to be inventing new stories, sharing them, and telling them ALL THE TIME.
Last week, I posted, on the Technology & Learning Blog, a fictitious letter from a principal to the parents of his school's students. A copy of the letter is attached below. The letter received a good bit of response, not only from readers, but also a follow-up letter from my friend and fellow T&L Blogerati, Dave Jakes. Today, I posted my follow-up. Read it at The Conversation Continues, and It's Yours
[Originally posted on TechLearning Blog on January 23, 2006 -- link]

Dear Parent,

I want to take this opportunity to thank you for all that you have done to support our school in it's endeavors to accomplish our mission. Your services as a volunteer, membership in the PTO, and attendance at parent conferences and our open house are all greatly appreciated.

As the principal of your child's school and the administrative representative of your school district, state, and national education system, I also want to offer my sincerest apologies. We are failing to achieve our mission, and your child's future is in jeopardy.

We live in a world of rapid change, yet what and how our school teaches our children has not adjusted to the challenges and opportunities of the future. Technological advances, the changing nature of information, new occupations and styles of work, and emerging scientific discoveries and capabilities will all demand new skills and knowledge that, regrettably, are not being taught to our students.

Your child is learning to read. Test scores indicate that 95% of our students are reading at or above grade level. However, I can not assure that your child has been taught to conduct effective research on the Internet; to analyze and synthesize the multimedia content that is increasingly a part of our everyday lives; to evaluate information for accuracy, reliability, and validity; nor how to organize information into valuable knowledge. Each of these skills is as critical today as the ability to read in an information-rich technology-driven world.

Our math scores are among the best in the state. Yet the basic computation skills that your child is learning to perform on paper do little to prepare for the real world problems that require processing and analysis of thousands of numbers, nor do they address the necessary skills to work the full range of digital information.

Your child is receiving the best writing instruction in the region, but our children are not being taught to communicate. The future will demand people who can express themselves effectively with images, animation, sound, and video, but our students are not learning these skills in our school. Character education remains one of the major focuses here, but we are doing little to understand and teach about the new ethics of information.

There is no excuse for the degree to which we are failing your child. But the reasons are many. Nearly half of my teachers graduated from college before the desktop computer was invented. They have little opportunity and even less time for staff development. Even though there are computers in each classroom, their numbers dwindle as we have insufficient technical staff to repair machines that have failed, and our technology budgets have been cut. The state and federal governments demand better test scores every year, but do nothing to fund it or to support the teaching of deeper information skills that we know will be critical to success in the future.

Even though my school wears the banners of success, your child is not being prepared for the challenges and opportunities of the future. For this, I am deeply sorry. Our education system gives us no reason to change. It is only for the sake of our children, and that seems not to be enough.

If you want more from your child's school, ask for it — from the highest mountain and with the loudest voice.

I look forward to seeing you at next month's PTO meeting.
Beijing teacher and Thinking Stick author, Jeff Utecht, suggested an idea the other day that I have only just now discovered. What if we had Perpetual Beta Education?
First of all, the term beta is often used to describe a software product that is ready for use, but not completely finished in terms of bugs and final polishings. It is frequently released to the public, or a selected public, to be used and to uncover bugs that have yet to be eradicated.
As an example, Class Blogmeister is a weblog tool for teachers. It enables them to establish a class blog for publishing not only the educator's writings, but also student articles. It includes many features of the blogging engines used by many adult bloggers, and some additional features designed to both protect student identity, and facilitate instructional valuable conversations.
What's unique about Class Blogmeister, and increasingly common among other Web 2.0 applications is that as teachers envision ways that Class Blogmeister might better serve their educator needs, they post their ideas on the Class Blogmeister mailing list. If I agree with the suggestions, I set about writing the code for the enhancement.
The up side is a tool that continues to evolve with the needs of the users. It becomes a conversation between the users and the developer. The down side is that there are more encounters with bugs, because any time that you work with computer code, what fixes one thing, often breaks something else. The result? A piece of software that is in Perpetual Beta — perpetually adapting to the needs of the customers.
What Jeff Utecht is suggesting is the notion of an education system that is in perpetual beta. In my mind, this means that teachers and administrators are free to recognize new needs, new opportunities, and changing circumstances, and freely adapt "how" and "what" they teach, and even take risks, within the bounds of sound professional judgement.
There are certainly schools and classrooms that are practicing a beta approach to instruction, but our broader (U.S.) education institution runs very much counter to flexible, adaptive, and experimental learning environments.
In my opinion, the greatest need for beta flexibility is the standards — the "what" that we teach. Consider that the World Wide Web came into existence less than 15 years ago, and it's been only ten years since it began to approach the mainstream. So much has changed in the last ten years. Yet, in cases that I am aware of, state standards and textbook adoptions are only updated every five years, and and it has been my experience that pressure is applied to change the standards as little as possible, more for the convenience of education system than for the effective socialization of our children for their future. Please correct me if my observations are wrong.
A while back, I wrote a blog about Shallow Standards / Deep Learning. I suggest that the shallow standards, those skills and knowledge that are crucial to building a common social, cultural, economic, and environmental context for our children, be established by state or national bodies, and that the deep learning be shifted to the school and classroom, where students might develop in beta learning environments.
Why it Won't Work:
This can't possibly succeed in today's education environment (speaking of the U.S.) because education is run by the government, and government is in perpetual terror of making a mistake. I stand firmly in favor of strong, effective, and independent public education. It's one of those services that is simply too critical to leave to the market place. That's why why have governments. But while public education, continues to work under the ever watchful eye of journalists looking or the next expose and the relentless scrutiny of the anti government faction, our schools remain our students' strongest tie to the last century, rather than an effective preparation for their future. It's not what schools should be.
Addendum — Why it Might Work:
One interesting feature of the Arizona conference series is a session that they call "A Conversation with the Speaker". It's an open discussion about the topics brought up in the keynote address. I suspect that I did a better job in Flagstaff, of structuring the discussion than I did yesterday in Tucson. I had planned for the session to result in a wiki page with lots of ideas about barriers and possible solutions. It ended out being a venting session, and that's ok. We often learn a lot from those thoughts that we are emotional about.
I suggested Utecht's ideas about a perpetual beta classroom, describing what perpetual beta means in the Web 2 world, and then comparing it to more open classrooms that trust their teachers. What surprised me, and shouldn't have, was that the concept was quite familiar to the audience, not the beta part, but the idea of a style of education that is an ongoing conversation between students and teachers, students and other students, the classroom and the community, the teacher and a continuing examination of their field, and the freedom and skill to adapt what and how we teach to a rapidly changing world. Many, in the audience, raised their hands with examples of beta classroom activities and programs.
Perhaps this isn't such a way-out idea.
I'm currently at the AzTEA conference in Tucson. The people are as hospitable here as they were in Flagstaff. My message was well received, and we had a very interesting discussion as a breakout session. The frustrations are similar everywhere, and our visions are the same. We simply have to figure out how to craft a compelling story about the 21st century classroom and go out and tell it — to everyone.
Over lunch, I was talking with the president of the AzTEA and the director of technology for the Flagstaff school district. We were talking about instant messaging, and how surprised we are at how useful it really is. I talked about my wife texting me grocery lists while I'm writing at the coffee shop. Somebody said, "It's like floating post-its."
I thought that was a very cool way of thinking about it.
With a few minutes left before rushing to the airport for a two-legged flight to Tucson, I started scanning through my aggregator. Interestingly ( or else I wouldn't be blogging right now), I ran across postings from Christian Long (think:lab), and Chris Lehman (Practical Theory). They both talk about administrators (Christian's wife and Lehmanns new job opening an innovative high school) who do what they do because they love being teachers.
I can identify. I taught social studies, science, and math to 12 and 13 year olds for nearly ten years. I loved it, except for the first year when I'd signed up for the Civil Service Exam by December, thinking that I'd rather be a rural postal carrier. At some point, during that time, I discovered computers, became seduced, and wanted to teach everyone about them, not just my 8th graders.
So I took a job with another school system as their computer resource teacher, was promoted to Director of Technology, and started spending more time running reports than teaching. So I fled for the State Department of Public Instruction, where we taught teachers about technology and created some really interesting ways to use technology in the state's classrooms. But then our travel budgets were cut, and we were all fired and asked to re-apply for the only 300 jobs that would be left (this in booming economic times). I fled again, to an office in my basement, where I get to teach nearly every day.
What is it about teaching? Where does the electricity come from when you teach something to someone that they didn't know before? It's addictive. It's the right thing to do.
Ooops! Got to go.
Someone posted a request on the Class Blogmeister list yesterday, asking for readers to come and comment on her students' bloggings. It's a common request. It's one of the reasons that you blog, to engage in conversation.
I frequently go in, read, and comment, but not nearly as much as I should, considering that one reason for building Class Blogmeister was that I could learn from teachers and students, some interesting ways that this conversation might be used to learn. Alas, there's only 24 hours….
It occurred to me, this morning, while I should have been sleeping, that a logical audience for students blog writings might be last year's 4th graders. If a 4th grade class blogging teacher could arrange for a 5th grade class to periodically read and comment on her students' writings, it could be a unique learning experience for both classes.
Students' blogs are being read regularly (or at least predictably) and responded to.
The blogs are being read by students who, if they hadn't written on the subject the previous year, at least they have considered it before.
Students are reading the reactions of readers who have the benefit of one (or two or three) year's maturity.
Students are reading the reactions of readers who are considering the same topic with slightly more depth and sophistication. Slightly is good!
The upperclassmen are revisiting topics that were covered the previous year(s) from slightly more maturity and sophistication.
Just an idea, from the change in my pocket!
I must keep pinching myself to see how far we've come. When I first started talking to teachers about e-mail and then the Internet in the late 1980s and early '90s, the U.S. had an undeniable and unchallenged superiority in all things related to information and communication technology (with the possible exception of France's Minitel.
This morning I read, from Andy King's Web Site Optimization, and brought to my attention by Edward Vielmetti through Interesting People, this piece about the changing shape of the broadband graphs.
At its current growth rate of over 90% per year, China will pass the US in total broadband subscribers by late 2006 to become the largest broadband country in the world. The US has fallen to 19th overall in household broadband penetration, and is in danger of being passed by Slovenia in early 2007. Israel leads all Middle Eastern and African countries, and is the third country overall in broadband penetration. Hong Kong leads the Pacific Rim, with a broadband penetration rate of over 73%. Meanwhile, in December 2005 the US passed 65% in broadband penetration among active Internet users.
Our edge keeps slipping as we keep looking backward!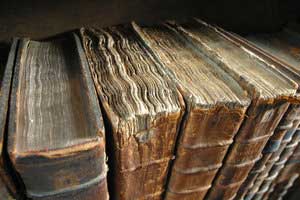 I woke up without anything to say this morning, and even less time. In an hour, I leave for an elementary school in eastern North Carolina, and hour and a half drive listening to a Greg Bear book.
But scanning through my comments, I found something pinned to yesterday's entry, I've had Better Days. The last sentence in that piece was…
What scares me is a country that finds $369,000 for bio-metric security for one elementary school in New Jersey, but can find no more than $3,000 (three laptops) for every other school or five bucks and some change for every student, to replace centuries-old technologies (the book) with modern information tool. That's what frightens me.
Admittedly, it was worded for the drama. But one reader, who used a login name wrote…
Please please tell me I misunderstood this post. It does not say books are outdated, does it? I am ALL for integration of skillls and digital literacy–but how can anyone say a computer is more important and more valid than a book? I find that statement just as disturbing as the current state of educational funding. BOTH are tools our children will need to master the use of if they hope to find any answers.

Perhaps I will feel more eloquent tomorrow, able to back up what I fully admit is an emotional reaction. I just can't believe . . . I must have missed something somewhere . . .
Alan November use to start all of his keynotes with something like, "Almost everything that I say is opinion, and it is all open for criticism." Well that pretty much covers my blogs. But what else can you have, but opinion, in times where everything is changing so fast. At my advancing age I can much more easily recognize when I am reacting to something emotionally and when rational logic is driving my thinking, and they are equally valuable (most of the time).
As I see it, the book is not obsolete. It is still an effective way to carry information through time and space. It still has some advantages. No need for batteries or power cord. It is more tactile, and we like tactile. Printed paper content lasts longer. It serves as a better culture memory than digital.
But as a learning tool, digital is far superior. It delivers content in a variety of styles and mediums. It's content can glow, grow, move, and it can play with you. With digital content, you can craft a learning experience that manages itself, so that the teacher can concentrate on the learning — on the student. All things considered, I suspect that digital is more economical, and this will increasingly be the case.
And finally, is the book more valid than digital content. Well there are a lot of ways to look at this, but the bottom line, in my opinion, is that it isn't the technology that determines the accuracy, reliability, or validity of the information. It's the information, it environment, its author, and the reader. The machine just carries it. Books, newspapers, and magazines all lie because people lie. Books, newspapers, and magazines all get it wrong, because people get it wrong. That we could rely on print was/is a myth. That we must teach students to ask questions about all that they read, hear, or see; as a basic skill, as critical as reading, and as an explicit part of what and how we teach — and to care about the truth — is a matter of economic, political, and cultural survival.
I was just listening to the latest installment of NCQ Talk (ecstatic to hear you guys online again) when the term CourseCasting came up. I guess its one of those terms I should have been familiar with, and it was easy to conclude what it meant, but, as new words should, it got me to thinking.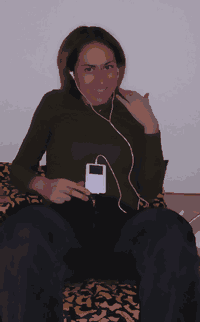 Picture a student, sitting comfortably in a cushioned chair, learning history with ear buds plugged in and an mp3 player resting on her knee, and contrast that with the commonly held image of that student sitting in a classroom desk and experiencing a teacher's lecture. What reaction does this comparison immediately evoke? For me, I see something important missing from the learning experience of the student sitting comfortably alone. But I've said it before. I'm a romantic when it comes to teaching and learning. …and I have to remind myself that this intellectual exercise began with my listening to a podcast, while sitting comfortably alone in my cushioned desk chair writing code.
I guess the question is, what is it that's important that's missing when not attending a classroom? What is it that we offer in our classrooms besides the sounds of our voices? What's the value-added for not skipping class. An ongoing cultural fear of my generation has been that of losing your job to a machine. It's a fear that has been expressed by teachers, though most agree that computer's won't replace the classroom teacher.
Perhaps, a better question than, "will computers replace teachers?" is "Might an iPod replace me? Might an mp3 player do as good a job of delivering my instruction as I do?" Regardless of the answer, it would be a good thing to examine what it is that we do offer to our classroom customers and the desirable goals that they achieve. The Bush-era question would be, how do you measure that? It's not a trivial question when education conversations based expressly on test results, might logically follow a path to trading technology for warm bodies.
A young man (higher-ed person), who attended my session at the PodcasterCon a few weeks ago, suggested that one benefit of podcasting your lectures might be that it frees up your class time for more engaging, interactive, knowledge-building activities. I also learned from this week's NCQ Talk about a new podcast called iCube. Produced by University of Connecticut psychology professor, David Miller, the podcast is a gathering of students, in Dr. Miller's class, discussing the day's lecture, exploring more difficult ideas and elements of interest — like a public study group.
Final question:
What kind of new conversations might we facilitate in our classrooms, when the traditional one-way conversations of the past can so easily be plugged into our students ears?
keep looking »