It's the break at TEDxDenverED and I'm hungry. I didn't have time to eat today, being on the verge of being late just about all day long. But I've gotten some nourishment here at TDE. There have been some excellent, amazing and inspiring presentations. It's surprising how fast 18 minutes can go by.
But I would like to make one observation here, which I tried to make to the speaker, Brian Cosby, in the hall, during the break. But he was way to distracted by all of the people who wanted to shake his hand.
I can't go into a lot of detail here, but Cosby said something early in his presentation that really struck me. After describing the lack of knowledge that his 4th graders (mostly poverty-locked and transient student) had about their world and their local geography, he asked, "How can you imagine what might be, if you don't know what is?"
This was followed by an inspiring story of how his students started blogging, making connections with other blogging classrooms around the world and then generated a collection of comments from their new global community, comments about their wishes for their greater and local communities.
At the same time, they decided to make a hot air balloon, and then equip it with a camera, and a payload, to carry that mass of world-wide wishes. Brian included a moving video of the launch — and watching the event, it occurred to me that he was demonstrating that to know what is, you can't just be taught it. You must connect with it.
I've seen Mr. Cosby present before, and I wasn't expecting to be surprised. Thank you for surprising me, Brian.
- Posted using BlogPress from my iPhone
One of the many things that irritate me about the App Store is that I have to pay 99¢ or $6.99 to see if an app will do the job for me — will help me do my job. One of the most practical applications of my iPhone has been in taking notes, and specifically in using concept mapping software to do so. Actually, I've impressed myself (doesn't happen very often) at how quickly I've gotten fairly proficient at thumbing text.
Of course, the benefit of using concept mapping software for taking notes is that you are organizing the notes at the same time that you're writing it down. After the event, it is easy to adapt the structure to your particular work needs. In addition, many concept mapping tools will easily output your map to a number of formats, including image files — and some provide web space for posting your maps. This enables us to share our notes easily and quickly with our learning networks.
The main challenge and number one deal-breaker, as I have sought out mapping software for note-taking has been the interface — and the most important consideration is that I be able to take my notes without having to leave the keyboard. If I have to grab the mouse, reach down to the touchpad, or reach up to a menu or an icon to start a new sub-topic or sibling topic, then it interrupts the flow and requires unproductive angles of thought.
So, the tools that I have found to be easiest to use are:
Laptop (Macbook Pro), it is, hands-down, XMind. XMind is open source, and therefore free. The include a web service where you can upload your maps and even make them available as embedded windows. To navigate, you simple press [Tab] to create a new child topic and [Return] to create a new sibling topic.
For iPhone, it's SimpleMind. The organic flow of the maps is interesting and flexible, but that it doesn't do automatic spacing and visual branching might be a disadvantage. Navigation is not quite as convenient as XMind. Pressing [Return] will start a new sibling topic. But to create a new child topic, you have to reach up and click a plus icon at the top of the screen.

SimpleMind, as well as XMind will output in a number of formats, including FreeMind, which seems to be the default mapping software. Evidently, most tools will output to FreeMind and import FreeMind maps.

I've probably spent about $30 looking at various mapping programs for the iPad, but the one that is easiest to use taking notes, is Mind Pad. Navigation, like SimpleMind, uses the [Return] key to create new sibling topics, but to spoon a new sub-topic, you have to leave the keyboard. Mind Pad also shares files very easily with XMind, though you have to change the file extension. Also, Mind Pad does not seem to offer any web space for uploading work.

I've been looking forward to the iPad-native version of SimpleMind and have been in conversation with its developers about the possibility of its release before ISTE. Alas, it appeared in my SimpleMind search last night, I downloaded it ($6.99), and found that it does not have the navigation easy that the iPhone version has. Disappointment! I'll continue to check out the updates and look for an efficient keyboard navigation.
At any rate, I suspect that ISTE 2010 is going to be where I more fully developing my thumbing skills on the iPad. I am looking forward to not having to lug a laptop around with me, except for sessions I am presenting at.
Finally, a quick reminder, that if you are taking pictures at ISTE, and uploading them to Flickr, be sure to tag them with iste10. Here are the photos already tagged for the conference.
See you in Denver and at EduBloggerCon.
- Posted using BlogPress from my iPad
The Colorado Convention Center
(cc) Photo by Intiaz Rahim
It's one of the interesting, often regretful, and often delightful aspects of being an independent consultant (free-agent educator) that weekends have very little meaning. I am often traveling on Saturday or Sunday, sometimes presenting, or working in my office at least part of those days. At the same time, there are often other days of the week that feel like weekends. I have spent the last two days either presenting to education leaders or to classroom teachers, or driving to or from Williamsburg or Berkeley County, West Virginia. Today is wide open. Even though I still have a few hours of driving home, having made it as far as Roanoke yesterday, it feels so much like Saturday that I'm almost expecting to spend the morning watching cartoons. I'd love to get home before 8:00 to watch Mighty Mouse and Sky King.
It will be a day off, but also a day of preparing for my trip to Denver and almost a week at ISTE 2010. It's our first International Society for Technology in Education conference that's not a NECC, and I have to confess that it's left a bit of a hole in our conversations about the event. But it won't take anything away from the experience, I'm sure.
My calendar is more than full with most of the time slots in my planner sporting the yellow exclamation warning of overflow — conflicts. There are lots of highlights, including EduBloggerCon, TEDxDenverED, and ISTE's theme of excellence exploration on Sunday afternoon — plus much more.
I'll be delivering two formal presentations, one as a spotlight address (Cracking the 'Native' Information Experience) and the other as a thirty-minute general address (Patron 2.0: The 'Natives' are Restless) for the Media Specialists SIG gathering.  In both of these presentations I will map out some of the important qualities of our students 'native' (outside-the-classroom) information experiences with their social networks, video games, and their hyper-connectedness, and suggest some ways that those qualities might be integrated into our classrooms, libraries, and school culture.
It occured to me this morning that I am suggesting a unique choice for us.
Will we benefit more from fitting video games and social networks into our curriculum — our methods and pedagogies?…
or
Do might we benefit more by expanding curriculum, methods, and pedagogies to encompass and harness the truly unique qualities of the millennial information experience?
I was reading an article yesterday morning from USAToday about the MicroSoft School of the Future in Philadelphia. The article plotted the school's struggle with students who were not accustomed to using laptops to "…keep notes, do homework, and take tests." Now this blatantly schooly description of how students are being asked to use their laptops is certainly worthy of comment, regardless of whether it was the journalist's (Kathy Matheson, The Associated Press) wording of that of her source. ((Matheson, Kathy. "Microsoft 'School of the Future' in Philly finally in a groove?." USAToday. 19 Jun 2010. 20 Jun 2010. ))
But that's not what triggered the ding in my head.
The Microsoft liaison, Mary Cullinane, when responding to the "dismal" (7.5% of 11th graders scored proficient or higher in math; 23.4% scored proficient or higher in reading) test scores last year, said,
..test scores don't tell the whole story. It is a long-term journey and we have to get away from short-term yardsticks.
Several of us edubloggers have written our personal and sometimes moving blog entries, where we confessed to not having been exemplary students when we were young. I do not remember if I've written mine, which is almost certainly part of my problem. I'll just say here that I was not a successful student. I did not become a successful student until graduate school, where I knocked the roof off with my grades — and didn't learn nearly as much as in undergraduate school, I might add.
I visited my parents last week to help them celebrate their 60th wedding anniversary, and my Mom told me about running into my third grade teacher, Mrs. Newton. When Mom told her about what I was doing with computers, she said that Mrs. Newton smiled and said something to the affect of,
Remember when David was in my room, and I told you not to worry about him, that he's a bright kid, and one day he's going to find something that's going to capture his interest, and he's going to take off?
Now I'm certain that my Mom would have remained concerned if she'd known it wouldn't happen until I was 35. But I have to wonder if any teachers today are saying, "Don't worry your son." Dismissing the below grade level test scores, and saying, "He's bright. He's going to take off when he finds his passion."
NO WAY!
Of course it shouldn't be a waiting game. We shouldn't be waiting for children to find "their passion." We should be helping them. If we could simply shallow the standards, and provide more time and resources to enabling and empowering students to find, or even invent their passions, we may see the development of deeper and more habitual academic skills — and earlier.
Empowering learning just seems to make a lot more sense to me than just defining and measuring it.
- Posted using BlogPress from my iPad
Only network-literacy teacher-learners accepted here…
The last few week has had me working most often with administrators and leader teachers. It's a gratifying group to work with because they are there because they want to affect change and they are ready for new ideas.
The events have been formal presentations, but also facilitated conversations — and I think that people get a little miffed when I divert questions by saying, "Does anyone else have an answer to that question?"
So on several occasions, I've been asked for tips on motivating resistant teachers to accept change and adapt. Of course the questions take many forms and usually involve, "..getting teachers to integrate technology." when I open up the discussion, "Anyone else have a suggestion?" — the answers range across.
Support the teachers.
Provide professional development.
Take small steps.
Give them time to play.
I open the discussion up because I suspect that these things need to be said. But I can't say them any more. When it comes around to me, my response is,
"No more excuses."
We've waited long enough. It's been 15, 20, 30 years depending on when you want to start the count. Teachers have had enough time to accept and adapt. They've had enough time to decide if they want to teach today or yesterday — enough time to decide if they want to prepare their learners for the future, or for the 1950s.
I'm hearing again and again how education conferences, geared toward 21st century issues, are growing and exceeding attendance projections — and sense that a tipping point might have been reached. We have been patient enough and our students have probably let us get away with foot dragging teachers way too long.
The question is simple, "Are you going to adapt your philosophies and practices to a new generation of learners, a new information environment, and a new future?".
If not…
Then get out and go run a Laundromat.
Photo Credit: Derived from "Because Elsewhere we tolerate it?!?" posted to Flickr by Angela (Smileygeekgirl)
- Posted using BlogPress from my iPad
I just found an education blogger to add to my personal learning network. Yong Zhao was the opening keynote speaker for the Wisconsin School Leadership Academy this week, a conference that I will be closing tomorrow. I checked out the conference site just before boarding the plane in Burlington, VT and then linked over to his site and blog, saving a number of his most recent entries to Instapaper for read during the flight.
The bad news is that I'm completely changing my closing address. I'd be pretty much delivering the same message with a different accent and without his academic authority. The good news is finding a new teacher.
Even though we have spoken at the same conference on several occasions, I've only seen him present once. He was clear in his presentation, compelling, and very good at something that only a few keynoters do well, turning his message into a story — complete with surprise ending. But his blog hammers through to some of the fundamental reasons why the Obama Administration's approach to education reform is wrong and why our current Secretary of Education should be replaced.
One of the pieces that caught my eye was A Pretense of Science and Objectivity: Data and Race to the Top, where he does not criticize data, but our worship of it's collection and use as what's going to save education in America.
I've written about data-god on several occasions and agree with Yong that good data can be a good thing. But the government's monotheistic approach devalues the rich and telling data that is exchanged during typical learning conversations that happen in the classroom everyday and effectively hobbles the teacher's role in working these data exchanges with wisdom, passion, creativity, and confidence. This is the greatest loss and most costly to our children — the loss of our confidence.
I'll leave the rest to you, and look forward to reading more from Yong Zhao.
- Posted using BlogPress from my iPad
Location:Access Rd,Chicago,United States
All things require traction to work — boundaries to push on or pull on. Learning is no different. We had the teacher or the textbook to tell us if we got it right or wrong, or the bell schedule to work within. In less certain times with unpredictable futures, there need to be new boundaries to get traction.
Photo Credit: Wireless Network Learning Resource Centre Edge Hill University by JISC infoNet
I delivered a keynote address last week in Austin to a group of educators and researchers who, from their university settings, support county extension agents on issues ranging from fire ants to precision agriculture.
After the keynote, I had a chance to talk with a number of conference attendees and one said something that I had to stop and write it down. As a way of factoring down some of the ideas that I shared in the talk, comparing old notions about education with becoming educated in a time of rapid chang, he said,
If it's right, it works.

vs.

If it works, it's right.
I researched the statement this morning, figuring that it was a famous quote, and although I could not find an author, there were many references to the statement and its use in a lot of different contexts, including moral issues of relativism — far from my reading of its intent in that conversation. So I'll stick with my interpretation.
When I was in school, I was being taught what I would need to know to be ready for a future that we were fairly certain about. I could fairly easily and reliably depend on the adult experiences of my father and even my grandfather as models for my own impending adulthood. We had no way of even imagining the rise of personal computers, the Internet, bio- and nano-technology, energy crisis, water crisis, globalization, global terrorism, and I could go on.
In that comfortable place of certainty, I could be taught the right answers with confidence that they would remain the right answers throughout my future.
Today, we can't be certain that this answer, this formula, this interpretation, this language, will be the one that helps us accomplish the goals we might strive for 10 or 20 years from now. If this is true, then how does it affect how we teach? …what we teach? …how we learn?
We often get mileage, or think we do, when we say that even with all of these advances in information and communication technologies, our classrooms have not changed — and in some fundamental ways they have not. But many of us are crafting brand now learning experiences for our learners that do not reflect the "methods" we were taught in education school, perhaps even diverging from the basic pedagogies that seemed so universal then.
My daughter took the Praxis test on Saturday, as part of earning her elementary grades certification. I have no doubts that she was being tested on the education styles that she learned in college, which were no different from the ones I learned at the very same college 35 years ago. Yet, many of us are not teaching from those pedagogies because we see that so much has changed. We are experimenting with and even inventing new types of learning experiences that different pretty dramatically from what we were taught and the way many beginning teachers continue to be taught.
I could have shared some of these new ideas with her, but it would not have helped. The last time I helped my daughter prepare for a test, it was 8th grade and the unit test on the Civil War. When she walked into that classroom, she could talk about and write about the reasons for the war, what the North and the South wanted to achieve, the advantages that the North held and those of the South, as well as their disadvantages. She could tell you who won and who lost and why.
She made a 52 on the test because she couldn't give the dates of the major battles of the war.
It seems like I've veered way off from my initial point, but I haven't. You see, in secure and predictable times, there are more right answers, facts, skills, and knowledge that we can depend on — that will work. In times that are less predictable, less secure, and rich with opportunities, the right answers, are the ones that work.
A major element of formal learning today should be the act of finding, assembling, and testing for answers that work — not just memorizing the "right" answers.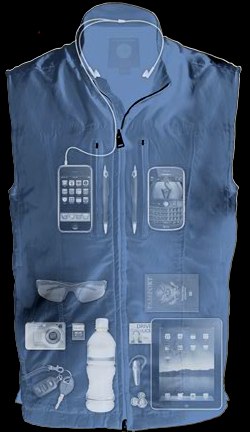 X-Ray View of the Scottevest.
One of the most continuous and vexing conversations that I have with myself is about how I am going to pack for this trip? I learned many years ago not to check luggage. It introduces an uncontrolled variable into the success of my work and an unnecessary addition to the stress of navigating my way from home to job and back.
But what I end out with is an airline compliant roller-board that is so densely packed and heavy that I'm constantly deal with strained elbow from whipping it up onto the conveyor belt at security, and a continuous (and person) quest for the perfect computer bag — one that facilitates the necessities of work and connectedness, yet prevents me from packing the erroneous and weighty devices that I want to take but never get around to using.
I may have found the solution, the ScotteVest. Those who've seen me present may have seen my poking fun at wearable computing — the clear plastic computer jacket from MIT and cell phone that you wear on your fingers. But this may actually be practical, a 22 pocket vest that will carry — well watch the first video.
What's more, it's iPad compatible.
Here are some videos that illustrate the many features of the Scottevest:
So what might we see as the definitive fashion statement at ISTE this year?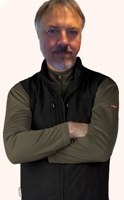 Added later: Evidently, Scott Jordan, of ScotteVest is fairly social media-concious. I started following some of the video links, clicked back to the web site, and found a fairly rich web of social connections, including Facebook, a Blog with associated vlog, a YouTube channel, twitter, LinkedIn, a Flickr site, and MySpace.
What was especially interesting was a video conversation he had with Apple. Jordan upload a video to YouTube demonstrating some of the problems he was having with his iPad. Shortly after he posted it and received a number of comments from viewers who were having the same problem, he was contacted by a tech person at Apple who walked through a few things, and then excused himself saying that he would have to schedule a time to get back and go through the issues in more detail — and would Jordan mind making his video private. He did did, thanking the tech and praising Apple for its responsiveness. He got an email back from the tech guy saying he was having difficulty in scheduling a time and to be patient — and then nothing. Jordan put the video back up along with a followup video bringing us put to date.
I did not follow the thread any further, but it's simply another example of the drama of social media and customer relations that are (and I don't use the term very often) transparent.
Many of the sessions were web cast to Extension Support offices across the country.
I've not been blogging much lately, and it's not been from a lack of things to write about. In fact, I've started a number of blog entries, but not found time to finish them up. Here's one.
At this writing, I am working a conference in Austin, Texas for a national organization of university-based educators and researchers who support Extension offices across the country. Their support ranges across a wild variety of topics from fire ants to GIS-supported farming. I did an adapted version of new pedagogies (see it at ISTE) and personal learning networks for the keynote, which seemed to have been well received.
Now I have the rest of the day to just wonder arround and learn. One guy, in the hall, right after the keynote, said something interesting to me. He said,
You know, what we need to be doing today is training our children's brains, not just filling them.
I thought that really nailed a lot of what we've all been talking about.
I was talking to another guy whose specialty is precision agriculture. The example he shared was how they use yield data, tied to GIS, to communicate graphically how farmers need to tend specific parts pf their fields.
I find it educational to attend a conference whose topic is not part of your immediate world, and would strongly recommend it to any teacher. Much is the same. But perspectives differ. Right now I'm in a session on photo management, and the presenter is talking about Creative Commons.
There are two main points that seem to be coming out of many of the conversations I'm having. First, is globalization. She said that in rural America, which is the setting for most of their clients, the question persists,
If it's worked for the last decade, then why won't it work this year? ..next year?
The other issue is the challenge of getting colleagues to adapt to a new information environment. Many of these offices write and print guides and white papers for their clients and then sell them. It's part of their funding. For them, it is hard to accept the suggestion that they put their content on the Web — for free.
Interestingly, many (if not a majority) of the sessions at the conference are about blogs and wikis and other W20 tools. Yet, back at home, coworkers resist, "If it's worked for the last decade, then why won't it work this year?"
During the Q&A at the end of my presentation, someone asked, "What about the time required to start your learning network and all the other investments." "You are a Techie," she continued. "You're into this stuff." I could tell that she was not asking for herself. She was looking for what to say when confronted by resistant colleagues. She even evoked the immigrant analogy.
You know what I said.
Some of us are immigrants.
But that is not an excuse.
It aggravates me that some people still believe that there's a choice, that "techie" is a club that you can choose to belong to or ignore. I said that,
The prevailing information environment today is networked, digital, and abundant, and that this is not just a trend. It's where information is. It's where people go to find information. If you are supporting people by sharing information, then it's where you need to be.
Again, and as is often the case, I was preaching to the choir. But hopefully, I was helping them to sing better.
At this writing, I have reached the last session that I will be able to attend before heading to the airport. It's a session on tagging, and quite honestly, I'm not sure I've ever seen a session on tagging at any ed tech conference I've attended — and I just learned that the presenters (Kevin Gamble & Jason Young) are from North Carolina, NC State University, "Go Wolfpack!"
This just started getting interesting. The natural place to start in establishing tags is some academic listing of keywords for your area of service. But he is also suggesting that you look at the Google Analytics for your site or page, go to Traffic Sources, and then keywords, and see what words and terms people are using to find your web. I thought that was brilliant, though it may beold news to you.
Then they made me really think. Are tags suppose to be useful by your information clients, or are they simply an internal/in-house organization scheme. I had always thought of tags as a way for information consumers to access relevant content. But they seem to be saying that tags are more about what the computer is doing with the information than how people will use them. "Tags are personal." He's said that several times. The distinction between tags and categories is a big part of the conversation. Categories are for the customer while tags are for the organizer. I guess that it probably depends on the information product.
Time's almost up, and this sessions is sending me away with things to think about — and that's a very good thing.
- Posted using BlogPress from my iPad
Location:Brazos St,Austin,United States
Flickr image from Steve Rhodes
I was reading an interesting piece on the plane by Stephen Levy, author of many things, not the least of which was a 1980 book, about the history of interactive computing. I read the short article on the new WIRED app on my iPad, and THIS is what is pushing my thinking more than anything else about this amazing, appealing, and still befuddling device.
While anticipating the launch of the Apple tablet, I imagined what it might do for the publishing industry, especially the magazine and newspaper sectors. What I envisioned was a slew of reader applications, similar to the Kindle book reader and to what Zinio has promised for years. But this concept of the APP was totally out of the blue for me, and I've been in this long enough that I am pretty hard to surprise.
The advantages are numerous. But perhaps the most important is innovation, as different publishers seek to compete not merely with content but with what they can make the content do, and how easily and interestingly they can make it accessible to us — interface.
I've purchased only a few, expecting with them each to astonish me. Hasn't happened yet. The Wall Street journal was one that left me ho humm'ing the day long. I finally figured out it's organizational theme and then gave up. WIRED was a little better, especially with it's ability to browse what is essentially a thumbnail version of the publication. But then when I tried to highlight and copy portions of the Levy article and found that I couldn't, I was deeply disappointed.
The most interesting example I've seen is Cool Hunting, a web-based publication. They are already networked and digital, but so too is WIRED. The interface flows under your fingers, as it should on a touch device, and the interface is consistent, fairly predictable, but also relatable.
Anyway, Levy goes on to suggest that the iPad, and it's ilk will need to accomplish three things before it is truly more than an elitist's machine. It must be,

Cheap enough to lose, suggesting a price that starts with a 1


As light as paper


Always connected to the web
- Posted using BlogPress from my iPad