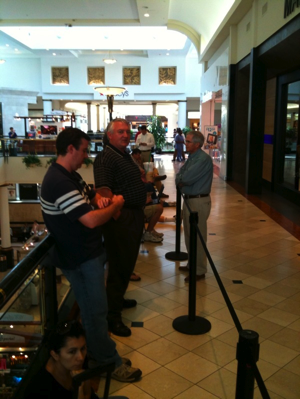 Waiting in line for the iPad 3G
I'm multitasking big time, sitting on the tiled floor of Crabtree Mall, number 5 in line for an iPad 3G. I'm monitoring twitter a bit, eying folks walking by, and chatting with the young man next to me, who stood in line for a WiFi, only to take it back because he wasn't satisfied with the apparent network deficiencies. He said it wouldn't pick up WiFi in places he knew it was available. So 3G hopefully will be the answer.
I'm also going through my new book, newly back from the editors. She delete about 200 commas in the first 18 pages. Sheesh! Plus, she's deleted about 29 extra Gs in Gary Stagger's name… We might get this thing down to less than a hundred pages after all.
I have to admit that I'm not sure why I'm buying this iPad thing. People are actually gawking at us. I suspect, if pushed, that I can come up with two reasons — besides the obvious geek-cool factor.
First of all, the iPad (and the many 'Pads that are on the way) is remarkably similar to an information device that I described in the first edition of "Redefining Literacy." That particular chapter was re-written and published in Library Media Connection. You can read it here. It was a personal device, used by teachers and learners, that could be connected to keyboards and larger displays for group work. You could also listen to podcasts, audio books, watch movies, and collaborate with learning teams.
The second reason has more to do with practicality — admitting fully that I do not yet know how practical this thing will be. I've gotten enormous use out of my netbook (Acer running Linux), mostly using it for writing at Starbucks, note-taking at conferences, and putting final touches on my online handouts when my MacBook Pro is already set up for a presentation.
The problem with the netbook is the boot up time, uncertainty about WiFi (though my AT&T broadband card works flawlessly on it), the occasional need to work it while standing up, and the inevitable frustrations of fixing things on Linux when you do updates (mostly due to the WiFi card in this particular ACER).
In addition, I've found myself using my iPhone as an information device (text entry and web research) a whole lot more than I'd thought I would, becoming something of a nimble thumb'er. More gawking!
I wish I'd brought a lounge chair, like the guy next to me. Hey, I'm number five in line. I'm not complaining.
Apple store just closed. One more hour to wait…