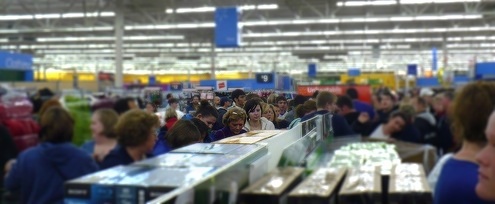 The recession continues! But evidence mounts that the world that emerges out the other end will be different from the one that entered it (and hopefully from the one that caused it). My latest indication is what data about Black Friday (2010) tells us. I initially found access to the data in this Mashup blog entry (Black Friday Sales Figures Soar for Online Retailers), by Jolie O'Dell. According to the story and this Coremetrics posting, online sales on November 26 exceeded sales from FB a year ago by 15.9% and the price of the average purchase rose from $170 to $190.30 — an increase of 12.1%.
Certainly there is much that can be concluded from this data. But it must be acknowledged that the environment that influences these shopping behaviors are infinitely complex and they intersect with each other in lots of different ways. But as someone who has been promoting the use of this emerging digital and networked information environment for almost thirty years, it is just one more indication of our acceptance and growing dependence on our information and communication technologies and the information experiences that they avail.
It also makes more clear the need to retool every classroom and equip every teacher and learner with contemporary information technologies, and instill not only the literacy skills of this information landscape, but also the literacy habits.
Of particular interest is the shopping practices that the Cormetrics data implies. When visiting an online shopping venue, the number of pages viewed per session decreased by 7.39% from BF 2009, and the number of products viewed declined by 17.97%. O'Dell, in her blog post, suggests that,
This data … shows that consumers, though they're spending more online, are spending smarter. When we make a purchase, we're viewing fewer items per site, looking at fewer pages and doing fewer on-site searches, suggesting that we've done our research ahead of time and know what we want when we decide to make a purchase.
Although this data is less compelling, the Coremetrics post suggests that,
Consumers appear increasingly savvy about their favorite brands' social presence, and are turning to their networks on social sites for information about deals and inventory levels.
I would be curious to know if you plan to, or already have utilized your social network to assist in your holiday shopping decisions? ..and if we are, as a society, coming to rely more on our personal digital connections in making decisions, how does this impact the what and how of our children's learning?
– Posted using BlogPress from my iPad