I'm on my way to Cedar Falls, Iowa, where I will deliver the opening keynote address for their Art teachers' annual conference tomorrow. It's an honor and I'm very happy to be going back to Iowa (May have some delicious pork tenderloin to look forward to).
But I've been wondering what a former history teacher and current instruction technologist going to talk about in front of hundreds of Iowa Art teachers? I've been asking myself that question for weeks, and even asking for help from my personal learning network. I posted the question on Twitter and on my Facebook wall, since so many of my FB friends are progressive educators. Twitter bounced back with some great suggestions for reading and people I might contact. Facebook, unhampered by 140 character limit, provided for a richer and sometimes contentious conversation — and I'm wondering what my old high school chums are going to think about that.
Much of the advice I've received, I have taken to heart. But the Art Educators of Iowa have hired me to talk about the times we are teaching in and the challenges that we must realize and face. It's what someone on the conference committee saw me speak about at some tech conference somewhere and it's what they want me to share here — and I can do that. But I feel obliged to funnel my talk in the direction of art as much as I can, so here are some of the points I hope to make.
First of all, I will be mentioning Daniel Pink once during the presentation, much to the devastating disappointment of one of the more loquacious commenters on my Facebook page. The point that I hope to make is that art has become core (to quote the Iowa association's web site). So much of what we do today, where we do it, and the tools with which we use to accomplish our goals is touched by design — and not merely for the sake of ergonomics. Aesthetic appeal is a huge part of what we are seeing. One of my favorite TED Talks was delivered by the design currator of the New York Museum of Modern Art (MOMA), Italian-born Paola Antonelli (Treat Design as Art). She talks about how, "In Italy, design is normal." "What you find at the store at the corner, without going to any kind of fancy story, is the kind of refined design that…" for which Italy is known. But it is not design for decoration. ((Antonelli, P. (Performer). (2008). Paola antonelli treats design as art [Television series episode]. In (Executive producer), TED Talks. TED Conferences LLC.))
Another angle that I will take will be from my typical message about literacy, more specifically the wRiting part of the 3Rs. We live in a time where we are overwhelmed by information. In the same way that many of products we shop for must include a sense of design in order to compete for our attention, so too must information. The content that we use, among the flood of information, it that which successfully earns our attention, and in much the same way that products must be designed for function, the same is true with information.
Information can sometimes be creatively laid out on a page in such a way that makes it easier to read and also appear easier to read. In addition, the use of images, motion, and graphics can aid in the conveyance of a message — and who's teaching that today? I plan to spend some time talking about info-graphics and data visualization, a very interesting and valuable combination of mathematics, data, and art.
There is one more angle that I would like to take. I went to the jobs site, Monster.com, and did a search for the most recently posted job opportunities that included the word artist — a technique that I learned from David Thornburg. In analyzing the job descriptions, what emerged was not so much an appeal for people with specific artistic abilities, but more about workers who were creative problem solvers, goal and product oriented, self-directed, and able to collaborate within a team. Much of what I saw in these descriptions seemed to come right out of our ongoing conversations about 21st century skills.
So I have to wonder if Art class might actually be a uniquely ideal place to help learners develop some of these skills.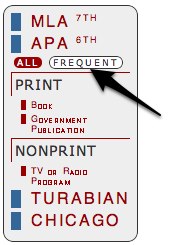 I have long felt that the most valuable feature of Citation Machine is its simplicity and resulting ease of use. I believe that it still requires too much scanning and reading to make the selections for a specific source, so I am trying to increase the tool's simplicity by including some Cookie features that will cause your computer to remember certain things about how you use CM.
If this all works (I'm doing the programming at this typing), then when you select a style (MLA, APA, Chicago), CM will remember that selection so that the next time you open the tool, it will automatically click out that style.
In addition, I am rewording the expanding button from Fewer and More to Frequent and All. CM will now record on your computer (via Cookies) the content sources that you use, and then list only those when you select FREQUENT. Clicking ALL will return all sources.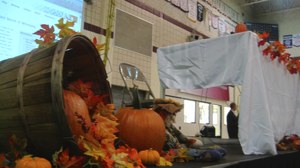 My first look for 2010 at pumpkins and turning of leaves…
Checking out of the Gand Hyatt in Dallas on Thursday, the desk attendant asked where I was going, and I told her, "Winnipeg." She said that she had no idea where that was. Outrageous! Winnipeg is the home of Neil Young and The Guess Who, whose songs helped to define part of my youth. Bands that I was a part of in high school performed These Eyes, American Woman, and No Time (left for you), and Neil Young's songs were a staple for us young folkster wannabes, sitting around with guitars and belting out Southern Man , Down by the River, and Cowgirl in the Sand.
Alas, I didn't get to visit the city, other than a drive through on my way back to the airport Hilton from my work in Oakbank, just a bit east of the city. It was a good day, though, where I keynoted their professional development day and got to meet and talk with Joan Badger, the division's Literacy with ICT program leader and one of Canada's many shining lights.
After the keynote, I facilitated two conversational sessions, on with the division's trustees and the second with school administrators and a few teachers. They were both great fun with eager acceptance of many of the ideas that I shared and a healthy measure of grounded criticism. A certain amount of push back is an essential part of this conversation.
During the afternoon session, one of the division-level administrators shared an experience that I thought was interesting and perhaps even important — though I'm not absolutely sure why yet. She started off saying that she was one of those people who could not read a book or watch a movie a second time. Once she's seen it, she has no interest in sitting through it again. But she said that this had recently changed for some movies and TV shows.
As an example, she mentioned the AMC TV show MAD MEN. She said that she watched the episodes that were available on DVD, and then started reading some of the blogs and discussion boards about the program — intrigued by what people were saying about it, the angles that they were taking, the perspectives that they viewed the show from — which were different from hers. After spending some time with this, she said that she was compelled to watch the show again and that this thoroughly surprised her because it was squarely against here nature.
This idea of having an information experience and then paying attention to a community conversation about the experience, and then wanting to go back intrigues me. What did she gain from the conversations that gave her a brand new desire? What did she carry with her into the second viewing of MAD MEN that she hadn't had before?
Does this observation have any implications to formal education?
If we had learners participate in networked conversations about a unit of study, and then made parts (or all) of that conversation available to the next year's learners, would next year's learners have a more effective experience with the same unit of study? Might the be more motivated?
Am I asking the right questions?
Added Note: I urge you to read the comment posted by Matthew Growney, Founder and CEO of 
Isabella Products
.  He makes some important clarifications.  This blog post is intended to urge education leaders to invest in student information and communication technologies with which learners and teachers can access, share, work, and compellingly communication information.  I do not, in any way, mean to suggest that we not consider Vizits for the purposes for which this very interesting product was intended.
With "Vizit," Elementary students can share pictures with other students in other classes in other parts of the country or world, but…
I just read through one of those e-mails from one of those PR firms, hired to describe some new technology product that will revolutionize education, hoping that the reader will want to write about it. Be careful what you wish for…
Vizit appears to be a digital picture frame with broadband (3G) capabilities, enabling the sharing of photos across the wireless net. The pricing, as listed on the web site is $279.99 for the device (Charcoal or Silver finish with two other styles on the way), and $5.99 a month for 100 photos or $79.99 a year for up to 1450 photos. (I wrote for the school pricing but have not received a reply)
The press release, which was attached to the email, described their "Visit the Schools" program where..
..ten elementary schools are receiving Vizit two-way digital photo frames to utilize in their classrooms for a four-month trial to help define how Vizit can become an educational tool for students. Vizit is the world's first two-way full touch screen digital photo frame allowing friends and family to share photos from anywhere, anytime.
Matthew Growney, Founder and CEO of Isabella Products, said that the program "…was established to help empower teachers with a new piece of technology that is simple to use and convenient for sharing student-based content from just about anywhere to the classroom." The press release continued by describing how an elementary classroom in Tennessee is being paired with a class in New York, where they will use Vizits to swap photos and compare their lives and learning in the different states.
I think that this is a great global awareness activity and an excellent example of wall'less learning — and to be completely fair, I think that creative teachers could come up with some very clever and potent ways of using this technology, such as using the devices with autistic students to help them learn to identify feelings, as described in the press release. If I was a second grade teacher, without ubiquitous access to ICT for each of my students, and someone came in and gave us thirty Vizit devices for four months, I would be thrilled and eager to start pushing the envelope on these things.
But I would be settling for way too little.
The Vizit, as described so far, is limited, offering little more than what we and many of our children are already doing with cell phones, and way WAY less than what we're doing with laptops and net books. Students, using the Vizit would not be reading (except words that have been photographed) nor would they be writing (except for words written and then photographed). It is not a literacy machine. My second graders would continue to spend most of their time pushing sticks across their paper and reading text that was stamped on pages months (or years) ago and miles away, trucked across the country, and handed out dead and stiff.
Sadly, educators will buy these technologies for their children because.. (phrases from the email & press release)
"..they make learning more interesting, interactive and visual for students"
"..schools are now adopting tech-savvy teaching formats"
"..modern techniques is a great way to engage students"
It is a "..new piece of technology that is simple to use"
OMG!  Any teacher could use this! (sarcasm)
Could you do your job with 100 pictures a month? Neither can your learners.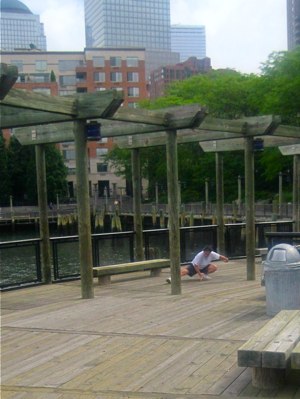 I took this picture while taking a bicycle ride around the southern end of Manhattan Island with my youngest brother a few months ago. There were many places like this, where people could rest, read, talk, think, and engage in Tai Chi.
I frequently talk about the arts and how they apply to living and working today. I think that one of the misconceptions that many of us have about creativity, when we think and talk about 21st century skills, is that we confine our notions to art, music, and drama. We look at a picture that a student drew for her book report and say, "You are so creative." As I've written and said before, I prefer the term inventive over creative, because it implies resourcefully solving a problem or accomplishing a goal — which to me is a large part of what 21st century skills are about.
Inventiveness certainly does not exclude art and music, especially when the picture drawn for the book report expresses some aspect of the story in a way that would not be possible with mere words. Artistic, musical, and performance expressions are highly effective tools for solving problems of communication and fabricating useful experiences. I continue to maintain that the creative arts should be emphasized in schools to the same degree and often for the same reasons that we are emphasizing science, technology, engineering, and mathematics.
Along these lines, I ran across this Twitter post from Richard Florida, announcing a webcast being sponsored by the National Endowment for the Arts
Looking to the Creative PlaceMaking Event today with NEA & Canada Council RT @LivableCities -http://bit.ly/a2HbeP
The panelists (Carol Coletta [moderator], Richard Florida, Tim Jones, Rick Lowe, and Ann Markusen) will talk about the role of the arts in creating livable and sustainable communities. You can read about the 3:00PM (EDT) webcast in the News Room of the NEA web site and also at LAStageBlog.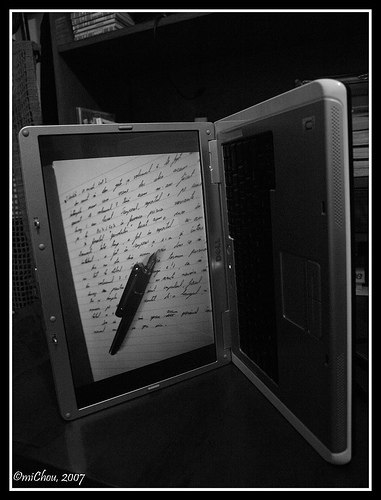 Whose book is it ((Balan, Mihai. "eBook." Flickr. N.p., 22 Aug 2007. Web. 8 Sep 2010. <http://flic.kr/p/2TxVVS>.))
I've been home for the past several days and enjoying something of a routine. Mostly I've been taking walks and working on Citation Machine, adding a Click to Copy feature to MLA and APA formats. Now users can click the link and have the bibliographic and in-text citations automatically moved to the clipboard along with formatting instructions. Makes sense to me — but we'll see if it is actually helpful to folks.
I have also continued to read and run across items worth thinking and possibly writing about, shuttling appropriately within my Delicious account. ..and what has been most eager to break out is an experiment that Sci Fi writer and copyright activist Cory Doctorow conducted around the digital availability of his books.
Going to the major ebook stores, he asked if they would be willing to carry his books without DRM and with a text disclaimer at the beginning of the file that released readers from the "crazy, abusive license agreements" that sellers demand as condition of purchase.
The finding?
"Amazon, Barnes and Nobile and Kobo were all happy to carry my books without DRM, and on terms that gave you the same rights you got when buying paper editions."

"Sony and Apple refused to carry my books without DRM — even though my publisher and I both asked them to." ((Doctorow, Cory. "Which ebook Sellers will Allow Publishers and Writers to Opt Out of DRM?."boingboing. 29 Aug 2010. Web. 8 Sep 2010. <http://bit.ly/9ZnXBg>.))
Doctorow goes into more detail in an interesting piece (Doctorow's First Law) he wrote in early August for Publishers Weekly.
This is one of several developments in recent months that disturb me regarding the corporate world's increasing appetite for control over our conversations. My line now, when folks ask how I like my iPad, "It's a love / hate relationship," which is a step down from "I'm still trying to figure out why I bought it."
Doctorow's First Law:

Any time someone puts a lock on something that belongs to you, and won't give you a key, they're not doing it for your benefit. ((Doctorow, Cory. "Doctorow's First Law." Publishers Weekly (2010): n. pag. Web. 8 Sep 2010. <http://bit.ly/9nhhqL>.))