I know! It's a terrible thing for a tech guy to say — though this revalation is fairly consistent with the frequency of my own podcast, Connect Learning — and I'll not look back to see when my last one was posted. It's depressing.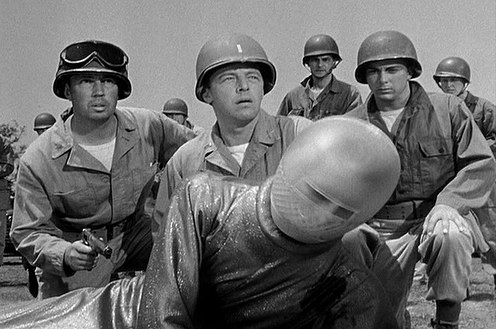 Having shoot the visiting alien (played by Michael Rennie), the "military people" look up in astonishment at what just walked out of the flying saucer. "Gort! Klaatu barata nikto." From The Day the Earth Stood Still (1951).
But I'm still running the Education Podcast Network site and get to see what's coming through — so that I can toss out the less appropriate. This morning, I ran across MySF Project Blog, a blog/podcast about teaching Science Fiction in secondary school. The host is Michael Sisley, a secondary teacher in Deakin, in the Australian Capital Territory, and creator of an online course on speculative fiction.
Using a thematic approach and research based around online and flexible learning instructional design, the mySF Project discusses texts that may be useful to teachers and students of SF in middle and upper secondary school. Deriving from several years teaching SF with students in Canberra, Australia and elsewhere, as well as recent studies, the mySF Project comes out on this website from the darkness of education intranets and is presented as another resource for secondary English and other teachers, as well as inviting feedback on the materials as part of an ongoing educational dialogue with teachers, authors, film-makers, blog and podcast creators, and students.
I've probably mentioned in this blog, but frequently express in outside conversations, that I believe that science fiction should become a much more widely explored genre in our students learning of literature. This is not to say that the classics have less to teach us about our own world. But perhaps, in this time of rapid change, good SciFi writers might be especially valuable sources of ideas for our students. We can't ignore these stats from Conor Bendl (Episode 26),
19 of the top 20 grossing movies of all time — science fiction or fantasy. They did a poll a couple of years ago, Australia's favorite book, Austrialia's favorite film, and Lord of the Rings topped it in both situations. (( Bendl, Conor. "mySF Project: Podcast 26, for Teachers of Secondary Students Studying Science Fiction (SF)." [Podcast Entry] mySF Project Blog. 29 Jun 2009: 26 Podcast.31 Jul 2009. <http://www.pataphysics.net.au/mysf_project/mysf_project_blog/?p=30>. ))
I listened to Sisley's latest podcast, number 27, which features an interview with Thea van O, a former English teacher, SciFi buff, and currently a coordinator of learning technologies. She talks about instruction technologies and the teaching of science fiction. I learned about two tools that were completely new to me.
The first was Kahootz, which appears to be a virtual worlds generator (purchased software) that students in Australia are using to create 3D walk-throughs, which can be exported as AVI files. I got the correct spelling and URL from Helen Otway, an Assistant Principal/ICT person from Melbourne — via Twitter. According to Heather Bailie, a secondary school ICT coach and teacher librarian, also from Melbourne,
Kahootz is a software app to create animated worlds. My 10 year old says it's really fun! Vic. ed. dept have site licence. (( Bailie, Heather. "Twitter." [Weblog Hbailie] 31 Jul 2009 07:08. Web.31 Jul 2009. ))
As is often the case, when you ask a question in Twitter, you always learn more than you asked for. Stuhasic (Twitter handle) mentioned Skoolaborate, an online project that brings students together from across the globe, using blogs, wikis, and Second Life. Here is a video and explanation.
The other new tool I learned about was Dumpr, a cloud-based graphic tool that does some interesting things with digital images, probably most appropriate for elementary children, though I got a kick out of making the image to the right, using Photo to Sketch.
Conor Bendl is interviewed in episode 26, a high school teacher, instructor of an elective course (Speculative Fiction), and SciFi author. Most of the conversation explored Conors activities and techniques as an author. It's one of the huge benefits of a more openly communicative world that we have access, from the classroom, to real authors, who are often eager to talk about their craft.
Anyway, it was a good way to start a day of mostly programming.
So if you agree, that SciFi should be more widely used in classrooms, who would you recommend? I'll start with some obvious one. Arther C. Clark, Greg Bear, and I am especially fond of Robert Sawyer's work. Who would you add?
Powered by ScribeFire.