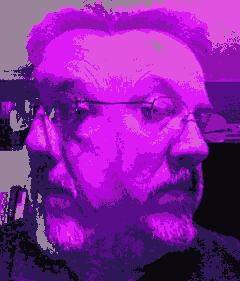 OK, this is a pretty scary picture. But I had fun taking the pictures with PhotoBooth on my new MacBook and then using Photoshop Elements to combine them.
Yesterday, I wrote about social networks, and rather harshly claimed that I just don't get it. Well maybe that just doesn't matter. I talked about how children need clubhouses to play adult in, implying that their MySpace and Pizco pages were perhaps like club houses, and that they would mature into my way of looking at networks. How could I be so arrogant.
I'm with Will. I have my social network — my personal learning network. But who am I to suggest how my friends attach themselves to their networks, — and I certainly can't predict where my children will take this. The concept of the children's club house may be expanding into something brand new and much bigger than anything I could imagine.
I was very happy to see so much conversation come out of yesterday's post, but please do not think that I am criticizing what Steve Hargadon (Classroom20), Bill Drew (Library20), and others are building with Ning. I see value there and I suspect that I'll spend time there.
Two more cents worth!