This is a very confusing, but once understood very well organized infographic. It shares a variety of information in a concise manor. For each book, it shares the number of translations, and number of copies sold, and even the number of editors. I am puzzled as to why the number of editors would be important. What do your students think?
Make each of these books available to your students. In more advanced classes, have students read the books, and argue for or against their inclusion in this list (exclude books of religion if you wish). What made each of these books so important that they were read and shared so widely? Were they important culturally? Was there a certain following? Were they about a certain event that affected the lives of many people. Have the books been around a long time, allowing many people to read it? What books are you students surprised are not on this list?
National Science Teachers Association
The National Science Teachers Association (NSTA) will be holding a conference this week in Charlotte, The Queen City of North Carolina. It is both ironic and opportune for science teachers, from around the country, to converge on my state to celebrate science education and to learn more about their chosen passion and techniques conveying it to their students.
I had planned to explain this event's importance as part of my address to the audience. But, alas, I'll have only 45 minutes, so will be getting right to business. Instead, I'll explain it all here, sitting in a Raleigh coffee shop, and proud to be a citizen of this state that owes so much of its recent success to science and education – and a state that desperately needs to be snapped out of its stupor.
Dazed by $80,000,000 worth of campaigning in 2012 ("Follow the money," 2012), we have witnessed an arrogant government, in effect, vilify science and education. Helping to spur this backward thinking is John Droz, a retired real-estate investor and fellow with the American Tradition Institute (which is tied to fossil fuel interests). In a recent presentation [a Droz slidedeck] to the General Assembly, he called smart meters "fascism in a box" and environmentalism a "new world religion backed by the United Nations." Among his cited sources were,
Whistleblower, the monthly magazine companion of WorldNetDaily a website that promotes conspiracy theories about topics such as President Obama's citizenship; Quadrant, a conservative Australian magazine that was involved in a scandal over publishing fraudulent science and the Institute for Creation Research a Texas outfit that rejects evolution and promotes Biblical creationism and the notion that "All things in the universe were created and made by God in the six literal days of the Creation Week." (Surgis, 2013)
Also carrying some influence is John Skvarla, the newly appointed Secretary for the state's Department of the Environment and Natural Resources. He apparently believes that oil is a renewable resource, saying "The Russians for instance have always drilled oil as if it's a renewable resource, and so far they haven't been proven wrong."
And then there are the legislators of 20 coastal counties, where developers have been stifled by the notion of sea level rise. So to make things better for developers, They introduced a bill that outlaws the rise of the sea, or at least how it's measured. From House Bill 819, Section 2.
10 (e) The Division of Coastal Management shall be the only State agency authorized to
11 develop rates of sea-level rise and shall do so only at the request of the Commission.
12 These rates shall only be determined using historical data, and these data shall be
13 limited to the time period following the year 1900. Rates of sea-level rise may be
14 extrapolated linearly to estimate future rates of rise but shall not include scenarios
15 of accelerated rates of sea-level rise. Rates of sea-level rise shall not be one rate
16 for the entire coast but, rather, the Division shall consider separately oceanfront and
17 estuarine shorelines. ("Coastal management policies," 2011)
This whole business prompted comedian, Stephen Colbert to say on the air, "If your science gives you a result you don't like, pass a law saying the result is illegal. Problem solved."
The dramatic decline in Tobacco farming in North Carolina, illustrated in this graphic (North Carolina Department of Agriculture), has meant an enormous hardship for rural NC. As part of Raleigh's efforts to find a new cash crop, the Biofuels Center of North Carolina was established five years ago, researching, developing and testing a variety of crops biomass crops.
The now defunct Biofuels Center of North Carolina web site
The center closed its doors last week. The General Assembly cut the center's entire $4.3 million budget. In the words of Steven Burke, the centers CEO,
"The center, a growing biofuels community statewide, and companies considering new facilities here share dismay that North Carolina has visibly pulled back from the nation's lead state biofuels agency and from long-term commitment to comprehensive biofuels development." "No longer pursuing advanced biofuels with a focused, comprehensive strategy will lessen opportunity to create rural jobs, strengthen agriculture, and create an enormous biofuels and biomaterials sector."
There's not much that a few thousand science teachers can do, except to be mindful that science is neither fact nor theology. It's a way of looking at the world, observing, hypothesizing, predicting, testing, evaluating and adapting. It is both personal and social, and following someone else's standards for what's to know (to be taught) is as repudiating to what science is as outlawing the results.
I look forward to seeing many of you at the NSTA conference this week in Charlotte. I'll be in Convention Center, Ballrooms C&D at 2:00 on Friday afternoon.
Follow the money. (2012). Retrieved from http://www.followthemoney.org/database/state_overview.phtml?s=NC&y=2012
Surgis, S. (2013, February 7). Climate conspiracy theorist returns to NC legislature, warns of threat from science 'elite'. [Web log message]. Retrieved from http://www.southernstudies.org/2013/02/climate-conspiracy-theorist-returns-to-nc-legislature-warns-of-threat-from-science-elite.htm
(2011). Coastal management policies (House Bill 819). Retrieved from North Carolina General Assembly website: http://www.nccoast.org/uploads/documents/CRO/2012-5/SLR-bill.pdf
North Carolina Department of Agriculture & Consumer Services, North Carolina Agricultural Statistics. (n.d.). Crops: Highs & lows, stocks & storage, biotech, varieties, floriculture, county estimates, fruits & vegetables. Retrieved from website: http://www.ncagr.gov/stats/2012AgStat/Page061_098.pdf
We know why we became teachers. If it wasn't the reason, then it's why we remained teachers. It's..
Seeing the light bulb go off. I think that's why any teacher gets into teaching, because that's the best feeling, seeing them so interested and engaged and finally getting it … and knowing that you made a difference. (Stancill, 2013)
"Seeing the light bulb go off."
That's how Haley Brown describes it. She's a seven-year elementary school teacher in Raleigh, who has just accepted an administrative position – with a homebuilder. According to the October 24 Raleigh News & Observer article, Haley says that testing has not only robbed her of her emotional and professional energy, but also robbed her students of meaningful learning. Teacher assistants have been laid-off (state legislation), the workload keeps growing, and she has received only one raise and a 1% cost of living increase in her seven years.
It's not an uncommon story, but one that has gained traction because of the note her husband, Matt, handed her, when she'd made her decision. Haley was so thankful for her husband's support that she posted the note on her blog, earning 1,200 likes on Facebook. As the letter continued to resonate with some many people, Matt sent it to the N&O, and they published it as an opinion piece. As of this week, it is the most popular story page on the paper's web site for 2013. It's been read more than a half million times.
Does this really matter. Is anyone noticing? North Carolina is a right-to-work state, so there's no teachers union and teachers don't strike. They just slip away. Who cares?
There is a new story out there. It's made up of lots of characters, plots and sub-plots, but it's not been assembled yet.
This weekend, I'll be attending the ReinventEd Unconference at Black Mountain SOLE, in Black Mountain, North Carolina. It's going to be one of those learning events that's driven by questions, not authorities, and no small part of its appeal comes from the fact that its organizer is Steve Hargadon.
My greatest wish is for a new narrative about education – a new and complete story that will resonate not only with passionate educators, but also with anyone else,
..who's willing to listen.
Stancill, J. (2013, October 23). A husband's support for his teacher wife becomes a viral sensation.Raleigh News & Observer. Retrieved from http://www.newsobserver.com/2013/10/23/3306958/a-husbands-support-for-his-teacher.html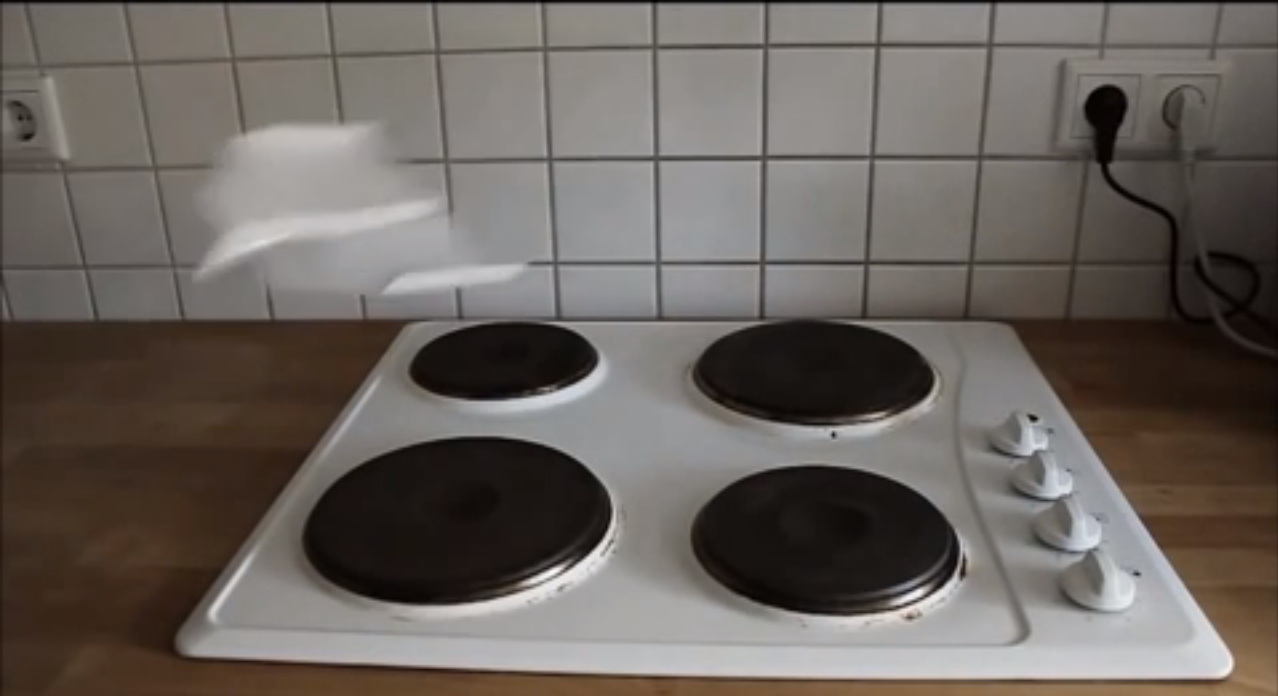 Well, forever if you're ok with your stove running forever. This is just a neat, and potentially dangerous, experiment where you can make a paper plane fly in a circle indefinitely. The design you see for the plane is pretty complex and not necessarily what you need, but the most important part is having the flaps at opposite angles like you can see towards the end of the crafting. A pretty cool experiment but maybe not the best idea to give a kid unless you can come up with a safe alternative to cranking up the stove.
Embed This Video
Here's some footage from the rover Curiosity over Mars' moon Phobos passing in front of the sun. Maybe most people already knew this, and I had to look it up, but yes, Phobos is really shaped like that. Our moon is much nicer.
Embed This Video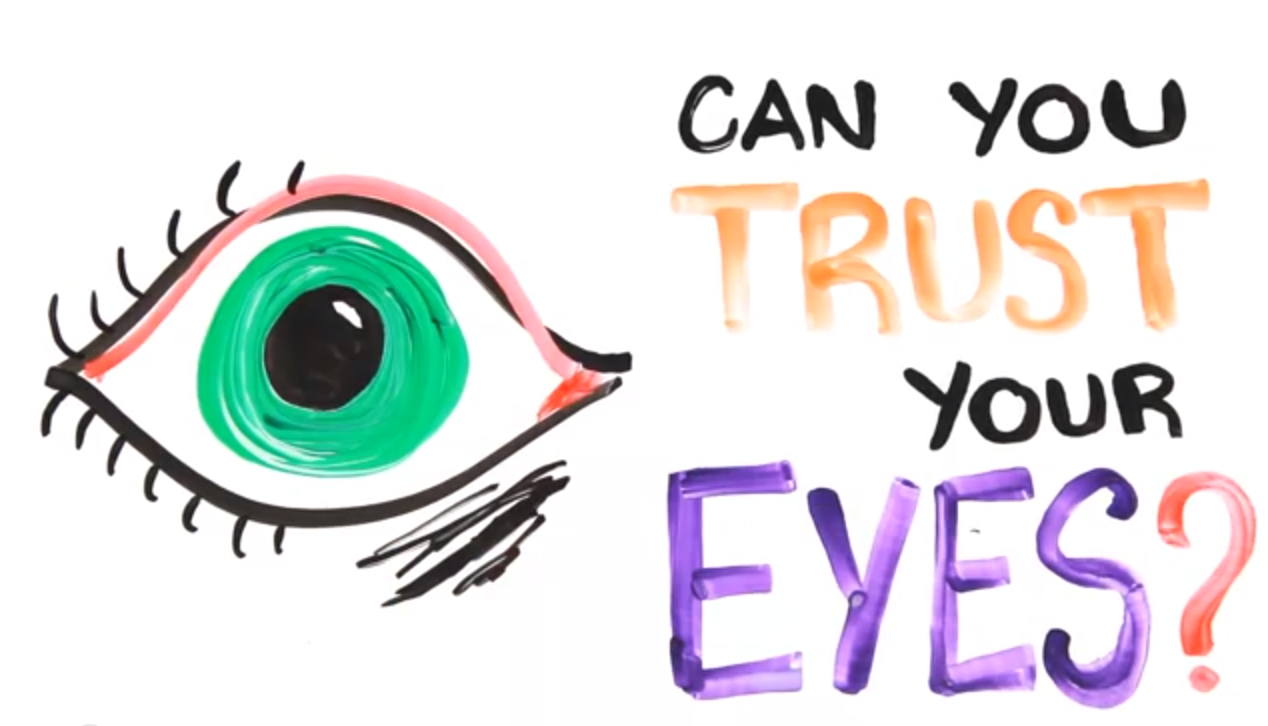 This has always been interesting to me. Our brains and our eyes work together to create the image we see, but what they come up with does not always match the reality. This video will show you some optical illusions that will trick your brain in to over-compensating and making you see things that aren't truly there.
Embed This Video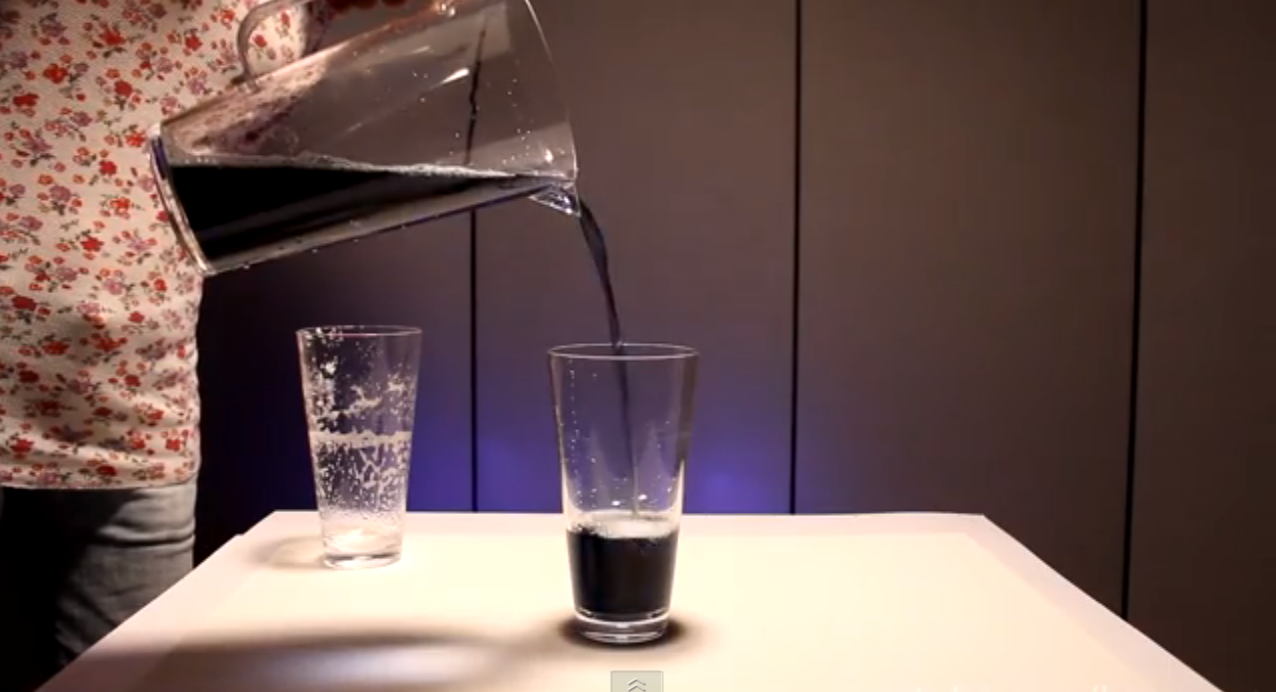 Well, not quite. This is what's apparently called an Iodine Clock Reaction. It's a classic experiment where you mix two colorless chemicals and then after a short delay, it instantly changes color. You can even do this safely in your own home either by using common store-bought chemicals or buying a kit designed especially for one of these experiments. Enjoy!
Embed This Video
There's a good chance that this is just a crazy guy setting fires in his garage, but there's an equally good chance that he's teaching us something about physics. The Ruben's Tube was invented in 1905 by a German Physicist named Heinrich Rubens. It's purpose is pretty clear, to visualize sound waves using many small flames, though I can't imagine how he came up with the idea.
Not only that, imagine hearing about this in 1905. Your friend tells you about some sort of mad scientist who is using fire to visualize a invisible shape that accompanies sound wherever it goes. I wouldn't know whether to be afraid of what else this man is capable of or in awe of his super-human control of the elements. Anyways, enjoy the modern day execution of an old experiment.
Embed This Video
Here's a neat video that shows of the functionality of a Large Binocular Telescope. It uses twin sets of multiple mirrors that bounce images back and forth until they have a clear picture of what they're looking at. This really seems to be the next step in telescope technology.
Embed This Video
Fermi is a space observatory launched by NASA in June 2008 that has been used since then to observe happenings in all reaches of space. It is loaded with instruments, most importantly a telescope and a Gamma-ray Burst Monitor and with these instruments NASA has been able to make many discoveries over the past five years. This video outlines several of these discoveries that have taken place at varying distances from Earth.
Embed This Video
keep looking »