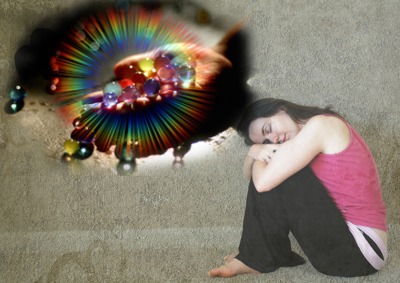 Dreaming in Digital
A mashup of Dreams by Ragesh Vasudevan
& Day Dream by Gauri Ma
My MacBook, I fear, is on its last leg. Over the past two months it's crashed three times during presentations, which is about three million times more often than it has ever crashed before (that is never) — and that's with being re-booted only once every three weeks or so. I'm sure there is something that could be done to fix this, but the hard drive is too small, the machine too heavy, and the battery life is too short — and I'm starting to lust for new tech.
I spent some minutes on the Apple Macbook Pro web site earlier this morning and watched the video about the unibody design and its manufacturing. Having worked in a machine shop and being familiar with many of the processes for carving out an elegant device enclosure, I was entirely impressed.
..and I'll be dreaming tech tonight.
But this is part of our problem, I believe, that we continue to dream in tech because we still think and speak in tech. I went back and reviewed some of the recent discussions about the power of "audience" with contributions from Dean Shareski, Clarence Fisher, and Jeff Utecht's posts, and my additional pocket change — and this line struck me from a comment posted day before yesterday by Christian Long. He wrote:

But in time, I truly hope that we will no longer be amazed that someone from 'far away' visited a 'blog' (after all, location matters not a bit when its all *one* Internet).
So what replaces the 'far away' appeal? What should amaze learners when the novelty of audience fades? Should learning amaze us? Does learning amaze you? Christian continues:

Instead, we need to shift to 'quality' being the point of both the content our student-learners create and the way our audiences respond (and mash-up) what we create.
Bingo! What might be amazing to learners (what amazes me) is to see what happens to our ideas when we see them grow, become larger (or more condensed), attach themselves to other ideas that we'd not imagined, or explored from brand new perspectives — by virtue of their being bounced off of other people.
In one of my new presentations, I talk about the power of traction. You can't move without traction. We need hard places upon which we can push and pull, and pushing and pulling with our ideas, testing them, confirming them, or growing them seems a wonderful way to learn. Audience can be a huge part of that traction — but it's not the only hard place.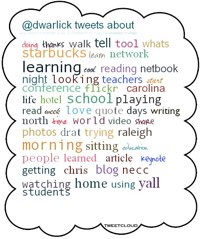 Considering all of this, I'm happy to see that the word technology doesn't appear in my Twitter Cloud for 2009. (click to enlarge)
We can also take an idea and punch the data around it into a computer and learn from the visualization that we chisel out of it. It's what comes back to us when we try to express our idea with an animation and learn more by pushing it through the interations that make it move. It's about using a word processor to work the words into the most precise and sublime expression of our idea — making it fresher, more crisp, and easier to talk about.
But we continue to think and talk in technology. I continue to think about that brand new Macbook Pro riding more gently from my shoulder at my first 2010 conference. But I need to shun the language of tech and think more in the language of digital information, networked information, in the language of information-abundance. It's this language that we should be using in our conversations and our presentations.
Zenas Lee writes in her blog that in Korea, dreaming in English is the people's "dream," that if they are dreaming in English, then they have achieved a significant level of fluency. But in researching this idea, she seems to conclude, along with Linguist, Steve Kaufmann, and various others, that it has less to do with fluency, and more to do with dedication. ((Lee, Zenas. (2007, December 4). Dreaming in another language [Web log message]. Retrieved from http://zenas-psych17n.blogspot.com/2007/12/17-dreaming-in-another-language.html )) We should direct our thoughts to the flow and glow of networked digital information and concern ourselves less with the tech. The learning experience has to do with the information and what we can do with that information. Our dedication should be to free and empower learners to push and pull their ideas and knowledge through the digital, networked, and information-abundant roadways.
Our "dream" should be to dream in digital…
Powered by ScribeFire.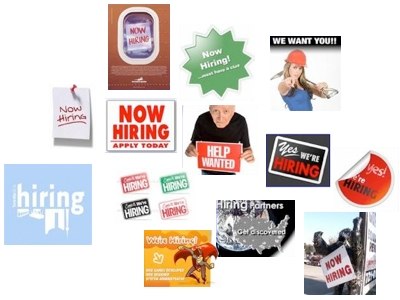 Do our schools help students learn to "stand out?"
Amid layoffs, pay cuts and hiring freezes, an increasing number of employers in the Triangle are doing something almost unheard of for much of this year: They're hiring.

This was the opening line for an article that appeared in yesterday's Raleigh News & Observer, by staff writer, Alan Wolf — and it makes sense. Employers practically got their pick… Among those adding dozens or hundreds of employees are Allscripts-Misys, Bayer CropScience, ChannelAdvisor, Cree, Deutsche Bank,Elster, EMC, Novartis, Talecris and Time Warner Cable and the reasons are both surprising and obvious.

Surprising is the fact that some business is actually doing well, dispite the recession. Others, however, are investing in the future, taking advantage of a larger bank of potential employees, and shopping for the the best in their fields — shopping for those who "stand out."
"It's great to be one of the few fishermen in the sea," said Brad Brinegar, CEO of Durham ad agency McKinney, which is hiring about 70 employees after winning a major new contract.
It makes me wonder how much we encourage, enable, and empower our students to stand out in line and how much we encourage, enable, and empower them to fall in line.
Wolf shares a number of tips to job seekers that he collected from his research — tips that bear some attention by us as we prepare the next generations of citizens, who will be searching for and inventing ways to be of service and value. His tips include:
Find a Friend
It has never been more important to network and make contacts at employers you're interested in, ideally long before you're actually hunting for a job.

Many employers give workers bonuses if they refer a friend who sticks around for a certain amount of time. ChannelAdvisor, which continues to hire at its Research Triangle Park headquarters, pays its workers a $1,500 referral fee.
Embrace Social Networking
More employers are using sites such as Facebook, LinkedIn and Twitter to recruit and research applicants and to build networks of potential candidates.

Make sure your profile puts your experience and skills in the best possible light. And recognize that your network of contacts extends to even more people, who can make or break your job search. Don't be rude or annoying online.
Make the Most of Your Time Off
..it's not a sin to have employment gaps on your résumé. But employers will want to know what you've been doing since you left your last job.

Volunteering is a great way to meet people and bolster your résumé. Taking classes or additional training is another productive way to show that you're improving your skills.
Don't be Shy (be willing to work for it — and show it…)

When Deutsche Bank announced in August that it plans to open a technology center in Cary and hire more than 300 people, the executive in charge of hiring started getting phone calls and résumés within hours – even though his name wasn't part of the announcement.

"It would have taken a little bit of diligence to figure out that quickly that I was the right person to contact," said John Eagleson, chief operating officer of group technology and operations. (( Wolf, Alan M. "There are some jobs; here's how to get one." Raleigh News & Observer 29 Nov 2009: n. pag. Web. 30 Nov 2009. <http://www.newsobserver.com/business/economy/story/213782.html>. ))
The recession will be over and the pickings will grow slim. But in a time of rapid change, we're all going to be constantly retooling and looking for the stand-outs who will help us do it well.
Powered by ScribeFire.
1872 Portrait photo of John Muir ((Bradley, H.W. "Portrait Photo of John Muir." Wikipedia, the free encyclopedia. 29 Sep 2009. Web. 27 Nov 2009. <http://en.wikipedia.org/wiki/File:Muir_portrait_1872.jpg>. ))
As a former history teacher, I think that these conversations with the past — with Tweeple in History — are quite interesting and potentially they are enormous discussion starters in classrooms where discussion is used for learning. A while back I wrote about one that involved John Adams diaries posted on Twitter on the days of the entries during "..a diplomatic trek to Russia as U.S. minister."
I just learned that Calisphere, a service of the University of California with free primary source materials aligned with the California content standards, will offer a similar tweet trek in the voice (text) of John Muir, the California-based naturalist.

For one week in December, Calisphere will quote portions of the letters of renowned California naturalist, explorer, writer, and conservationist John Muir (1838-1914) on Twitter and Facebook.

Hear John Muir in his own words as he travels to California, encounters Yosemite for the first time, and struggles to preserve the open land he made his home. Starting December 1, for a week Calisphere will quote portions of the letters of the renowned writer and conservationist on our social media pages. Each installment or "tweet" will contain a segment of Muir's stirring prose and a link to the original document and transcript.

To hear Muir's story, become a fan on Facebook (www.facebook.com/calisphere) or follow us on Twitter (www.twitter.com/calisphere). Not a member of either network? No problem—both accounts are open for viewing by all.

This online event aims to engage students, educators, and the general public with the recent online publication of more than 6,500 of Muir's letters—a joint achievement of The Bancroft Library at the University of California Berkeley and the University of the Pacific Library. ((Berger, Sherri. "John Muir on Calisphere and Web 2.0!." Message to David. 24 Nov 2009. E-mail.))
Powered by ScribeFire.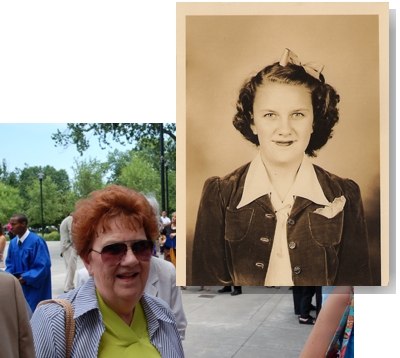 There is much I can say about my Mom.  But one of the first that comes to mind is that she is passionate about everything that she does.
I started this blog post last week after returning from the Nebraska Association of School Boards conference on Omaha.  But the days since have been spent joyously planning and surprising my Mother with a birthday party — about 50 friends and family, gathered at a cafe and bakery in Lincolnton, NC, celebrating her 80th birthday.  If you want to know what 80 and 84 look like with the genes I've inherited, check this out!
But back to business, I spent about four hours talking with Nebraska board members and superintendents about contemporary literacy and how educators are using these learning literacy skills to engage in casual, on-going, self-directed professional development.  This was followed by Dan Hoesing and a panel of folks talking about distance learning opportunities in that vast and relatively sparsely populated state, followed by Jeff Ingraham and a fun whirl-wind tour of free resources made available through open source.
Dan Hoesing, an area superintendent, provided a brilliant context for the distance learning panel that dovetailed almost perfectly into my presentation.  But I would like to comment on a list of technology competencies that he included in one of his slides.  I took a picture of the slide so that I would get it right.  (See the list below and to the right.)
Streaming video
Music
Teleconferencing
Interactive exercises
Interactive whiteboard
Podcasts
Blogs and wikis
Social networks
Internet tools
Gadgets
It's not the first time I've seen this list or a list like it, and it is a useful arrangement of tools that provide some interesting and potent opportunities for teaching and learning.  But this kind of list is difficult, because it is a tough one to keep up with.  How many items on this list didn't even exist 20 years ago?  ..10 years ago? ..5 years ago?  What will we need to add to this list in five years?  …next week?
Again, it is a useful list.  But I would like to suggest a different list of competencies for today's teachers that relate more to the information and communication part of ICT and less to the ever changing "T" part.  But I need to acknowledge the many people, who are smarter than me, and the organizations of international reach and scope that have done this already.  I'm just engaged in an academic exercise, hoping to provoke some conversation.
Today's educator should master the use of appropriate ICTs to:
Effectively communicate within all relevant learning environments in modes, mediums, and methods that are appropriate to the goals at hand — to effectively convey ideas by skillfully devising messages that include measures of voice, personal presence/performance, text, images, video, audio, and animation.
Manage groups of learners as they engage individually or collaboratively in active, personal, inquiry-based, and product- and contribution-oriented learning.
Pursue and cultivate both physical and virtual avenues of communication to remain up-to-date in all fields of study and practice relevant to the job.
Engage in ongoing face-to-face and virtual professional conversations that result in:

Knowledge and skill growth
Access to and development of new opportunities, resources, and methods
Collaboration and
Enhancement of a personal and professional portfolio, and of the profession as a whole.

Inspire learners to be passionate in their endeavors for new skills, knowledge, and experience and to care about particular fields of individual interest.
Contribute to an evolving culture of learning in the classroom, school, home, and community.
Powered by ScribeFire.
A bridge is a sticky connector only if people need to get to the other side (( Leszczynski, Janusz. "Alexandria Bridge." Janusz L's Photostream. 28 Aug 2009. Flickr, Web. 23 Nov 2009. <http://www.flickr.com/photos/januszbc/3865004558/>. ))
It appears to have started with a Facebook status update from Science Leadership Academy Principal, Chris Lehmann.

When having audience is no longer novel, simply having one is no longer motivating. We still must help kids have something powerful to say.
Saskatchewan educator, Dean Shareski, continues the point in a blog post, Why Audience Matters, followed by fellow Canadian (Snow Lake, Manitoba), Clarence Fisher in his post, Those Formerly Known as the Audience. Finally, it all came to my attention, when Jeff Utecht tweeted a link to his installment on the conversation, Audience as Community. I strongly recommend you read all three of these blog posts because, together, they cover a wide range of reasons why audience is important to student learners.
My immediate response to the whole issue was a mild disagreement with Chris' initial post. He may be right, and he's certainly in a better position than me to see it first hand. But I've had numerous Class Blogmeister teachers say that "classroom" as audience seems to be just about as motivating as arranging for people around the world read and respond.
I suspect that the world-reach thrill of blogging might be novel and might wear off. But it occurs to me that the true power of working within an audience, as opposed to performing in front of an audience (writing to the teacher, what you thing the teacher wants to read), is the power of conversation. It's knowing that somebody (even the guy in the next row) is reading what you are writing (not measuring it), and that the reader may respond to what you've written, pushing you to rethink and respond back.
It's the potential of adding something valuable to somebody else's thinking — the potential of becoming valuable.
I usually mention three qualities of personal learning networks when I do presentations on the subject — that PLNs are:
Personal — They're shape and function is completely up to the the ongoing needs of the learner.
Both Spontaneous and Directed — Some learning experiences can result from careful cultivation of the network, and some simply happen because you are connected.
Connective — The network of people and sources are held together not by wires, routers, and HTML links. It is a network of ideas.
It's this last one, connectiveness, that I think may be pertinent to this conversation. There has to be something between the network nodes besides the concept of audience. There has to be something sticky there, something that helps, something that offers value, an intrinsic reason for the conversation. If you are connecting your class to another class in Scotland, then there needs to be something in the perspective or experience of those Scottish students that helps your students accomplish their goals, and it must be a goal that is more than academic or schoolie. It has to be a goal your students identify with — that they want to accomplish.
This network of ideas is one of my favorite aspects of personal learning networks. The people I am connected to are not part of my network because we look the same, speak the same native language, follow the same religous doctrine, or share identical cultural traits. We connect through our ideas, because what we do provokes us to share those ideas, and we all benefit. Even the photo that I include at the top of this post comes from a temporary PLN connection with Janusz Leszczynski, simple because he (she) once took a picture of a bridge and labeled it bridge and I, months later, was looking for a picture of a bridge to symbolize connection. The ideas were experienced at different times, but the ideas' stickness lasted on.
Powered by ScribeFire.
Brenda forwarded this AP article to me while I was on the road.


Gates Foundation gives $335M for teacher quality

SEATTLE — Three school districts and a coalition of charter schools have agreed to be test kitchens for some radical ideas for improving teacher quality – from paying new teachers to spend another year practicing before getting their own class to letting student test scores affect teacher pay. ((Blankinship, Donna Gordon. "Gates Foundation gives $335M for teacher quality." Seattle Times 19 Nov 2009: n. pag. Web. 20 Nov 2009. <http://bit.ly/1n7Nig>.))
The foundation will deal out $290 million to school systems in Tampa, Memphis, Los Angeles, and Pittsburgh and another $45 million for education research aimed at uncovering the qualities of an effective teacher.
I'm not going to spend any time on a judgemental comentary here. It's too early in the game — though I'm wondering why the story didn't refer to "test laboratories" rather than "test kitchens." You probably already know how I feel about treating schools and classrooms like laboratories (and teachers and students like specimens).
I just want to open up a conversation on what you, as forward thinking, experienced, dedicated, and risk-taking educators think are the teacher qualities we need today. If you say it is teachers who improve student performance on standardized tests, then your keyboard will deliver a mild electrical shock through your fingers.
Consider that we are preparing

A new generation (species) of learner
Within a dramatically new (networked, digital, abundant) information environment
For a future we can not clearly describe
So what do you think?
Powered by ScribeFire.
As some of you know, I like to begin my presentations with something that I've just learned — something that I didn't know yesterday. It usually starts with a blog entry that comes into my RSS reader or a newspaper or magazine article that comes into Google News. Often it's one of a number of ongoing Twitter searches I have going, but I usually do a little more research to learn more about the topic, so that I can talk about it. Sometimes, it's to no avail, because the story is so far above my head that all I can say is, "I don't understand this, but isn't it just knock-your-socks-off interesting?"
Sometimes I will search YouTube to see if there is a video demonstration of something folding DNA or Goldilocks Planets, or somebody talking about the topic to people who are as clueless as I am. But I've noticed lately, when I do find YT videos of people talking about one of these pieces that strikes my fancy, they almost never seem to be talking in English — and if they are, then English was obviously not their first language.
Now I'm not complaining, and I don't want to go off on some flat world scare. It's not the point, because what also struck me was that the speakers are often very young — something high school young. What struck me was why are these kids so interested in this very new and obscure topic, like DNA Origami. What makes kids curious about things that require research and deep understanding in order to talk about it?
Of course there are a lot of reasons. But what came to mind was that most students I know have never heard of DNA Origami or Goldilocks Planets. Should they? Should they know about the ideas that are just barely out there? If so, should they be learning about them in school?
It seems to me that one way to grow curiosity in our students is to introduce them to ideas that are so new and so fresh that they haven't had time to be on any tests.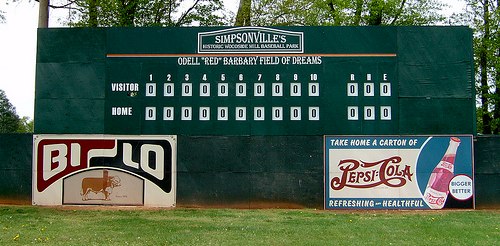 It's not a scoreboard that's going to keep us prosperous and fulfilled.
It's working to make our children into the people they need to be,
to carry us into a future we can't even see,
people who will invent that future…
A while back, I did a little work with the Wake Education Partnership, for whom I delivered a 43 minute keynote for their members, including executives from IBM, SAS, RCB, a full dozen area chambers of commerce, etc. – I was in high cotton that day.
Their work is flowing through a document developed by a members committee, Suspending Disbelief (pdf) — and this is one of the best descriptions of new schools and new schooling that I have ever seen coming from a group that was mostly non-educators.
However, there is one assumption that is central to this document and much of the current flurry of ed reform rhetoric with which I do not agree.  It is the belief that we are engaged in an endeavor of competition, global competition, producing a competitive workforce.
I wonder if it is coming from people who are in the habit of counting things.  They count their sales, their circulation, their votes — and these are all very important things to count.  But our world is changing in some pretty dramatic ways, and much of that change can't be measured or predicted.  The very rules are changing.
The political changes have probably not been better understood and utilized than by Barrack Obama and his astonishing movement for change.  Yet, it is the Obama administration, his Department of Education, that seems more intent on measuring, on racing to the top, than any before it.
I would love to see a study that determines if test scores would have predicted the extraordinary accomplishments of the creative, resourceful, dedicated, and relentless women and men who ushered in the digital revolution.  Were they all high achievers in their schools.  I would suspect that many of them were the guy in the next row, who often didn't complete his homework, because he simply found something more interesting to spend his time on.
I do not believe that we should be working to make sure that our students know more than students in China and India.  It's ridiculous when we consider that much of what they are taught, in a time of rapid change, will be obsolete by the time they enter their adult lives.
Today, it is not important to measure what our children can be taught.  In stead, we should figure out how to measure what they can gain through their growing skills of learning, curiosity, resourcefulness, and caring — and what they can do with what they've learned.
The world has become more cooperative, not competitive.  The world has become a lot more interesting…
Powered by ScribeFire.
This was definitely one of the most interesting places to present — and I've presented in some strange places. There was no real sense of the front of the room, which worked well, as I wanted participants to be just that, actively engaged in the conversation.
If you've been missing my blog, well I have too. The last couple of weeks have had me either preparing, traveling, or conducting workshops, keynotes, or presentations — in some of the farthest flung points of North America — at least from the perspective of this small town boy. I won't go into details except to say that they were most thankful at my bringing North Carolina weather to Edmonton Canada (67F / 19C).
My work was mostly full day sessions with school leaders and leadership teams, and my expressed goal was to help them achieve a mindset necessary to move their schools and school cultures into more effective and relevant use of their growing technology. Typically, I talked about and demonstrated aspects of:
Contemporary Literacy — Don't think about how technology has advanced. We might get further by thinking about how information has changed: what it looks like, what we look at to view it, how we find it, where we find it, what we can do with it, and how we communicate it.
Contemporary Literacy & Teaching — What does the new information landscape mean to us in our jobs, and how might we use it to improve and grow in jobs? How do I utilize my own new literacies to create and maintain my own ongoing professional development, to cultivate my own personal learning network?
Cracking the 'Native' Information Experience • Hacking the 'Native' Information Experience — What are the qualities of our students outside-the-classroom information experiences? How do they use information to work, play, converse, and learn? What do those actions look like outside the classroom, and what might they look like inside?
The three mostly separate topics linked together amazingly well. One of the big pushes in Canada seems to be "student engagement." They want to engage their students in learning, and this vision is coming very much from the Provincial Ministries of Education, at least in the few provinces I've worked with lately. But getting that vision to the classroom is an enormous task. It's like "integrating technology." What exactly does "student engagement" look like? What do you see when you walk into such a classroom? Does "student engagement" automatically result in better learning?
I find that when I just start writing with no particular aim in mind, it often results in what I think are my strongest blog entries. Doesn't seem to be happening here. So I'll close with some shifts that I closed a webinar with last week. They are shifts that come largely from literacy in a new information landscape, maintaining a personal learning network, and paying more attention to our students 'native' information experiences.
Shifts in Education
Not that we stop doing one and replace it with the other. This is not a dicomedy
F r o m
T o
• Classroom/Workshop Learning (time/place-based)

Network Learning
• Institution Dependent Learning
Independent (self-directed) Learning
• Literacy
Learning Literacy
• Lifelong Learning Skills
Learning Lifestyle
Powered by ScribeFire.
Brenda had promised that travel would be scaling back after last week in Edmonton — and when you look at the calendar, it certainly looks that way. I just didn't know that I'd be headed back up to Canada just barely more than 24 hours after landing from Alberta on Saturday. It's OK, though, because I have been looking forward to my work in Windsor (Greater Essex County Schools), because it will be a small part presentation and then a lot of conversation about achieving classroom 2.0 within 1.0 structures.
iPod Touches are an established part of learning at North Rowan School in Salisbury, North Carolina
I know that one of the planned actions is to open up a layer of WiFi in their schools (not sure if it's all schools) that will be available to students and the devices they bring to school with them. I've had several conversations with Essex ed tech guy, Doug Peterson, about this in the past and have been intrigued by the concept. But while in Edmonton last week, Sid de Haan, one of the ed tech consultants with the Edmonton Public Schools told me about one high school where they'd done the same thing. They also established a portal for their students — and I wish I had asked more questions about it.
What got me to thinking was a few statistics Sid shared with me from the first day of the launch. At the beginning of the school day, 800 devices were already logged into the portal, accessed through the student-ready WiFi. At lunch, it was up to 1,200 — out of a total enrollment of 2,000. He said that they were using laptops and a lot of iPod Touches. He also said that there were a surprising number of netbooks, that parents had bought for their children, in anticipation of the new wireless service.
Of course you'd have to examine much more data on the usage of this student-ready network to draw any hard conclusions. But I get the feeling that, given access, most learners will find a way to jack in. Many of them were on Facebook, I'm sure. Many were other places that were not strictly curriculum aligned. But we do not control the verbal conversations that students have outside of the classroom and class periods, we shouldn't require controlled conversations through the networks — within reason. If it were me, I'd still have some filtering going on. But I'd open things up to most social networking services, and perhaps even set up a body of students and teachers to manage what gets filtered and what gets released.
Here's a question. if students are bringing their own network devices into their schools and classrooms, are the schools responsible/liable for what they access? Anyone know?
In a similar conversation with Sandra Gluth, another ed tech consultant in Edmonton, I learned about another school where a corner of the building exceeded within the reach of the wireless service of a nearby apartment. When I was in school, we had the smoke-hole, a place on campus where smokers went to puff their cigs. Today, they gather in an opportune spot, to tap into the networks.
keep looking »