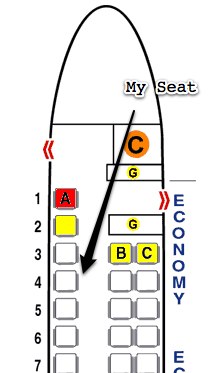 According to SeatGuru.com, the Embraer 140 has only one 'good' seat -- and it wasn't mine!
Yesterday was a long one, with a ten o'clock keynote and then two breakouts, a two-hour drive back to St. Louis, three hours of dealing with Lambert Airport, and a one-and-a-half hour flight home. But I woke up at home and that's more than worth it.
What woke me up this morning was thinking back to the EduBloggerCon at NECC and looking forward to Learning 2.008 in Shanghai — just over a month away. I enjoyed the NECC event. Even though there were many edubloggers who expressed some dissatisfaction with the event, I think that it was what it was intended to be — it was a bloggercon.
That said, it may not have been exactly what we needed at this point. At the EduBloggerCon in Atlanta, many of us were new to the practice, and just finding our voices in the education conversation. In San Antonio we were looking for the place for blogging in the classroom. Unfortunately, this conversation was destined to anchor on barriers — because it's the barriers that so many of us are forced to deal with everyday. I don't believe that educators from Scotland or even Canada, truly
appreciate the condition of education in the U.S. — especially as felt
by those of us who have known better times when motivating students
with creative and engaging learning experiences was part of our
language, not just political babel.
My good friend, Gwen Solomon, said something to me at the conference that I've heard spoken several times since. "Aren't these the same conversations we've been having for years?"
We need something new or something more than a BloggerCon. Of course we can call it what ever we like, but we need opportunities to, in a sense, act out what we believe and to do it from the other side of the barriers. One of the EduBloggerCon critics, Ewan McIntosh, shared with me some brilliant ideas in the Bloggers Cafe the next day, many of them stemming from his experiences with TeachMeet.
I'm drawn back to something that I noticed and share through an unrelated blog entry a while back, about contests of skill that produce models. They were the game developing competition at the GLS Conference and the weekend Startups contest held here in Raleigh several weeks ago.
What we need are these kinds of creative educator-invented models, and the attendees of these EduBloggerCons are perhaps the best people to build and describe them. So what if part of these less formal events was for teams of educators to describe, in some way that draws on their inventiveness, a learning experiences (lesson) that teaches an assigned standard, utilizing technology, 21st century literacy, 21st century skills, constructivist pedagogy, blah blah blah. The presentations and recording of their lessons might help us all to better picture the target that is just on the other side of those barriers — and maybe those barriers may come to look less daunting than they do when they're the focus.
2¢ Worth!
I have been taking a break from blog writing over the past week. I wish I could say that I've just been taking a break, but that is not the case. Yesterday, about 4:30 PM, I finished the final draft of a major project that I wish I could share with you. I'm actually much more excited, right now, to have it out the door than what it's about. That will come. [Image ((Jason. ?Hei?e Schokolade ohne Sahne on Flickr - Photo Sharing!.? 25 Oct 2007. 28 Jul 2008 <http://flickr.com/photos/jasmic/1745660158/>.))]
Anyway, blog fodder appeared yesterday in the form of a New York Times piece, Literacy Debate: Online, R U Really Reading? It was actually a fairly balanced article, though it seemed to spend more time out on the edges, the fringe of the debate, than in the middle. Will Richardson has already done some picking at the article — and I urge you to read his money's worth (Kids Prefer Reading Online…) — as have other folks, smarter than me. Here's a link to a Google Blog search of entries that mention the article, as well as an RSS feed, if for no other reason than just because you can.
What struck me as I read through the article on my phone, was something that somebody said to me many weeks ago, about today's dramatic generation gap. I dismissed the notion because I was part of the highly contentious generation gap of the late '60s and early '70s. By comparison, our relationship with our children across all endeavors is fine and friendly.
Yet, as I read through the Times article, It seemed to be pointing at a vast gap between my generation's notions of education and literacy, and that which our children practice as part of their millennial culture?
What struck me as ludicrice was the conviction that test scores are the true indication of whether our children are being appropriately prepared for their future, or even that government test scores are any better at predicting future prosperity than establishing a successful presence on a social network, garnering a readership on FanFiction, or earning a respectable number of experience points in World of Warcraft. I do not think we even know.
I guess it is a debate that has to be argued, that from the fringes, we will find the middle ground. What makes it so hard is that the media seems happier reminding us of the more extreme points of view. It may be completely up to us, educators, to figure out what literacy really means today, and then tell that story.
Oops! Did I just give you a hint?
The folks at Teaching Tips, who provide a fairly eclectic arrangement of resources and information for teachers, has just pasted 50 Useful Blogging Tools for Teachers.
Blogging is becoming more and more popular in the classroom. Teachers can blog to stay in touch with parents and students or they can incorporate blogs from all of the students as a learning tool. The beauty of the student blog is that children from Kindergarten to high school can blog. No matter how you use blogs in your classroom, these tools will help you get started, enhance your experience, or bring the students into the fun.
The categories include:
Where to Create Your Blog,
Blogging Tools and Help for Teachers,
General Blog Tools,
Blogging and Internet Safety, and
Getting Students in on the Action
I was gratified to see Class Blogmeister at the head of the list, though I continue to worry about the increasing number of users — over 160,000 now. Users have noticed a buckling of the service over the past few days, which was a surprise, given that this is an off season for all of my services.
Working with the techs a Rackspace, who hosts my servers, we discovered that one of them was undergoing a "denial of service" attack. They blocked the attacker IP and set up monitors to guard against continued or future attacks. It seems that there are people out there who illegally install software on unprotected web sites that are designed to launch attacks against randomly selected servers. If they can break the server (which they were not able to do with CB), and they can do it consistently, then they will notify you, anonymously, and extort money in return for letting your server alone. Insidious.
Anyway, these 50 Usefuls are pretty comprehensive, and I look forward to scanning through them.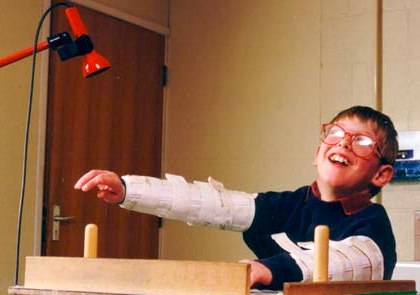 Still at the music conference.  Jim Frankel is demo'ing and playing videos of a number of new music technologies.  I'm loving it!
But he just showed us a video of SoundBeam.  It's currently only available in the UK, but you basically aim two ultrasonic sensors at a person, and their motions make music.  What blew my mind was when he showed a severely handicapped boy, making music by swaying around.
I would be hard for me to remember seeing anyone with that much joy!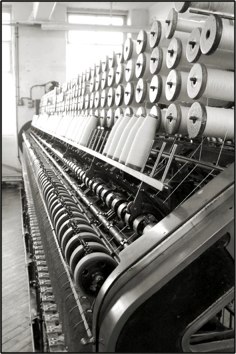 ...without the creative arts, it's just machinery!
I'm speaking at the Pennsylvania Music Educators' Association annual conference today.  Actually, I'm at the front table now, waiting for people to start filing in.  The high point, though, will be
Jim Frankel
, of SoundTree, who will show some really cool music tech.  He just showed me a
Korg Kaossilator
.  Basically, its a flat surface, where you set the scale you want and then just start touching and dragging your finger across the surface to make tones and rythms.  You can even record parts, and then play on top of those, record, and keep playing.  An orchestra at your finger tips, and you can do it on the plane.  I gotta get me one of those.
As you can imagine, I've been struggling with this presentation.  They want literacy and today's kids, but I want to take another stab at describing a balance between STEM (science, technology, engineering, and math) and the creative arts.  I've beat this drum before here, but I think that the language for describing this compellingly is still out there.
I finished up the presentation yesterday, all except for the final slide.  I tried making STEM AND MAD (music, art, & drama) into a meaningful anogram, but the best I could come up with was DAMNED ANT.  No good!
Finally, this morning, I settled on:
STEM without the creative arts, is just machinery!

..because the creative arts are the language of the 21st Century.
How would you close it?  Where is the balance?
Photo taken from How Stuff Works - http://tinyurl.com/smrtclothes
It seems that those nostalgia launching questions that start with, "Remember when…" become an increasingly bandied topic with folks, as they get on past their first half-century of life.
"Remember when we lived without air conditioning, and we didn't seem to get hot?"
I said to a cab drive just the other day. Of course I couldn't imagine living without the AC now.
Ever think about what our children will wonder how they lifted without, when they're over 50? Could be smart cloths.
New fabrics are being developed that can regulate body temperature, conduct electricity, play music, fight bacteria and odor, repel insects, soothe dry skin and have the capacity to custom shape themselves for your body.
Read more about it in this Auburn University Plainsman article, Smart Cloths Revolutionize Attire.
I'm home for a day, but it's the entire day, thanks to a marathon drive from Wildwood, NJ, down the Delmar and then across the Raleigh, where I walking into the bed room just after mid-night. Mostly, I'm catching up on e-mail and preparing for a keynote I'll be delivering at the Pennsylvania Music Educators Conference in State College on Monday. Don't ask me to explain — by I'm really struggling over what to talk about.
Anyway, I took a quick detour over to my aggregator and ran across this Karen Ellis post in the Educational CyberPlayGround.
Educational CyberPlayGround? – Statistics:

I don?t know if anyone has told you this today, but your company is lucky to have you. You bring a unique set of skills to the work you do,you?re invested in the success of your employer, and – let?s face it – you spend a good deal of your time within their four walls. So of course you should be compensated. And fairly, at that. The BLS Compensation Calculator is an interactive tool that provides hourly wages for a particular type of job, in a particular place, with a particular level of experience. Special Issues Index, you might try the JobStar Salary Guide, which provides links to salary surveys online across numerous industry headings.
Other statistics generators she points to in the post include Tax Stats and Intercountry Adoption Statistics. Learn more at Karen's blog post.
OK!  This is not good.  It seems that the only time that I'm finding myself able to reflect on things, independent of making sure that yesterday worked and that today will accomplish what I want, is after only a few hours of sleep — between the hours of 1:00 and 2:00 AM.  Sad!
This morning, I woke up struggling with the outcome of an activity that Kevin Jarrett and I worked through with the mostly ed administrators in our workshop yesterday, The Future of Technology & Learning.  It was, a process that we put folks through as a lead-in to an afternoon conversation about 21st Century Skills.  I've done it before, and I may have blogged about it.
We asked the audience to watch the video, EPIC 2015, a documentary about the history of information between 1989 and 2015.  We asked them to watch it with their current 5th graders in mind, as they will be graduating in 2015.  The documentary, of course, becomes speculative after 2005, which was when this version of the video was made.
Then we spend just a few minutes airing out what concerned us about a GoogleZon world (you'd have to see the video) and then sent them to my Twitter-style chat program where we gave them one question to answer, "What do you hope your current 5th graders will know, when they graduate in 2015?"
What do you hope they know?
What do you hope they can do with what they know?
What do you hope they care about?
The aim was content, but I gave no more instruction than that question.
After about five minutes we asked them to answer, in the chat, "What do you hope your 2015 graduates can do with what they know?"

Here the aim was information skills.  But again, we only asked the question — no more explanation than that.
Finally, we asked, "What do you hope your 2015 graduates care about?"

I purposely wanted to give them the questions one at a time, so that they would consider the answers independent of the next question.  After they answered the questions in the Twitter-style chat, I transfered their answers to a Wiki.  We then asked each table of participants to scan through the answers and pull out, and/or rewrite, three answers to share with the entire group, each table concentrating on only one of the questions.
What seemed odd was that no one seemed able to answer to question one (content) without including some information skill.  And then, no one seemed able to answer question number two (skills) without including some form of value system.  And by the time we got to question three (What do you hope they care about?), it had all been said.
I told them then that there was a blog in this.  I didn't know what, but I felt that there was some unified field theory to what we were seeing.  It christalized this morning — perhaps as much as anything can christalize at 1:10 AM.
What we learn,
and what we learn to do with it,
must be worth caring about!
2? Worth!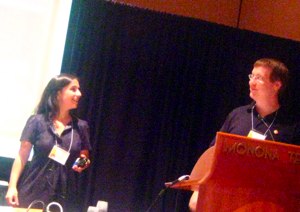 Halverson & Halverson
One of the most intriguing presentations that I saw at the Games+Learning+Society Conference last week, was partly a replay from last year's conference. It was delivered by Erica Halverson and Richard Halverson (don't know their relation), and their delivery was fun. They've been researching fantasy sports, looking for the whys and ways that people learn while playing their teams against each other.
I really don't understand the endeavor, other than you bid for players (playing cards), and then play your teams statistically against each other. Strategies vary, and they told of at least one professional baseball team that successfully carried over some of what they learned about playing/working the statistics into their field game strategies.
The construct that Halverson and Halverson suggested is an interplay between what you know about the sport (fan knowledge) and what you've learned in your real world experiences (prior knowledge). In a way, it is about investing your passion along with related prior knowledge to theorize and test strategies. What pressed itself on me the most was the sense of investment, putting elements of yourself into the experience.
How might we tap into this in school. Probably not by passing out sports playing cards, though I suspect folks have found some inventive and effective ways to use them in math class. But what else might we be able to call "Fan Culture," that could be applied in schools.
In a sense it happened at the conference as they ran a competition for game developers, where teams were challenged to create the best game during the two days of the event. They are fans, or else they wouldn't be there, and they were bringing their own, largely self-developed skills as programmers, strategists, and content specialists together with a newly launched game development system.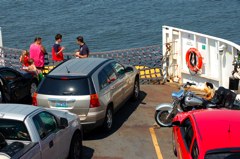 There was a similar story in Sundays News & Observer, about a competition, here in Raleigh that challenged contestants to create a new business over the weekend. Some of the concepts were amazingly innovative. Halverson and Halverson seemed to be pointing to the competition as the motivation for learning, but I think that there is probably more to it than that.
Ooops! There's the Cape May light house. I guess I'd better get on down to the car, so I can drive it off, when the ferry touches ground.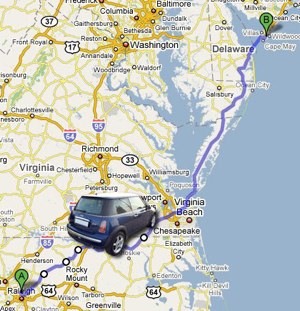 I am in that very sweet place between making it through a particularly onerous writing deadline and my next project, the New Jersey ELITE summer conference.  The problem is that most everyone else, along my longitude of the planet is in deep Delta sleep.  It's OK, I'm looking forward to the day, with a canceled flight, I'm making my customary drive across Northeastern North Carolina on highway 258, then number 13 up through Portsmouth and Norfolk, across the Chesapeake Bay Bridge tunnel to the Delmar Peninsula, and on up the very rural and easy drive to Lewes, Delaware.  There I drive onto the Cape May Ferry, for an 80 minute cruise to the southern tip of New Jersey.  Then it's just a few minutes to Wildwood, where I'll be participating in a conference for NJ school administrators.
Now that I'm at the computer, let me spend a little mental energy, and then I can get back to sleep.  I want to reflect on the learning experiences I've had recently, digest them grow — or is it glow.  I remember at one point during the recent Games+Learning+Society Conference, I felt like my brain was glowing from the ideas I was being exposed to, pushing the wiring in my head to re-circuit itself.
I just glanced through the first few notes that I took during that conference and was struck by something that Jim Gee said in the opening panel, about game play being the antithesis of how we traditionally do schooling.  In game play, its the job of the gamer, as learner, examine the environment and rules of the game, the role of the gamer, and then to form a theory for how you're going to play it.  You have to construct a strategy that follows that theory.  Then you test it, assess success, adjust the theory, adapt the strategy, and work it again.  I suspect that this is closer to the way that we've learned what we needed to know for adult work life, than the "being taught to" style of learning that we experienced in our own schooling.
Another idea that jumped at me from my notes was something that Cory Ondrjka, one of the founders of Second LifeTM, said.  He said that as we try to plan for and retool for the future, "..we're going to get it wrong.  We're not good a predicting the future.  Change is exponential, and our incorrect guesses are incrementally wrong."
My guess is that we need to identify those fundamental element that we know are true about the future, and focus on those.  Teaching kids how to blog, use GPS, and construct a wiki, although all valuable activities, they are not about preparing children for the future.  What it's about is helping children learn to teach themselves within a dynamic, digital, abundant, and connected information landscape.  I know I've left something out here, but I suspect I'm ready for sleep.
Look for photos on flickr, tagged with NJELITE08journey.
keep looking »