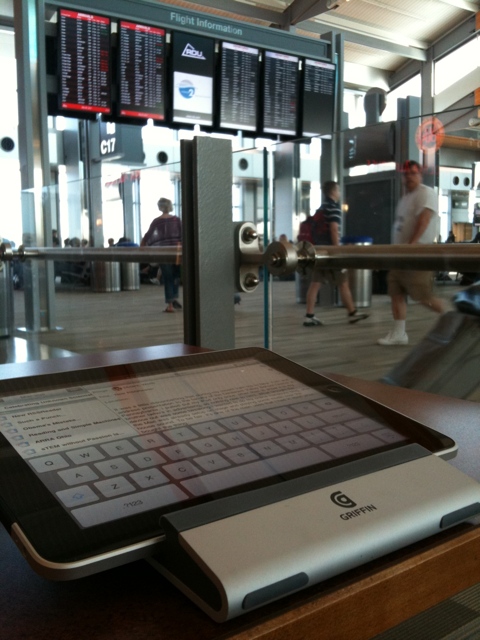 My favorite seat, outside Bruegger's Bagels, across from American Airlines gates, bound for places many hours away.
It was a little disconcerting that during my recent train trip to New York and address presentation to the faculty of the Delaware Valley School District in Pennsylvania, I pulled out my iPad only once, other than to show it to my brother (who's in advertising, so nothing new to him). What brought the device out was some tweaking I wanted to do my online handouts blog, after the Mac was already setup on stage and playing some music over the house sound. To be fair, it's one of the main uses that I had in mind when I bought the thing.
But I have mentioned before that I have been reading a lot more since purchasing my iPad, especially keeping much more abreast of my RSS feeds than ever before. I do not believe that it's the novelty of the device (it's not about the technology). Instead, it's exactly what educator-bloggers have been complainining about — the iPad is an information consumption machine. That's right. The problem is that when I'm at my Mac, I am producing. I'm blogging, programming, planning a presentation, or some other form of making. Sitting and reading is a waste of a good mouse and keyboard.
The iPad, on the other hand is a screen that connects to the web and gives me access to stuff that I can read, watch and listen to. I'm not satisfied with that, especially when thinking about the ideal learning tools for formal learners — and I'm continuing to try to push the device as a production tool, not to equal a laptop, but to serve the general functions of learning by doing.
I started this blog entry to talk about a new RSS reader I'm trying on my iPad, Google Reader being mildly problematic. But since then (last night) I'm back with Google, until something else comes up.
– Posted using BlogPress from my iPad