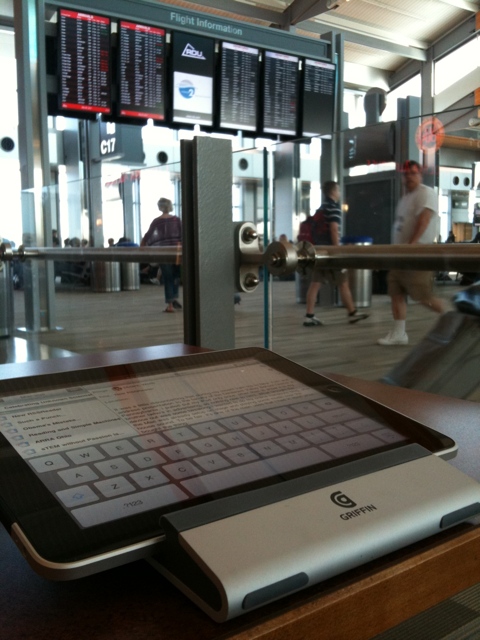 My favorite seat, outside Bruegger's Bagels, across from American Airlines gates, bound for places many hours away.
It was a little disconcerting that during my recent train trip to New York and address presentation to the faculty of the Delaware Valley School District in Pennsylvania, I pulled out my iPad only once, other than to show it to my brother (who's in advertising, so nothing new to him). What brought the device out was some tweaking I wanted to do my online handouts blog, after the Mac was already setup on stage and playing some music over the house sound. To be fair, it's one of the main uses that I had in mind when I bought the thing.
But I have mentioned before that I have been reading a lot more since purchasing my iPad, especially keeping much more abreast of my RSS feeds than ever before. I do not believe that it's the novelty of the device (it's not about the technology). Instead, it's exactly what educator-bloggers have been complainining about — the iPad is an information consumption machine. That's right. The problem is that when I'm at my Mac, I am producing. I'm blogging, programming, planning a presentation, or some other form of making. Sitting and reading is a waste of a good mouse and keyboard.
The iPad, on the other hand is a screen that connects to the web and gives me access to stuff that I can read, watch and listen to. I'm not satisfied with that, especially when thinking about the ideal learning tools for formal learners — and I'm continuing to try to push the device as a production tool, not to equal a laptop, but to serve the general functions of learning by doing.
I started this blog entry to talk about a new RSS reader I'm trying on my iPad, Google Reader being mildly problematic. But since then (last night) I'm back with Google, until something else comes up.
- Posted using BlogPress from my iPad
My last blog post just just shy of 1000 words. Vera B. Hoyle (my senior English teachers) would be proud. But in this day and time of being overwhelmed by information, it's the short statement that counts.
Gary Stager and I can quibble about a trillionth here and a trillionth there, but he certainly packs a punch and says what's true in this comment posted on a recent blogging by Will Richardson.
If a human is breathing, he is a "true learner."

School teaches at best a trillionth of the knowledge available on the planet yet we quibble endlessly over which trillionth of a percent is most important. (short answer – the most trivial and less useful least useful)

Who cares?

If teaching was an actual profession, all curriculum and assessment issues would be resolved internally within that profession, not imposed by committees of anonymous (and amateur) bureaucrats.

What is the "true lesson" of education for students when they see their teachers routinely trampled and become increasingly helpless?

This obsession with measurement of human achievement IN ALL OF ITS FORMS is a form of arrogance at best and psychosis at worst.
No more to be said, but thanks, Gary…
Added later: Also passed along from Gary — http://bit.ly/b93AVh
BottomLine
Technology should be invisible. It is the pencil and paper of our time. But until every learner and teacher-learner has sufficient and equitable access to appropriate information and communication technologies, we should enthusiastically continue to make the "T" word an explicit and high-volume part of all of our planning.
Washington Post blogger, Valerie Strauss, has invited faculty members of Columbia University Teachers College to guest blog about President Obama's Blueprint for rewriting the No Child Left Behind law. Yesterday's contributor was Ellen Meier, professor of computing and education and co-director of the college's Center for Technology and School Change.
In here piece, Obama's mistake with technology in ed reform, Dr. Meier opposes the apparent devaluing of technology as a catalyst for change. She hones in on the document's relegation of technology to a position of support mechanism and an element of the STEM (Science, Technology, Engineering, and Mathematics) theme. She writes,
The blueprint effectively consigns technology to a subordinate role in reform, rather than recognizing it as a fundamental requirement for new millennium teaching and learning. By consolidating technology funding, it effectively silences the voices of innovative educators interested in using technology to leverage effective, imaginative approaches to schooling.
I agree with Meier's statements and I get the same impressions from the document, which seems to address tech from a "business as usual" perspective. However, this is all part of an ongoing struggle in the ed-tech community between treating information and communication technologies (ICT) as a separate element in the endeavor of education or infusing it into the framework of teaching and learning — integrating the technology and therefore, making it invisible.
A while back, I wrote about a conversation I was part of in Austin about the prospects of the state's elimination of a required technology class (What Difference Might One "S" Make?). With the dedicated and state-mandated class, tech gains importance and prestige — not to mention funding. But technology instruction, which carries specific accountability measures, becomes too strictly defined and separated from the rest of the school. Without the technology class, schools become more free to specialize, adapt, innovate, and truly integrate, but they lose the authority and funding to do so.
I do not believe that Dr. Meier is advocating either position to the exclusion of the other. None of us are. We are simply finding the language that describes ICT as a critical component of the education formula in a way that empowers success, provokes innovation, and is relevant to the contexts of teaching and learning in the 21st century.
Meier makes an especially compelling argument about the need for assured technology expertise in our schools and districts, people who are following trends, aware of emerging tech, and qualified to innovate by utilizing appropriate new technologies. I was especially excited by her statement that the Blueprint's approach…
..is more likely to result in "technologizing" the status quo —integrating technology into existing practices – rather than using technology to create engaging new learning environments.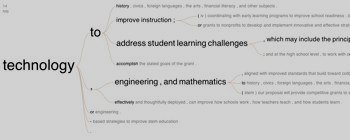 A Word Tree
(Click image to enlarge
or click here to launch the visualization)
Taking a closer and more quantitative look at the document I used IBM's Many Eyes tool-set to visualize the place the tech plays in the Blueprint. I started, of course, with a word cloud, in which technology just barely shows up out of the top 150 re-occuring words in the document. But this, in and of itself means almost nothing. As the Many Eyes site says, "It (the tool) was designed to give pleasure, and not to provide reliable analytic insight."
However, we get a clearer look by running a Word Tree (see left) revealing that technology is used 14 times in the document.
Five times it is listed along with STEM subjects. Two of the listings are presented in a way that, to me, imply a continuum subjects, placing history, civics, foreign languages, the arts, financial literacy, and "other subjects" at the less important end — or at least separating STEM out from other subjects.
Nine times it is listed as a way to improve instruction, address student learning challenges, and accomplish the goals of the grant.
But even its poor showing in the word race shouldn't, alone, be cause for concern. After all, "technology should be invisible," RIGHT? ("technology should be invisible" shows up in 2,700 Google-indexed web pages).
There are three objections that I have to where the blue print is taking us.
The One size fits all approach the our promotion of the STEM subjects seems to ignore completely that even though we do need more youngsters pursuing a science, technology, or mathematics field, not everyone needs to, and we will continue to need smart and creative people pursuing the "other subjects." When people are complaining about TV, they are not usually complaining about the picture size or quality. What they want is better stories. Engineering is easy. Telling a better and more compelling story is hard.
In the first paragraph, Ellen Meier describes technology as "a catalyst for all educational reform efforts for the 21st century." On my first reading, I thought that this statement was a bit over-reaching. But now that I think about it, she is right. Globalization, economic transition, brand new industries and industries in decline… all of these bellwethers of change owe themselves to advances in information and communication technologies. In addition, because of technology, information has changed in:

What it looks like,
What we look at to view it,
Where we go to find it,
How we find it,
What we can do with it, and
How we communicate it

Because information is now networked, digital, and abundant, what it means to be literate has changed and so too has the meaning and method of lifelong learning.
Technology should be invisible. It is the pencil and paper of our time. But until every learner and teacher-learner has sufficient and equitable access to appropriate information and communication technologies, we should enthusiastically continue to make the "T" word an explicit and high-volumn part of all of our planning.
This lady's been pestering me for weeks, leaving voice mails,… I had talked with her once and told her to go ahead and send me links, but no promises. Then, upon getting home from Ohio yesterday, there was another voice mail, and not remember the woman's name or voice, I called back. Tired from a day canceled flights and re-routing, I said that I am not that interested in specific educational video games, or what's increasing student achievement (which I take as code for test performance), nor what Arne Duncan says about what Planet 429 is doing for youngsters in Chicago — but send me the links to your videos again and I'll see if I have time.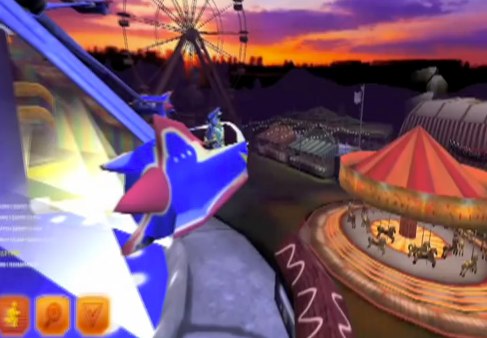 A screen shot from one of the videos. The aliens need help…
Well this morning, I looked and have to confess to being somewhat impressed with what are obviously promotional videos. I was especially taken by some of the phrases from the students, such as "This is education! — education on the edges of your seats."
The basic plot is Worldsplorers, who have come to explore Planet 429, which is Earth. They've landed near a carnival and learners help them with the use of simple machines. The main purpose is reading comprehension, as learners must read messages, signs, and instructions in order to learn to fashion simple machines to help the aliens — using reading as a "working" skill.
It's one of the themes I'm talking about a lot these days, students learning to use reading, writing, and grammar as working skills — not just something that you do for the teacher.
Again, I am impressed with what is obvious promotional materials. More digging would be necessary if you want to explore this product. But even though specific games still do not interest me that much, what I think would be interesting is how this sort of activity will be transferred into the real world. Do we plug our children into these virtual experiences and then unplug them and become satisfied when they score better on the government tests?
How do we transition from these purely virtual experiences into the game of life and authentic accomplishment?
On a similar note, AMD, the Sunnyvale semiconductor company, has awarded $115,000 grant to the Boys & Girls Clubs of America. The plan is to implement Club Tech: Game Tech in a number of cities where members, boys and girls, will create video games for change. According to a MarketWatch article,
The grant supports AMD's signature education initiative, AMD Changing the Game, a program that encourages teens to learn critical STEM (science, technology, engineering and math) skills and become more globally conscious citizens by developing digital games with social content. ((Greenlaw, Catherine. "AMD and Boys & Girls Clubs of America to Offer Game Technology Program to Hundreds of Youth Club Members." 17 May 2010: n. pag. Web. 20 May 2010. <http://bit.ly/8XHC8r>.))
AMD is also providing $60,000 to install four technology centers at BGCA sites in Washington, D.C.; Orlando, Fla.; Bellevue, Wash.; and Sunnyvale, Ca.
This is the sort of thing that interests me, not just helping students to learn skills as working skills, but putting students to work unitizing those skills — from classroom pedagogy, to practical real-world practice.
CC Licensed Photo by Patrick Harrigan ((Harrigan, Patrick. "Koslanda Rural Knowledge Center."Flickr. N.p., 25 Oct 2007. Web. 15 May 2010. <http://bit.ly/9QFQ50>.))
A recent study by BCS, a research firm in the UK, finds that on average people are happier with access to information technology (networked, digital, and abundant information). Reporting about the study in Mashable, Jennifer Van Gove wrote that'
..information technology (i.e. Internet access) increases their sense of freedom by 15% and improves their overall well-being. Altogether, our life satisfaction increases by 10% when we have IT access, the study concludes. ((Van grove, Jennifer. "The Web Makes the World Happier." Mashable. 15 May 2010. Web. 15 May 2010.))
The study, The Information Divident: Can IT make you happier?, represents data collected from 35,000 respondents around the world. Van Grove mentions the fact the past studies have indicated that increased wealth does not correlate to greater happiness contrasting what many might see as a relationship between wealth and technology. BCS argues, according to the Mashable article, that increased happiness happens because "IT helps to promote and enable empowerment and autonomy." This rings true to me, that empowerment trumps enrichment.
I think that this may be good news for schools that are trying to keep students enrolled and engaged in learning, and to retain good teachers. Empower them with information technologies, which are, for most of us, standard contemporary and assumed tools.
- Posted using BlogPress from my iPad
Location:Carter Lake Dr,Omaha,United States
Flickr Photo by Jukebox909 ((Jukebox909, . "Polls show distrust of public opinion."Flickr. N.p., 16 Nov 2006. Web. 12 May 2010. <http://bit.ly/7Xouzr>.))
I have long felt that the greatest value of the social web is in the content that it generates. I suspect that the content's value compared to the value of "nearly now" ((A term coined by Stephen Heppell)) social idea sharing depends on the person. I'm not a chatter. I procrastinate phone calls. But I love to mine the conversation for ideas, knowledge, and resources that I need right now.
An interesting example of this comes from a Carnegie Mellon University study (pdf) indicating that analyzing data from Twitter posts can yield the same results as conducting a public opinion poll, perhaps costing less and irritating far fewer people.
According to the Mashable blog post I learned this from,
A CMU team from the computer science department looked at sentiments expressed in a billion Twitter messages between 2008 and 2009. The researchers then use simple text analysis methods to filter out updates about the economy and politics and determine if the overall sentiment of the update was positive or negative. The CMU team found that people's attitudes on consumer confidence and presidential job approval were similar to the results generated by well-reputed, telephone-conducted public opinion polls, such as those conducted by Reuters, Gallup and pollster.com. ((O'Dell, Jolie. "Could Twitter Data Replace Opinion Polls?."Mashable. 11 May 2010. Web. 12 May 2010. <http://bit.ly/cZa2y8>.))
CMU Assistant Professor Noah Smith thinks that for at least some topics, this kind of passive information gathering could work. Mashable blogger Jolie O'Dell quotes Smith as saying, "With seven million or more messages being tweeted each day, this data stream potentially allows us to take the temperature of the population very quickly."
Twitter data tends to be noisy, as any tweeter out there knows. But so too is even the most carefully polled data. Researchers learn to filter out the noise, the extraneous data, and round out the results to reveal trends and indicators.
Twitter, as a source for opinion trends, certainly isn't going to work for just any topic, and the data collected via Twitter tends to fluxuate more on a daily basis than does formally polled data, as discovered by the study. But I often make the point that we will continue to need to refer to authoritative, scientific, and formally vetted information to solve many of our problems. But in a time of rapid change, we need to also develop the skills to cull out timely, experiencial, and community shapped information to answer some of our brand new questions and solve some of our brand new problems.
Added Later: From this, one might say, with an increasingly conversational and participatory web, who needs public opinion polls? Certainly the issues involved are far more complex than that. But I can't help but wonder if teaching and learning might come to take place in a more networked, digital, and info-abundant environment, and we might continue to develop data mining capabilities, if we might reach the point where the obvious question would be, "Who needs tests?"
The other day, on my way to the airport, I was listening to an NPR piece about the job increases for April, believed to be announced in an upcoming government report. Renee Montagne was interviewing Wall Street Journal economics editor, David Wessel.
As it turned out, the number of new jobs rose higher than anticipated. Here's a clip from a May 7 NPR article…
The number of jobs in America rose by 290,000: Sounds good!
The nation's unemployment rate rose to 9.9 percent: Sounds bad! ((Goldstein, Jacob. "Why More Jobs = Rising Unemployment." NPR – Planet Money 7 May 2010: n. pag. Web. 10 May 2010.))
Asked about who is being hit hardest, Wessel replied that the usual victims of recessions are young people and minoirities, But he went on to say,
…what I find the most arresting fact is this: one out of every five men 25 to 54 years old isn't working – one out of five. They're either looking for work or given up looking for work, or collecting disability or collecting pensions, or just getting by on the kindness of their families. I mean that's a remarkably high fraction.
It is a shocking piece of data and a disturbing consequence of a devastating (and avoidable in my opinion) recession. But Wessel uncovers even more disturbing news.
It's not all because of the recession. There's been a steady decline in the share of these prime-age men who've been working for decades, but it plunged during the recession as industries that tended to employ men, construction, in particular, manufacturing – were hit particularly hard.
I've written about this before (This Would be Really Weird), how the jobs typically held by women have not be as heavily impacted by this recession. Health care, for instance, has not been nearly as hard hit by the recession as construction and manufacturing. In addition, according to Wessel, more and more women have been earning college degrees, "..turns out to be one of the things that makes workers desirable to employers – even in a downturn like the one we've had."
But the hammer fell when Wessel concluded that this is not just a recession problem. He reported that,
Larry Summers, the president economic adviser, said at a conference the other day, that he anticipates when we get back to something like a normal economy, instead of having one in five prime-age men being on the sidelines, he expects it'll be one in six.
My initial response is to ask, "Does this really surprise us?"
Haven't people been saying for years that our boys are not being served by today's (yesterday's) education. Haven't people been talking about this for years?
I suspect that I'm not the only one who has noticed this in their personal lives, that of all neighborhood kids and cousins my children grew up with, few have finished college, and they are all young women.
Frankly I can not think of any other situation that so clearly describes an education system that is obviously broken. I am also coming to believe that we are so rapidly running out of time that I'm not sure that we can wait for a federal department of education to fix it.
Perhaps, just maybe, it's time for every single school to decide how they are going to prepare every learner for their future, act on it,
…and simply ignore what's holding us back, the government's ill advised accountability.. High stakes testing is an industrial age solution to an information age problem.

Location:SE Railroad St,Pocahontas,United States
It's a pleasure to be working with entire staff of the Prairie Lake Area Education Agency about education today. I suppose that one of the characteristics of this day and time is that geography and zip code mean far less than they ever did before, that there is practically nothing that you can do for anliving in New York City that you can't do from your home or rent-an-office in Prarrie Lakes.
This all assumes that you have the skills and the knowledge, and the skills to gain the knowledge, to work in a transparent world.
- Posted using BlogPress from my iPad
I just finished some email correspondence with a client, an upcoming presentation to teachers in the mid-west. Brenda had sent my AV needs PDF, and the client wrote back saying that everything was well within their means — except for Internet, no Internet available in the venue.
Being the polite and ever-conciliatory fellow that I am, I responded that this would be no problem. I can harvest all of the sites I need for the presentation and finesse myself around any online demos that can't be easily simulated. This is my standard reaction and this is what it should be. After all, even with the best and most progressive of intentions, we are still catching up, and we'll likely continue to be catching up for quite a while. Even though I often speak at venues that are not primarily education oriented, and many of them have adequate to exemplary technology in place, there are still those that pat themselves on the shoulder because they can wheel an LCD projector out for your Powerpoint are simply not there yet for a variety of reasons.
Accepting that, I got to wondering, what if I was a 12 year old, a member of the ultimate customer base that we are all serving. What if they'd invited a game-playing, text-thumbing, Facebook browsing youngster to speak? How might she have reacted?
Dude!

No Internet? Wait a minute. You want me to talk about how my generation thinks, how we interact with each other, how we play – and work – and learn, what we care about and where we do it — and you want me to do it without the Internet?

Dude!
Actually, I am not sure that "Dude" is quite the expletive that it was a couple of years ago. ..and a reaction like this would owe itself mostly to the petulance that comes naturally to many 12 year-olds. But I suspect that a more important part if this response — the part we need to be paying attention to — is that preparing today's children, within today's prevailing information environment, for an unpredictable future, should assume a networked, digital, and information-abundant learning environment, regardless of whether it is the children who are doing the learning, or the educators.
- Posted using BlogPress from my iPad
Location:Lassiter Mill Rd,Raleigh,United States
A while back I wrote about creativity, suggesting that it was something that could only be achieved when trying to accomplish a goal. These notions came from conversations I'd had with educators who were engaged in one of my IdeaPlotter activities. It also, almost certainly, comes from my preference to inventiveness, as a goal for our continuing conversations about "twenty-first century skills."
Then I did a fairly dramatic about face after seeing Graham Callum perform with his guitar at TEDxBANFF, noting how, because he taught himself how to play the instrument, played it like he invented it.
Now, holding an iPad in my hands, I am starting to think about creativity again. I've had it since Friday, and possibly owing to some busy preparations for a couple of events and some stinginess on my part for some personal time, I have not spent as much time with this machine as I'd thought such a new and amazing toy would demand. Only now am I doing with it on of the major reasons why I bought it — being able to write conveniently and comfortably without the inconvenience of a laptop or even the smaller and easier to carry net book.
So why creativity? Why now? Well it seems to be one of the peculiar qualities of this information device that it come mor as platform than a machine — that it's true power will come from the creative and talented people who will recognize the gaps it might fill in the lives of people. I will concede, also, the creativity in the quirky, yet interesting apps that will serve no practical application other than something to show your friends.
I am finding that I am reading more. I'm not certain yet whether it's the cool appeal of the iPad and the information experience it pits in your hands. ..or if there is some compelling quality to reading with such an accessible and interactive device. I will continue to think about this.
I think that we will continue to be surprised by some of the uses we'll be putting out iPads to, such as this new adaptive rack, with which you can attaché you iPad to the kitchen cabinet for ready reference will you cook that new web recipe. You can read about it at Mashable and also watch a video. ((Dybwad, Barb. "iPad Gets Custom Install in the Kitchen Cabinet." Mashable. Mashable, 5 May 2010. Web. 5 May 2010. .))
Note: I wasn't very satisfied with the WordPress app, which vie used extensively on the iPhone. So I searched out other editors of which I only knew of one, Blogpress ($2.99). I always hesitate to pay. Don't know why, when I'll readily pay that much for a large bag of peanut M&Ms at the airport. Almost went for Captain' Blog ($.99) if just for the name.
Location:Yadkin Dr,Raleigh,United States