BottomLine
Technology should be invisible. It is the pencil and paper of our time. But until every learner and teacher-learner has sufficient and equitable access to appropriate information and communication technologies, we should enthusiastically continue to make the "T" word an explicit and high-volume part of all of our planning.
Washington Post blogger, Valerie Strauss, has invited faculty members of Columbia University Teachers College to guest blog about President Obama's Blueprint for rewriting the No Child Left Behind law. Yesterday's contributor was Ellen Meier, professor of computing and education and co-director of the college's Center for Technology and School Change.
In here piece, Obama's mistake with technology in ed reform, Dr. Meier opposes the apparent devaluing of technology as a catalyst for change. She hones in on the document's relegation of technology to a position of support mechanism and an element of the STEM (Science, Technology, Engineering, and Mathematics) theme. She writes,
The blueprint effectively consigns technology to a subordinate role in reform, rather than recognizing it as a fundamental requirement for new millennium teaching and learning. By consolidating technology funding, it effectively silences the voices of innovative educators interested in using technology to leverage effective, imaginative approaches to schooling.
I agree with Meier's statements and I get the same impressions from the document, which seems to address tech from a "business as usual" perspective. However, this is all part of an ongoing struggle in the ed-tech community between treating information and communication technologies (ICT) as a separate element in the endeavor of education or infusing it into the framework of teaching and learning — integrating the technology and therefore, making it invisible.
A while back, I wrote about a conversation I was part of in Austin about the prospects of the state's elimination of a required technology class (What Difference Might One "S" Make?). With the dedicated and state-mandated class, tech gains importance and prestige — not to mention funding. But technology instruction, which carries specific accountability measures, becomes too strictly defined and separated from the rest of the school. Without the technology class, schools become more free to specialize, adapt, innovate, and truly integrate, but they lose the authority and funding to do so.
I do not believe that Dr. Meier is advocating either position to the exclusion of the other. None of us are. We are simply finding the language that describes ICT as a critical component of the education formula in a way that empowers success, provokes innovation, and is relevant to the contexts of teaching and learning in the 21st century.
Meier makes an especially compelling argument about the need for assured technology expertise in our schools and districts, people who are following trends, aware of emerging tech, and qualified to innovate by utilizing appropriate new technologies. I was especially excited by her statement that the Blueprint's approach…
..is more likely to result in "technologizing" the status quo —integrating technology into existing practices – rather than using technology to create engaging new learning environments.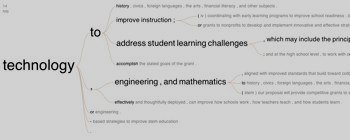 A Word Tree
(Click image to enlarge
or click here to launch the visualization)
Taking a closer and more quantitative look at the document I used IBM's Many Eyes tool-set to visualize the place the tech plays in the Blueprint. I started, of course, with a word cloud, in which technology just barely shows up out of the top 150 re-occuring words in the document. But this, in and of itself means almost nothing. As the Many Eyes site says, "It (the tool) was designed to give pleasure, and not to provide reliable analytic insight."
However, we get a clearer look by running a Word Tree (see left) revealing that technology is used 14 times in the document.
Five times it is listed along with STEM subjects. Two of the listings are presented in a way that, to me, imply a continuum subjects, placing history, civics, foreign languages, the arts, financial literacy, and "other subjects" at the less important end — or at least separating STEM out from other subjects.
Nine times it is listed as a way to improve instruction, address student learning challenges, and accomplish the goals of the grant.
But even its poor showing in the word race shouldn't, alone, be cause for concern. After all, "technology should be invisible," RIGHT? ("technology should be invisible" shows up in 2,700 Google-indexed web pages).
There are three objections that I have to where the blue print is taking us.
The One size fits all approach the our promotion of the STEM subjects seems to ignore completely that even though we do need more youngsters pursuing a science, technology, or mathematics field, not everyone needs to, and we will continue to need smart and creative people pursuing the "other subjects." When people are complaining about TV, they are not usually complaining about the picture size or quality. What they want is better stories. Engineering is easy. Telling a better and more compelling story is hard.
In the first paragraph, Ellen Meier describes technology as "a catalyst for all educational reform efforts for the 21st century." On my first reading, I thought that this statement was a bit over-reaching. But now that I think about it, she is right. Globalization, economic transition, brand new industries and industries in decline… all of these bellwethers of change owe themselves to advances in information and communication technologies. In addition, because of technology, information has changed in:

What it looks like,
What we look at to view it,
Where we go to find it,
How we find it,
What we can do with it, and
How we communicate it

Because information is now networked, digital, and abundant, what it means to be literate has changed and so too has the meaning and method of lifelong learning.
Technology should be invisible. It is the pencil and paper of our time. But until every learner and teacher-learner has sufficient and equitable access to appropriate information and communication technologies, we should enthusiastically continue to make the "T" word an explicit and high-volumn part of all of our planning.