A while back we asked some designer associates to suggest some redesign options for Citation Machine. Our two number one goals were easy appeal and operation, and almost now change in the layout and operation of Son of Citation Machine. This may seem like an impossibility to many of you, but I think that they achieved it.
Even at that, we've decided to pursue the (slightly) new look in phases. It seems that any time I try to enact an improvement, many people "freak" – and rightly so. The primary advantage of
CM
over other attribution tools is that it is quick and simply, and it stops being that when you have to figure out some new layout.
When you visit CM, you will see phase 1 of the change. Mostly, it's a new logo, new color for the main menu bar, oh! and the squirrel's running the other way.
One important deviation from the new look suggested by the designers is that I'm keeping the squirrel. I've become fond of the fellow. Perhaps I can put a red hat on him.
1. Type the conference tag (#otaem12) into the search box and press [Enter]
2. Look for the most prolific, sharing and insightful people and click them.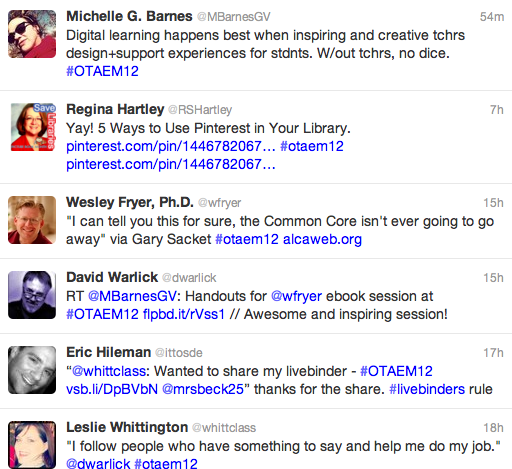 3. Learn a little more and then click to follow…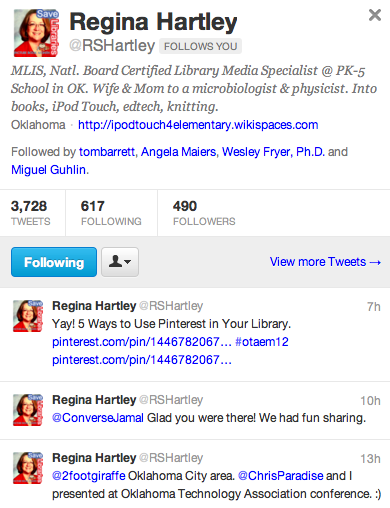 It's going to be another long day, with a morning of presentations and then traveling the rest of the day from Oklahoma City to Seattle, where I'll rent a car and drive on up to Vancouver tomorrow.  But today, I'm still at the Encyclomedia conference in OC, and it's an impressive thing – over 1,600 educators at the general session yesterday morning.
This morning I will be delivering a presentation about self-directed professional development (learning networks), pretty similar to what I did at ISTE last year. But I've already been asked more than once here, "How do you follow the right people on Twitter?" It's a common question for which I have never really been satisfied with my answer – look to my a twitter page and follow who I follow, or that of Will Richardson, or Jonathan Becker.
But something occurred to me yesterday (or perhaps last week, I'm not sure) that's probably already part of the standard practice of many of you. Rather than focusing on one person's followings as a starting place, focus on an event, a gathering, or even an issue.
I will suggest to folks today that they go to Twitter and use the search box to find tweets tagged with #otaem12 (hash tag for the Encyclomedia conference).  Then look to the people who are most frequently posting messages about the conference, linking to blog posts about the conference, or linking to resources being mentioned and demonstrated at sessions. Click to their twitter pages, and follow them.
Another great place to start would be Educon, perhaps the single greatest concentration of insightful ideas about education on the planet. Search for #educon and look for the most prolific, sharing and insightful contributors – better make a cup of coffee for this one. Understand that many of the best tweople engaged with the Educon event were not even there. But that may make them even more valuable to your following list.
It is so important to realize that a critical element of being a master learner today is the network of people you connect yourself to.
…Posted using BlogsyApp from my iPad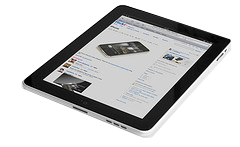 One of the most interesting sessions at this year's Educon was facilitated by Chad Sansing and Meenoo Rami, both of them Science Leadership Academy faculty.  The title was Hacking School: the EduCon 2.4 Hackjam.  I didn't know what to expect – and what actually happened was beyond all expectations.
They gave groups of four or five of us, collections of objects (tiny cotton balls, crayons, blocks, etc.) and a complete Monopoly set. We were instructed to play the game, but told that players, as part of taking their turn, were required to change the rules in some way.  On my first turn, I was at such a loss that the best rule I could make was that if you couldn't come up with a rule, then you had to figure out a way of wearing a colorful pipe cleaner.  Someone may have uploaded a photo to Flickr.
The rule I took away from the game was to never play monopoly with anyone more than 40 years younger than you.  None of us took the activity very seriously.
However, as the debriefing began, it became apparent that there was intent behind this exercise.  That follow-up conversation became part of the game.  We continued to change the rules, to hack our own insights – as we exchanged our exceedingly diverse experiences.
Then Sansing and Rami introduced us to Hackasaurus, a tool that enables you to take most any web page, examine it's underlying code, and then hack that code to change the look and content of the page.  Learning about Web coding (HTML & CSS) is the ostensible purpose.  But I kept thinking about the playful learning that might result from asking students to hack particular web pages about their current topic of study in history, science, etc.
Then, what really kicked me in the head was when someone said that..
"..anyone who is not a programmer is part of the program."
The earth trembled under my feet, as I began to parse out the statement's meaning, and my previously held notions about teaching and learning broke down and recombined into something new.
"What is the purpose of education?" It's a frequently asked question these days and I have long said and written that the purpose of education is to prepare our children for their future.  Now I believe that,
The purpose of school is to prepare our children
To Own Their Future!
Are we (educators) making programmers,
or are we just making software?