Brenda and I had a fabulous time in the Smoky Mountains of North Carolina over the past couple of days. We took our time, driving across the state, taking a detour along the Blue Ridge Parkway, getting on in Little Switzerland, and off again just southwest of Waynsville. Then a few more miles over to Sylva, a lovely little town, tucked amongst the mountains. I'd reserved a book for Ryann at a Sylva bookstore, during our drive, and then started to worry, because the name of the store was City Lights. I was worried because I was afraid that I had accidentally called San Francisco, instead. Alas, her book was waiting. We met my daughter for dinner, gave her the book, and then we retired back to our room by the river.
On Saturday, after doing a goodly amount of editing of my K12 Online Conference presentation, we drove over to Cullowhee for the Mountain Heritage Day. I've included some pictures below. By far, the high points were the Shape-note singing (play audio clip below) and the Cherokee war dances.
The Blue Ridge Parkway, somewhere between Little Switzerland and Balsam Gap.

Early Morning by the River

A Machine for Makin' Grits

Southern Kitchen — a Remix

The Honey Man

Nice Man pulling the Hay Wagon

Fine Blue Grass Music in the Making

Shape-note Singing, an American Tradition
Authentic Cherokee War Dance
---
Do you want to see something really cool? First read..
Science & Engineering Visualization Challenge: Challenge Synopsis:

Some of science's most powerful statements are not made in words. From the diagrams of DaVinci to Hooke's microscopic bestiary, the beaks of Darwin's finches, Rosalind Franklin's x-rays or the latest photographic marvels retrieved from the remotest galactic outback, visualization of research has a long and literally illustrious history. To illustrate is, etymologically and actually, to enlighten.
..from the National Science Foundation's Science & Engineering Visualization Challenge.
Each year, the National Science Foundation and the journal Science hold a contest that celebrates the grand tradition of scientific illustration. The categories are
photographs,
illustrations,
informational graphics,
interactive media, and
non-interactive media.
Click here to view this year's winners.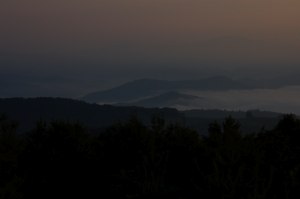 With the K12 Online Conference keynote, still incomplete, my writing deadline looming, conference proposals due, and I start serious travel again next week, Brenda and I are taking off for Cullowhee, North Carolina, this morning for Mountain Heritage Day, which starts in the morning. Today, we're hoping to get away early enough to drive up through Marion and pick up the Blue Ridge Parkway. We're not expecting a lot of color, with the drought, but it's such a great drive.
We'll take my daughter out to a play tonight, got a room by the river, and then soaking in the mountain ways all day tomorrow, before driving back to Raleigh. We'll buy some smoky mountain honey, some preserves, resist buying any more nic knacks, listen to some blue grass music, wish I'd kept that old banjo, and certainly get my day's worth of walking in.
I wonder if I can edit video in the car?
Barry Bachenheimer posted a comment on one of my articles the other day that I thought I would just drop-cast out to other blogging educators — for your spare change. It's a good question, one that bigger bloggers than us ponder. "Does a blog in the woods, that no one reads, make any noise?"
2¢ Worth » Rants for a Rant!:
In your books and posts you promote blogging for teachers as a great way to collaborate, communicate, and share ideas. I concur…but as long as there is someone to share with.

I have been encouraging teachers I work with to start bogs for themselves and their students. Many have, but the concern they share is that no one comments…besides themselves. Teachers said that if the only people who are going to read what they write are the people across the hall who took the same blogging workshop and set up a similar Blogger page, then what is the point?

I guess the larger question is, how do teachers get themselves "out there" to be read and be commented on so they can see the value? The same applies for kids as well. If a student in a social studies class wants to blog about their opinion on a civil war issue for example, it gains a lot of value when they can share and be commented on from other students studying the same thing in a different state.
I just want to make three quick comments here:
When I started blogging, and attended a number of BloggerCons, this was a common question, and the consistent answer was, "Just keep blogging and readers will come." For me, it worked.
Engage in the conversation. Read other bloggers who write in the same topics, to the same community, and engage. Comment on their blog, and be sure that you enter the URL of your blog when you sign in. When you can, blog your comment. Often, the original blog will capture the link to your blog, and link back to it. To be read, you have to become part of the conversation.
I would encourage your teachers to read each other's blogs. Start a conversation through your blogs within the school. Get teachers talking about what they are teaching, how they are teaching it, and why, and to present it in a way that would be valuable to other teachers in the school. Other teachers in your school may be just the readers and commenters you need.
Finally, write short blogs. I can't tell you how many good blog articles I've missed, simply because, as I pull it up, I decide instantly, I do not have the time to read this right now.
In all likelihood, you aren't reading this, because its too long
---
Image Citation:
Foresman, Chris. "Blogging."
Addictive Theory's Photostream
. 16 Mar 2006. 27 Sep 2007 <http://flickr.com/photos/foresmac/113402347>.
The K12Online Conference is on the way. It's free! It's flexible! And we hope it's going to be forward thinking. It's going to be a great global conversation among educators, and those who touch and are touched by educators. Go to the web site for details, and, if you don't mind, do a very un-techie thing. Print out the sign and tac it to the bulletin board in your school, central office, or school of education.
See you then — whenever or where ever that is.
Several years ago, I had a conversation with a tech director for a school district in Arkansas. I do not remember who it was, or what school district — but I was impress by the fact that the district was providing e-mail accounts on their own server, unfiltered. This was a time before blogs and Wikipedia, and I didn't know of any districts that were allowing students to use e-mail, except for a handful of Gaggle and ePals clients.
She told me that initially, they had a good bit of abuse, but if students were caught using e-mail inappropriately, then they lost their accounts for a period of time, commensurate to the abuse. She said that the second year there was less, and less still during the third year. They were in their 5th year of student e-mail, at the point of this conversation, and she could not think of any abuses for that year, which was more than half over.
There will be abuses of blogging, wiki publishing, Twitter-type chatting, etc. It's to be expected of 12 year olds. But I wonder how long it takes for a new classroom technology/tool to evolve from being a new toy to play to becoming another learning tool, another part of schooling, a technology or tool to be worked?
Seems like an interesting research question.
---
Image Citation:
Han, Churl. "Churl's Photostream."
Old and New
. 25 Mar 2007. 25 Sep 2007 <http://flickr.com/photos/churl/433173531/>.
Earlier this month, I wrote a "rant" in 2¢ Worth that garnered a good deal of response. The post, Teachers & Technology – a Rant!, came mostly from a blog article written here, by a Technology & Learning Blogger, but also from some of its comments and other posts that I had read that day. It was a bit of a stress releasing vent. It's why I called it a rant. And it's part of what's difficult about blogging, that you(I) see each article as a continuation, just one point along a spectrum of our knowledge, attitudes, beliefs, aspirations, and emotional condition.
However, when people read your blog article, they are typically seeing only that one point, looking through that single break in the fence, and, therefore, reacting to only a small part of my story — and this is not necessarily a bad thing. When you teach history, it is usually one decade, or one influence, or one event at a time. If done right, then the result is a broad and useful perspective.
Yesterday, while scanning through my aggregator, I ran across two more references to that article. Chris Lehmann (Practical Theory) wrote Don't Blame the Victim…, which I'd actually read before but hadn't had time to respond. In that post, Chris Wrote:
There's a lot of writing going on about how teachers don't have the right to be technologically illiterate today, that they can't, won't shaltn't… And, and I don't mean to be picking on David or Karl, two voices I deeply, deeply respect, there seems to be a sense that, if it weren't for those darned teachers who won't learn, we'd have the schools we need.
That little blurb is highly misrepresentative of Chris' entire article, so I strongly recommend that you link over and read the whole thing. After reading it, I commented with…
Thanks for this post. It is, perhaps, the best thing about blogging, that the greatest value comes out of the conversation, the sharing and growing of perspective. ..that a simple rant can expand into a much larger, more accurate, and useful examination of a topic.

In my state, we are facing a potentially catastrophic shortage of teachers. The are leaving the profession faster than we can replace them, and I do not believe that it is (just) the pay. It's that teachers pursue this job because they have a healthy notion of what it is to succeed with students. They know, because they've experienced those moments as students, when a teacher succeeded in helping them to grow, to be more than they were before.

But then they enter an institution that seems set up for failure. Barriers at almost every point prevent that success — barriers of policy, barriers of expectations, barriers of time, support, resources, and barriers of shear political cowardice.

I happen to think that there is only a very thin line between a mediocre teacher and a great teacher, but it takes some pretty large steps from the entire institution to cross that line.
Jamie, a school librarian in Houston, wrote an entry in Books and Bytes, a piece called Teachers as Learners. Again, I highly recommend that you click over and read the entire post. But the small part of it that I am responding to reads…
More than a few times, teachers have stated to me that professional development & technology training should be on school time, not personal time. The overriding perception is that "in the "real" (business) world, people are paid to be trained, but the poor teachers have to do it all on their own time. By and large this is not true, from my observation of friends and family members not in education!
I commented…
Thanks for this post, Jamie, and for linking to my blog. I think that you make a valid and useful point, that other professionals do engage in professional development on their own time, and they often take work home with them, etc.

But I would also side with your teachers in that one of the problems with teaching, and one of the barriers to education reform, is the notion that what teachers do is teach. That the job is to work with students to help them learn — and that is all.

We both know that there is so much more to being an educator than teaching — especially in a time of rapid change and a dramatically shifting information landscape. It requires research, collaboration, material and strategy development, professional development, information management, planning, teacher field trips, and professional reflection.

I think that we need to figure out a way to re-image teaching, for the community. We need to project it as a dynamic profession that is more than just teaching the same old thing. It's about crafting learning experiences for students that introduce them to the world that they will inherit.
This is obviously a complex issue, as education should be. Its more than can be expressed in a single blog. The job is not simple — not any more. The world that we are preparing our children for is complex, dynamic, and it may never be the same again. But it is also intensely exciting — a fact that I only discovered after graduating from school. ..and learning about that world, should be just as exciting as that world really is.
On the spur, just before scanning through e-mail, I took a glance at Twitter, seeing, not surprisingly, a recent post from Jeff Utecht — well into Sunday there in Shanghai. He said
Twitterverse I'll be doing a test run of Wiziq in 10 minutes

..and then


Twitters join me in wiziq to see what this is all about.

Cool you can upload your presentations ahead of time or search for other presentations in wiziq

. My session: http://…

I clicked the link, was asked to register and did so, obediently, and then found myself in an Eluminate style setting with, oh, ten or so others from Thailand, China, Australia, New Zealand, and a couple of folks, still rubbing our eyes, on the east coast of the U.S.
The tool is called WiZiQ, and it enables you to


Use WiZiQ's virtual classroom equipped with live audio-video communication, chat, content sharing, and session recording capabilities. No download is required since it works with any web browser and on any operating system.
It's pretty impressive for a free service, and I was especially struck by the lack of delay. Jeff and I were able to carry on a conversation, as if we were on the phone or standing just next to each other. I've not always had that experience with virtual sessions. I took a quick screen shot during the session (see above).
I think, though, what impressed me the most was not WiZiQ, a free online elearning tool, but that all of these people were there. Jeff just cast out this not, on Twitter, and we just showed up.
I love Australian accents.
Learning 2.0 (slideshow) and SETT07 (slideshow) are behind us now, but they remain good conference pages to visit on Hitchhikr, as educators are still blogging the events and uploading their photos. But during a quick visit to the page, this morning, I noticed another upcoming conference, ASLAXX. It's the Australian School Library Association.
What caught my attention was the fact that the conference will not begin until 3 October, but their Hitchhikr page has already been visited 1,414 times. That's pretty impressive, and may indicate that this will be a chatty conference, from a globally connected point of view.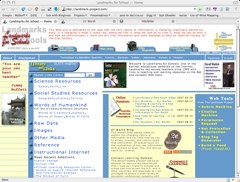 On Thursday, while working at the coffee shop, I received a call on my mobile from a woman who was speaking in a fairly thick accent — rather difficult for me to understand. I walked outside, out of the sounds of Starbucks, leaned against the window so that I could keep an eye on my laptop, and listened.
The young woman had been accessing my Landmarks for Schools web site, but had gotten a credit card advertisement instead of teacher support. She checked Register.com, and learned that my landmark-project.com domain was expiring on that day.
From the shop, I was able to contact with Register.com, the registrar of my domain, learning that it the domain was still being managed by a hosting company that I used a few years ago. I called them, and they were able to get the domain extended in a matter of minutes — calling me back, while I was still at Starbucks, to confirm.
Not until this morning, did I take the time to track the phone number of the woman who called to warn me. National code +41 is Switzerland.
T h a n k s !
keep looking »