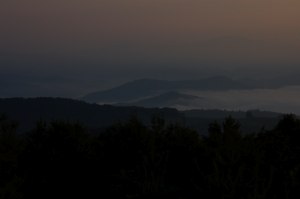 With the K12 Online Conference keynote, still incomplete, my writing deadline looming, conference proposals due, and I start serious travel again next week, Brenda and I are taking off for Cullowhee, North Carolina, this morning for Mountain Heritage Day, which starts in the morning. Today, we're hoping to get away early enough to drive up through Marion and pick up the Blue Ridge Parkway. We're not expecting a lot of color, with the drought, but it's such a great drive.
We'll take my daughter out to a play tonight, got a room by the river, and then soaking in the mountain ways all day tomorrow, before driving back to Raleigh. We'll buy some smoky mountain honey, some preserves, resist buying any more nic knacks, listen to some blue grass music, wish I'd kept that old banjo, and certainly get my day's worth of walking in.
I wonder if I can edit video in the car?