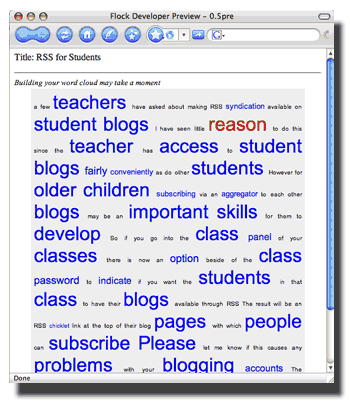 It's been a while since I've talked about Blogmeister, so I thought I'd just mention some statistics. There are currently almost 1500 teachers using blogmeister, managing more than 11,500 student accounts. There are users in 46 states of the U.S. and 37 countries. So far, more than 22,000 articles have been posted by teachers and students.
I suspect that we are approaching the capacity of the hosting service that I'm using, so I will have a decision to make soon. My choices, as I see it, are to move the site to a more robust server solution or limit new teachers to an invitation system. I may set up a procedure where new users will have to receive an invitation from current Blogmeister teachers. I'm still struggling with this decisions.
The fact is that there are other options that were not available when I first built Blogmeister. Alan November's November Learning is attracting a lot of users. James Farmer is now offering student blogging accounts through Learner Blogs, which he hosts through his WordPress installation. I suspect that more enterprising tech directors will soon be installing and tweaking tools like Manila and WordPress to server their teacher and student bloggers. The purpose of Blogmeister was to provide a place for classroom managed blogging experiences for students, when there wasn't anything else available.
Experimenting…
It's an A.D.D. thing where you wake up after only four hours of sleep with a brilliant idea…or so it seems at the time. Anyway, I finally got up at 4:00 AM and started programming. Here's how it works.
If you are a teacher, using Class Blogmeister, you now have a new word cloud icon for each article when viewing them in "edit" mode. When you click the cloud icon, a word cloud window is generated, displaying the article. Words that appear in the blog articles of other teachers appear blue. Larger fonts indicate words that appear in many other teachers' blogs.
If you click a commonly used word, Blogmeister generates a list of teacher articles that include that word. You can then click an article title back into Class Blogmeister, where you can read it in its entirety and comment.
The idea is to use the content that is continually being generated inside of Blogmeister to promote potentially valuable connections between teachers, and, perhaps, one day, connections between students.