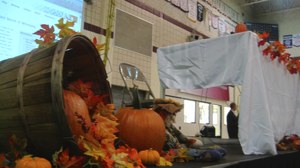 My first look for 2010 at pumpkins and turning of leaves…
Checking out of the Gand Hyatt in Dallas on Thursday, the desk attendant asked where I was going, and I told her, "Winnipeg." She said that she had no idea where that was. Outrageous! Winnipeg is the home of Neil Young and The Guess Who, whose songs helped to define part of my youth. Bands that I was a part of in high school performed These Eyes, American Woman, and No Time (left for you), and Neil Young's songs were a staple for us young folkster wannabes, sitting around with guitars and belting out Southern Man , Down by the River, and Cowgirl in the Sand.
Alas, I didn't get to visit the city, other than a drive through on my way back to the airport Hilton from my work in Oakbank, just a bit east of the city. It was a good day, though, where I keynoted their professional development day and got to meet and talk with Joan Badger, the division's Literacy with ICT program leader and one of Canada's many shining lights.
After the keynote, I facilitated two conversational sessions, on with the division's trustees and the second with school administrators and a few teachers. They were both great fun with eager acceptance of many of the ideas that I shared and a healthy measure of grounded criticism. A certain amount of push back is an essential part of this conversation.
During the afternoon session, one of the division-level administrators shared an experience that I thought was interesting and perhaps even important — though I'm not absolutely sure why yet. She started off saying that she was one of those people who could not read a book or watch a movie a second time. Once she's seen it, she has no interest in sitting through it again. But she said that this had recently changed for some movies and TV shows.
As an example, she mentioned the AMC TV show MAD MEN. She said that she watched the episodes that were available on DVD, and then started reading some of the blogs and discussion boards about the program — intrigued by what people were saying about it, the angles that they were taking, the perspectives that they viewed the show from — which were different from hers. After spending some time with this, she said that she was compelled to watch the show again and that this thoroughly surprised her because it was squarely against here nature.
This idea of having an information experience and then paying attention to a community conversation about the experience, and then wanting to go back intrigues me. What did she gain from the conversations that gave her a brand new desire? What did she carry with her into the second viewing of MAD MEN that she hadn't had before?
Does this observation have any implications to formal education?
If we had learners participate in networked conversations about a unit of study, and then made parts (or all) of that conversation available to the next year's learners, would next year's learners have a more effective experience with the same unit of study? Might the be more motivated?
Am I asking the right questions? 😉