I'm back in the Naver Cyber Cafe at Incheon Airport, outside of Seoul, Korea. I don't know what the worlds most wired country is, but this is certainly the most wired place I've ever been. I walked through one of the gadget shops here at the airport and it was pretty much what you'd see at Best Buy, except shinier and smaller. They don't have iPads yet, but they've got some pretty cool looking web appliances.
Even my cell phones 3G Internet access is fast, at least as fast as my Time Warner Internet at home. My plan was to spend some time this morning at the hotel enjoying surreal browsing speeds, but there was a fee, and my initial calculation was $89.44 USD for the first hour. I'm pretty sure that was wrong, but it's pretty good here at the cyber cafe.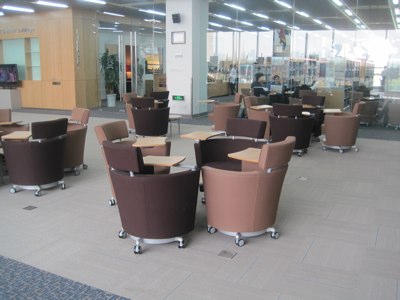 A learning commons area adjacent to the school library. All of the furniture was on wheels — even the bookcases. I'm pretty sure this was Concordia School in Shanghai
It's been a great week of working with educators at International schools from Asia and the Middle East. This is where I get pushed the most. It's an interesting paradox, where you have educators who, for a variety of reasons (not the least of which is a sentiment that leads them to an ex-pat lifestyle), are naturally creative, innovative, and adventurous risk takers. Then, on the other hand, they teach students from families who have been successful and probably consider the traditional, academically rigorous, possibly Ivy League education that they enjoyed at least a big part of the reason why — and they naturally want the same for their children.
This conflict came out most clearly, as I read through and commented on the backchannel I had running during my keynote at the EARCOS middle school principals event. It pushed me a lot to re-examine aspects of my message.
Still, many of these schools grow and innovate. I can see two other reasons for this.
First, they have money. No-brainer. They teach the children of highly successful people, who can afford and are eagerly willing to pay a price for the curriculum they want for their children.
But number two is more interesting. Someone suggested to me that part of it was the transient nature of the schools' staff. I've learned over the years that international educators typically work at a school for about 5 years. Being adventurers, they're read for a new frontier. But the schools also desire that type of turnover, because new teachers bring with them new ideas. School becomes stale when the same teachers teach there year after year.
There's one other idea I'd like to share here before I head over to my gate (and 15 hours in the air). Several times I heard people say and read in the backchannel,
Our curriculum is the contract with our parents.
It seems a powerful arrangement to me. Parents want their children in this school because of what and how children learn there. How much they learn is certainly an implied part of the contract. But it's the actual nature of the learning that they expect. I never really knew what my children were learning — not really. I knew that they were learning to read and write and perform basic math. But the curriculum was never a part of the conversations I had with my children (try it. It can't be done) and their teachers, and it was certainly not part of the up-front contract. Their schools were very slow to adopt web based classroom to home communication and it may be much better now. But it's the statistics that are collected at the end of the year that fulfills the contract — and I do not see this getting better fast enough.