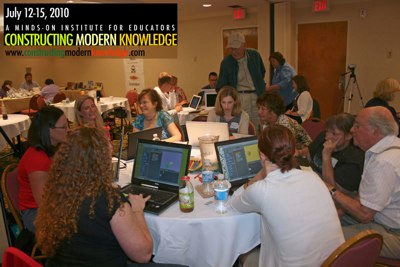 I'm going to get here one day, Gary Stager's Constructing Modern Knowledge event. Sylvia Martinez included in her tinkering session at Educon this year, some video clips of teachers working (minds-on) at last year's event. It was a tinkering session where teachers were building something from various objects they had access to, and exploring the thought processes taking place along the way.
This year guest speakers will include: Deborah Meier, James Loewen, Peter Reynolds and Alfie Kohn. You can register here and then block off July 12-15 on your calendar to be in Manchester, New Hampshire for Constructing Modern Knowledge.
I wonder if Gary would allow me to attend just the first day and the last day?