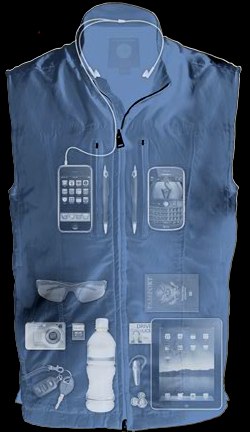 X-Ray View of the Scottevest.
One of the most continuous and vexing conversations that I have with myself is about how I am going to pack for this trip? I learned many years ago not to check luggage. It introduces an uncontrolled variable into the success of my work and an unnecessary addition to the stress of navigating my way from home to job and back.
But what I end out with is an airline compliant roller-board that is so densely packed and heavy that I'm constantly deal with strained elbow from whipping it up onto the conveyor belt at security, and a continuous (and person) quest for the perfect computer bag — one that facilitates the necessities of work and connectedness, yet prevents me from packing the erroneous and weighty devices that I want to take but never get around to using.
I may have found the solution, the ScotteVest. Those who've seen me present may have seen my poking fun at wearable computing — the clear plastic computer jacket from MIT and cell phone that you wear on your fingers. But this may actually be practical, a 22 pocket vest that will carry — well watch the first video.
What's more, it's iPad compatible.
Here are some videos that illustrate the many features of the Scottevest:
So what might we see as the definitive fashion statement at ISTE this year?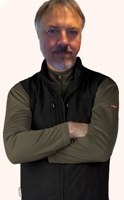 Added later: Evidently, Scott Jordan, of ScotteVest is fairly social media-concious. I started following some of the video links, clicked back to the web site, and found a fairly rich web of social connections, including Facebook, a Blog with associated vlog, a YouTube channel, twitter, LinkedIn, a Flickr site, and MySpace.
What was especially interesting was a video conversation he had with Apple. Jordan upload a video to YouTube demonstrating some of the problems he was having with his iPad. Shortly after he posted it and received a number of comments from viewers who were having the same problem, he was contacted by a tech person at Apple who walked through a few things, and then excused himself saying that he would have to schedule a time to get back and go through the issues in more detail — and would Jordan mind making his video private. He did did, thanking the tech and praising Apple for its responsiveness. He got an email back from the tech guy saying he was having difficulty in scheduling a time and to be patient — and then nothing. Jordan put the video back up along with a followup video bringing us put to date.
I did not follow the thread any further, but it's simply another example of the drama of social media and customer relations that are (and I don't use the term very often) transparent.