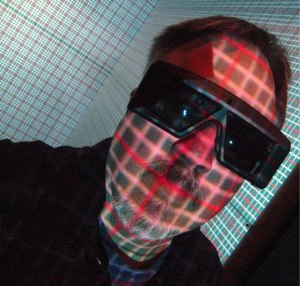 Someone took this picture of me in The Cave, a virtual reality space at Duke University. It was part of ScienceOnline2008.
With tightening (and disappearing) budgets, especially for professional development, making it to conferences that are not core education events has become difficult. Yet, it is these field-oriented PD opportunities that teachers, intent on transforming their classrooms, need to be attending — Real World.
One such is ScienceOnline2012. I attended some of the earliest of these conferences which seemed to be spinoffs from the earlier BloggerCons of a half decade ago. The desire was to explore how the work of scientists and science journalists could benefit from the World Wide Web 2.0. They were fascinating conferences, because they were at their essence, about literacy, (accessing, working, and communicating information) within a context that is real, important, and huge!  From their web site:
Every January since 2007, the Research Triangle area of North Carolina has hosted scientists, students, educators, physicians, journalists, librarians, bloggers, programmers and others interested in the way the World Wide Web is changing the way science is communicated, taught and done.
The focus of the conference has broadened substantially beyond blogs, wikis, and podcasting.  This year will include presentations from leaders in the fields of infographics, data visualization, and how gaming is being used to conduct science research.
There's not much that's better, for this confirmed and long-time nerd, than being in a room filled with scientists. Teachers and students should feel this thrill as well.
This years ScienceOnline will be held at the McKimmon Center on the campus of North Carolina State University, January 19-21, 2012. Links to the agenda, program, and registration are in the box to the right.
Organizers have always wanted to bring precollege educators to the conference, and especially teacher-student pairs.  Event sponsors are providing for scholarships for just such attendees, and you can apply for one of these opportunities here.  In the box at the bottom of the form, include your name, the name of the student, grade, and subject(s) taught.
I sure hope I can talk Brenda into sponsoring me 🙂