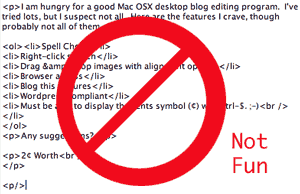 I am hungry for a good Mac OSX desktop blog editing program. I've tried lots, but I suspect not all. Here are the features I crave, though probably not all of them.
Spell Check
Right-click speech
Drag & Drop images with alignment options
Browser access
Blog this features
WordPress compliant
Technorati Tags Generator
Must be able to display the cents symbol (¢) with ctrl-$. 😉
Any suggestions?
2¢ Worth

technorati tags:blogeditor
Blogged with Flock