I'll be spending most of the day preparing for my sessions at NCAECT, North Carolina's ISTE affiliate conference — this year, being held in Concord, North Carolina, just east of Charlotte. It is a fantastic conference, not quite as large as NCETC, but certainly as rich and exciting.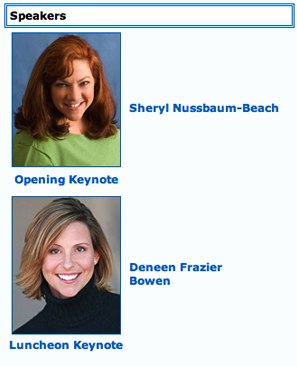 One unusual, but welcomed aspect of this conference is that both keynote speakers are women. I often hear from conference organizers that they are looking for more women to deliver their large group addresses. I am certainly looking forward to both of these, Sheryl Nussbaum-Beach kicking off the general conference on Thursday and Deneen Frazier Bowen for the closing banquet. Hmmm, do I need to add something to my name? David Aloysius Warlick?
Featured presenters include Leslie Fisher, Kevin Honeycutt (from ESSDACK), me, and Tammy Worchester (also from ESSDACK).
I'll be doing an all-day workshop tomorrow on collaborative web tools. The main theme of the day will be using the Net for personal learning — personal learning networks. I am hoping to invite some networked people in to the workshop to describe their personal learning networks, via Skype, and perhaps Ustream a final conversation about personal learning networks, and teaching and learning, tapping into some backchannel exhaust.
I'll also be doing a video games session and another PLN session at the conference, and, a real treat, Sheryl and I will moderate an EduBloggerCon at the conference. The one that Will Richardson and I did last year seemed to have been a hit, so the conference wants to continue it as a tradition.
For those who will be blogging the conference, the tags that are registered on Hitchhikr are ncaect08 and ncaect2008. Conference photographers should tag their photos the same, thought ncaect is currently being displayed on the conference page (http://hitchhikr.com/?id=297).