I arrived at the Hilton in downtown (or is it uptown) NYC about midnight last night. It's one of those cool little "Look at Me" things that occassionally acompany what I do, to land in an airport and be picked up by a limo (town car). Wouldn't seem like much to most, but where I grew up — well that's special. Of course, as I ride down that escalator at Newark Liberty Airport, there are about fifty drivers, dressed in black, probably from more than 50 nationalities, each holding a sign out with somebody's last name. They each lift their signs, as the see me paying attention, as if they're saying, "pick me, pick me!"
My driver, a very friendly young man at the end of the line, took my bags and led me out into the rain where his car was so tightly wedged into its parking place, that I had to wait (in the rain) while he squeezed into the driver's seat, and backed the car out so that there was room to open the door.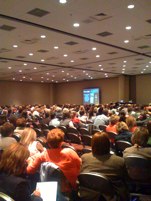 Yesterday's Literacy Promise Conference in Salt Lake City was phenomenal. Most of the presentations were very traditional, in that they addressed standard classroom challenges of teaching reading, vocabulary, etc. — and they did it brilliantly. I should buy some of their books, because the classroom ideas were amazing, all paper-based, but amazing. I presented on contemporary literacy, once in the morning and again in the afternoon. The morning session was fairly full, but the afternoon audience seemed much more filtered — many obviously warned to stay away, because he wasn't talking about OUR literacy, but a few told by the mornings attendees, you have to see these ideas. It was a great audience. This was possibly the best blogged session I've presented in a very long time, with giants like Darren Drapper and Kelly Dumont in the audience.
I'll be presenting basically the same topic today at the Teaching & Learning Celebration conference, organized principally by WNET TV in New York. But I have an interview with a station reporter earlier today, a meeting with a future client, the presentation, a book signing, a reception, and then I get to relax with my brother (who lives in NYC) for dinner. Then I fly home tomorrow morning. Sigh of relief
I think that the question that I'm walking into that interview with is, "What do we have to celebrate?" Well I think it's easy. We are teaching and learning in one of the most exciting times in human history, a time of amazing new opportunities that are limited more by our imaginations than the emerging potentials and possibilities. Of course, you can't say this without being reminded of the Chinese curse, "May you live in interesting times!"
We are celebrating those who see the potentials, not those who fear the curse.
As for me, I'm tired and ready for a routine, a few days at home, and then to a North Carolina Conference, NCAECT, that I'll travel to in my little car.