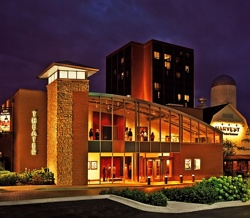 Pheasant Run Resort
This week, I'll be flying up to Chicago for the IL TCE conference at Pheasant Run Resort. I've worked at this conference once before and it has become one of my favorite. The people are great, the agenda and speaker lineup are unsurpassed, and the resort is a real treat. (See the picture)
Among the keynote and spotlight speakers are
No need to say any more, except that I will be talking about "Telling the New Story".
If you plan to blog or podcast at or about this conference, please include the tag il-tce. This will enable searching on Technorati, and it will enable conference folks to aggregate entries about the conference. Also check out the Illinois Technology Conference for Educators weblog.
Keep up the conversation!