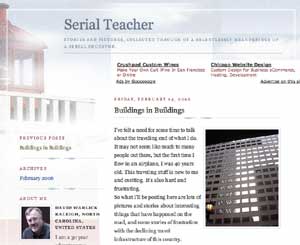 Serial Teacher
I'm following Ewan McIntosh's lead in establishing a fun blog just based on my travels. It will include pictures that I take — some because they are of beautiful places and beautiful things, and others just to prove I was there. I'll also be telling some stories about travel, and making some observations about what I see as a crumbling travel infrastructure, and stories about people who still joyously see it as their job to provide quality service to their customers.
The first entry is a picture that I took with a small digital camera (3.2 Megapixel Sony Cyber-shot) that I carry in my computer bag. It's taken in Philadelphia while I was waiting for my ride to Hershey for the PETE & C conference. There will also be lots of pictures taken with my mobile phone (Treo 600 with a truly lousy camera that sometimes delivers some interesting affects as a result its lousiness). I will occasionally carry my new Nikon D70 digital SLR camera for the truly breath-taking scenery. I will definitely have it in Palm Springs, for the CUE conference coming up.
So visit the blog regularly, or subscribe [atom]. It's called Serial Teacher.