Most of this blog post was written several days ago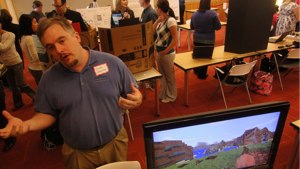 Lucas is explaining how fifth graders are using Minecraft to develop writing skills
This morning, the first info-bit to really start my motors was this Twitter post from
@dwarlick Please elaborate about Pender County and Minecraft. I'd love to hear your opinion on this.
..which resulted from a tweet that I posted from the MEGA meeting at the Friday Institute yesterday.
Pender County's using Minecraft with 5th graders. Why am I not surprised? #ncsu_mega
Pender County is one of the quieter, flatter, more humid and scarcely populated counties in North Carolina. It consists of seven towns, none of which have you heard of, including two beach communities on the Onslow Bay. But they've got some interesting things going on in their schools. I've written about Lucas Gillispie before. He's a young educator and a gamer — and one of a handful of teachers who have been, for the past couple of years, asking, "Might I use this video game experience to reach some of the harder-to-reach students in my school?" Teaming up with New Yorker, Peggy Sheehy, and now others, Gillispie is exploring the potentials of using multiplayer role-playing video games to help learners develop problem solving, collaboration and reflection skills, and to become story tellers.
| | |
| --- | --- |
| | Markus Persson (cc) by Navaboo |
So, at yesterday's MEGA meeting, he had a booth set up demonstrating Minecraft, and talking about fifth graders who are using this tamer (my supposition) video game to develop some of the same skills. For those who are not in the know, and I learned this from my son, Minecraft is currently being developed by Markus (Notch) Persson, a Swedish game developer who left gainful employment to work independently. With proceeds from the hundreds of thousands of paying Minecraft players, he has formed the company, Mojang.
The game is a 3D sandbox-style game where you mine for materials or resources and use them to build stuff. More recent versions of the game involve health points and other game dynamics, but it remains, essentially, a sandbox.
I asked Lucas where this gaming activity belongs in an elementary school, and after giving some really good answers from a rethinking how we do schools perspective, he finally said, language arts. They have only started this with 5th graders, but their plan is to have students play, build, experience the adventures and then write to audiences about those experiences.
Cool!

Pano of one room of exhibits at MEGA Mtg – May 4, 2011
Also, this is my first test of Blogsy, a blog editing app for the iPad. I like it!