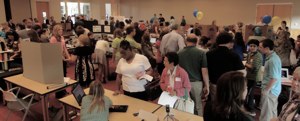 Earlier this week, I posted a blog entry about Lucas Gillispie's work with video games in the Pender County schools (North Carolina). I had run into Gillisppie at a MEGA meeting/expo, a group that formed out of North Carolina State University's College of Education eleven years ago. MEGA stands for Middle Education Global Activities. As I recall, the organization's initial focus was on science education, but it diversified over the years as did interest in elementary and high school education. Becky Reed, MEGA's manager, spent a few minutes at the end of the event reviewing some pretty impressive statistics that described their growth, both locally and globally
— and it was an impressive expo.
The picture above shows only one of three rooms filled with representatives of showcased schools from across the state, examples of what they're doing with technology in their classrooms, some students to give the learner perspective, and lots of local educators who'd come to be wow'ed.
Becky makes a big deal about how I travel the world, this big technology guru, but what impressed me was things that I saw here that I didn't know about — how classroom teachers and their tech facilitators are playing with emerging technologies — and I use the term play with the most respectful and admiring intent.
I've written about QR-codes, those two demential bar codes that can be used to access web pages and other information resources with a smart phone. I've used them for more than a year in my presentation slides, on my business card, and even in my latest book, A Gardener's Approach to Learning. But for the first time inside the U.S. I walked into an education event, and they were everywhere. Every business card handed to me had a QR Code. One of the schools is using them to direct elementary students to the proper video tutorials on their iPod Touches.
There were teachers there from the school system I served as tech director 20 years ago. They're experimenting with Nooks, the eBook reader that runs Android — some interesting potentials there.
Yet, with all of this impressive show of mostly appropriate utilization of ICT in classrooms, I remain unsatisfied with their answer to my prevailing question…
"Why?"
I honestly believe that these educators are seeking new ways to use new information and communication (literacy) technologies in teaching and learning for the very best reasons. But we need better answers than, "Because it's technology. Our children will do anything if it's with technology." ..and "this is the engagement!" pointing at the an iPod Touch.
I continue to maintain that the little box is not what engages them. it is what happens through that box. It is the information experience that…
Is responsive
is fueled by questions
provokes conversation
is rewarded with currency
Inspires personal investment
is guided by safely made mistakes
When we talk about modernizing formation education, this is what we should talk about, not the technology.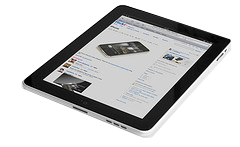 – Posted using Blogsy from my iPad