[Live Blogged — so please forgive misspellings and awkward writing]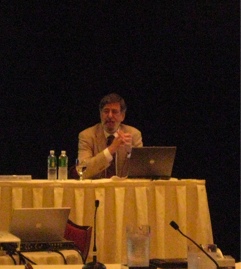 Getting ready to hear from Marc Tucker, President of the National Center on Education and the Economy, author of the Tough Choices or Tough Times report. I will be adding notes and resubmitting this blog over the next few minutes…
There is now a global labor market. There is no place to hide. We thought we could hide by highly educating our children, because only the richest countries could do that. It's not true. For every job today that is being off shored, there are ten jobs that are being lost to automation. As people become more expensive, and machines become less expensive, business has no choice but to change — move toward automation.
Teachers would be employed by the state, not by the district. They would be hired, however, by the school. NO more local financing of education. Only by the state. "There is no way that the U.S. will have a world class education as long as the wealthiest can congregate the best resources. (near quote)"
The employed will make less money and fewer will be employed. Will complanies continue to pay high wages. The answer is, "Yes!" Companies who produce higly demanded products and are the only companys who offer those products will pay high wages. That requires constant new and desirable products. He's talking about Apple as an example. This requires not only talented technicians, but a company culture that promotes and provokes creativity.
Without at least a 2-yr college degree, it is almost impossible to maintain a family and stay above the poverty line.

We are in worse shape now than we were 30 years ago.
Marc's presentation slides are available at the NCEE site.
They are suggesting that rather than testing every year, we, instead, have one test that kids can take one test, which, upon passing, they can go on to a community or technical college. The goal would be that 60% have passed it by 16 and 95% by 18. Upon passing the test, they can go on to a community or technical college. If desired, students can stay in high school and take AP/honors classes, working toward university education and professional careers. Interesting!
This will only work if we can recruit from the top third of our students for the teaching course. Currently policy goes after the bottom third. Wow!
Suggest that schools are run by third-party organizations — preferrably partnerships of teachers. Contracts would be performance based. The money would be based, also, on performance.
Today's exams are deadly. They test on a very narrow sampling of the skills that are crucial to the future. There are good exams out there. But they are expensive, by four or five times. We need fewer exams and much better ones.
This change will only happen with strong state and federal departments of education. Yet, most state DOE's have lost staff.
The report is a provocative and radical report. They have no expectation that the country will buy in or all states. But the report is written for state departments of ed, because this is where the power lever is.
There are enormous rewards to states who get it and do it right — the making of their state!