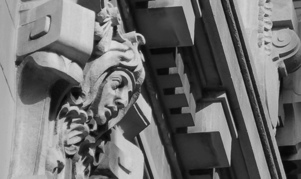 Often, when I give a presentation, I spend the next hours and days thinking through what I wish I'd said. It's a golden opportunity to be able to speak to my country's chief state school officers, state superintendents, deputies, and commissioners. Perhaps more than anyone else, they lead education here. It was an equally golden opportunity to speak to first year teachers last year — many of whom will become GREAT TEACHERS.
But when you only have an hour, and you need to plan your presentation before you get there, before you've met them, before you've seen other presentations and can absorb more of the context of your audience, and before you've heard some of the reaction afterward, then I suppose you can't help but walk away saying — I wish I'd said…
As a sidebar, the conference is making very good use of online chatting. I'm not very impressed with the mechanism they are using, AOL's IM chat room, but I have to say that I am quite impressed with the subterranian conversations that many of the superintendents are engaging in during the presentations. ..very impressive for people who are mostly my age.
I believe that it was a good presentation of information they need to see, and see again, and that it was structure and conveyed in a way that was useful. But here's what I wish I'd been able to include in that one hour and the three minutes I went over time.
The structure of my presentation was useful, but it didn't occur to me until afterward that I had fallen back on Dr. Jennifer James' elements of a compelling story. I started with the 1) market — flat world (though I didn't belabor that point, they've all read it), the economic need for the arts, etc.; 2) deeply held values — our children and their unique context and information experience; 3) something to point to to mode — new information landscape and what it means to our definition of literacy. I wish I'd made the point that these were the elements of a compelling story — and that leadership is, in no small part, about story telling.
I should have included, as a topic, that context is equal to skills, that at the same time we should redefine and help our students to learn a new model of literacy (learning literacy), we should also continue to teach context (history, science, math, language, health, art, music, etc.). Information skills are useless without a context of who, what, where, and when we are.
I also believe, and wish that I had included in the presentation the idea that new information skills should not simply be taught. Perhaps even more than skills to learn, they are habits to be embraced and ingrained in our students' behaviors. Students must not simply learn how to deconstruct a web URL, analyze the logic of an argument, research an author, and consider the opposing position. They must be in the habit of doing these things.
After my presentation and during a debriefing discussion, one of the chiefs asked (paraphrase), "but if we are teaching students to use technology, might we leave them short, if they find themselves without the technology, and, as a result, without the ability to solve the problem?"

I was lucky here. I had an opportunity to respond, and I said, "It isn't about the technology." "If we are teaching technology, and in many cases that's exactly what we're doing, then you are right to be concerned. I am too. But if we do this right, then we are not teaching how to use technology, but how to solve problems. We're teaching critical thinking, analysis of situations, resourcefulness — and with these skills, our students will learn to solve problem, no matter the technology they have access to or do not have access to."

It just occurred to me that this is a bigger question than I'd originally thought. Because it's not, "what if they do not have access to technology? but what if they do not have access to the technology they were taught? What if it's new technology." It requires a different kind of teaching and learning — and our standards need to reflect this…

Finally, and this is what I feel the worse about, the network went down in the middle of my demonstration of RSS. I was gracious. I graphically described the process — continuing to teach. What I should have done was to say, "Look! I can't teach you about this very important new way of using information, because the network is down. My teaching is over."

In the way that I reacted, regrouped, called on other resources, I was forgiving the hotel for losing its Internet connection — and by doing that I was forgiving schools and school districts for having infrastructure and technical support that was insufficient to the needs of 21st century teaching and learning — and this is unforgivable. Of course, I couldn't pitch a fit in from of these people. But it might have made an important point, if I had.
What do you think?