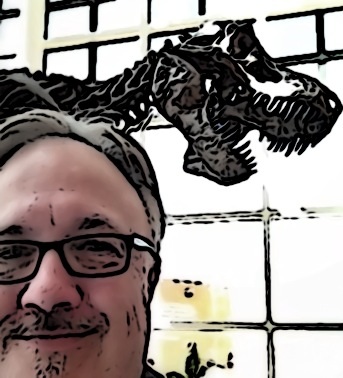 OK! This was Wyoming. So there were dinosaur skeletons everywhere.  Tyrannosaurus on the right and Warlickosaurus on the left.
During my presentation, Finding 'It' on the Net, at the WyTECC conference the other day, someone asked in the backchannel,
"How do we get educators to understand that students (should) have the freedom of using the Net during class?"
It's what I love about being able to visit the chat transcript and comment on the attendee's observations and questions. It extends the conversation and broadens the learning – including my own.
I seems that one way to convince reluctant teachers might be to ask that they imagine their classrooms with really smart students, and imagine the energy that they would generate – and then help them to understand how the Internet is becoming an extension of our/their own brains. Ask them to think of the things that they do today, that they aren't smart enough to do without the Net. I'd have no trouble doing that.
If students can lookup and evaluate information on the Net and on the fly during classroom work and classroom discussions, extending their own brains, then it may elevate the class, not to mention empower the learners.