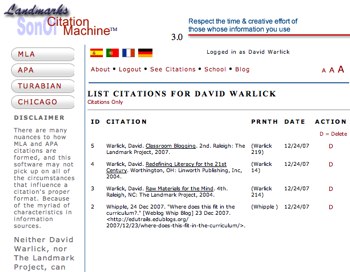 Many of the follower of my 2¢ Worth blog, already know that we've added a second web server to the Landmarks setup. I guess we have a sever farm now, though it's really more of a server backyard garden. But even at that, Citation Machine was stressed off and on through the end of the fall semester.
So, over the past few weeks of not traveling, I've been working on some new programming for CM that breaks it loose from the databases. Now, all of the coding is resident within the program itself and various config files. What this means is that it should run faster.
I have also added a new feature that is more of a beta offering, because I do not know how much it will stress the system. But for years, people have asked about the ability to have CM remember their citations for the sake of later bibliographies. Now you can do that, and here's how:
Click [Register] in the top menu to register for a CM account
If you have already registered, you can use this page to login. If not, type your name and e-mail address, make up a username and password, and select your location.
Click [submit].
Go through the process of generating a citation. When completed, you will see a [Save this Citation] button at the bottom of the page. Click this.
To view your citations, click [See Citations] at the top menu.
From here you can get a listing of the citations with dates generated, or click [Citations Only] to view a copiable version.
Great luck to you!