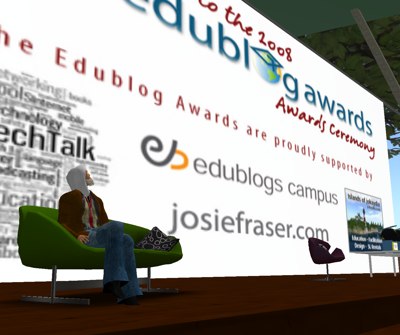 I was mostly speechless yesterday, upon opening Twitter Deck and finding a slew of congratulations.  I refused to believe it at first, but, upon clicking through to the EduBlog Awards and then the link to The winners have been announced...  Well there it was.
I'd received a Twitter congratulation a few weeks ago, my first and only known notification of being nominated for an Eddie.  It wasn't my first nomination, but when I clicked in and saw the others considered for Lifetime Achievement (Stephen Downes, Scott Leslie, Will Richardson, Nancy White, Chris Lehmann, Graham Wegner, Michele Martin, Jay Cross), well I simply put it out of my mind.
.. wouldn't you?
Then, I awoke yesterday morning to a stream of congratulations on winning the Eddie (it's heavier than it looks).  My immediate throught was the Woody Allen line in Annie Hall, "Any club that would have me as a member…"  Of course, this notion didn't last very long as I scanned the list of other winners (to the right), discovering the company I am keeping.
The winners of the 2008 Eddies are….
The thing that gives me relief (and concern) is that when I think of a Lifetime Achievement Award, I thing of an old guy, gray hair, forgotten by most, shuffling up to the stage bent over a cane.  Of the other nominees of this award, I am certainly the closest to retirement, at least as you do the math.  In fact, it occurred to both Brenda and I that this may be a not-to-subtle hint.
Screen capture of Second Life™ channel of the awards event, from Josie's blog.
My extreme apologies to Josie Frazier, Dave Cormier, Jeff Lebow, James Farmer, and Jo Kay for missing the awards event.  Again, I'd tuned the whole thing out, in an effort to avoid disappointment.  I would also have been dreadfully under-dressed.
All of that aside, I am very proud and even more honored by this award and will wear the heavier-than-it-looks badge on the right panel of all of my web sites.
Thanks to James Farmer and 

and Jose Frazier of
for organizing the awards,
…and a very special thank you to all of my relatives for voting.  Counting uncles, aunts, cousins and quarter cousins, this comprises most of the populations of Cher'ville, Delview, Little Waco, and portions of Crouse (up to O'Dells Spit-n-Wittle Handy Mart).
Cheers and happy holidays!

Powered by ScribeFire.