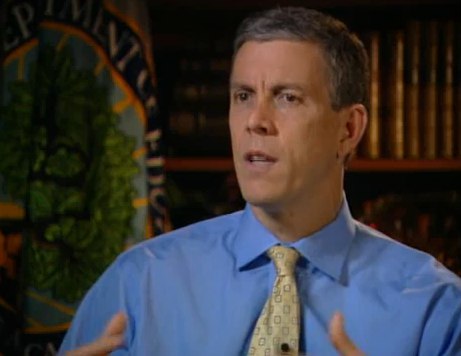 Secretary Arne Duncan talking about investment in time and Summer Learning
I ran across this video the other day and jotted down some of what Secretary Duncan said in the interview. I've only now gotten around to re-reading them and writing down some of my thoughts. I'm on board the train right now, The Carolinian, getting ready to roll across the North Carolina, Virginia boarder, northbound for Washington, EduBloggerCon, and NECC.
Time is one of those big things where we can dramatically improve student achievement.
Well, its an aspect of the work of educating other people that can be easily measured. It's a container, and it is natural to believe that if we can enlarge the container, we can, well, add more material, fuel, weight, whatever — and under most circumstances, this is true.
We can be much more creative in our use of time… thinking about longer days, longer weeks, longer years, thinking about more not just for children but for teachers for professional development.
Two strikes and one ball. We can certainly make more creative use of our time. But the creativity has to go deeper than figuring out how to add
more time. It's about making time more elastic, adaptable, look
less like a container, and more like a resource. Duncan is right that teachers need more time. We've been talking about this for a long time, and it is much more more than just professional development. Being a 21st century teacher involves planning, collaboration, research, development, liaising with the community, etc.
The interviewer continues,
You say six hours a day, five days a week, nine months a year, just doesn't seem to work. What countries are doing it right and what can we do?
Many countries are going to school 25% 30% more than we are. Our children are at a competitive disadvante. I want to level the playing field. I want our children to compete with the best in India and China, and simply put, in other countrys they're spend more time in school than we do here — I think this hurts our children.
After watching this interview, I honest believe that Secretary Duncan understands that we're talking about more than seat time. But what is going to take more courage than suggesting a 30% increase in school hours, is saying that we do not need to compete against the best of India and China, that we need to do something else. It isn't the time that is hurting our children. It is the notion that education is something that has to be done to our children, instead of something that must be grown from them. It is cultivation and conversation.
…thinking about schools being open 12 (or) 13 hours a day, 6 (or) 7 days out of the week, 11 or 12 months out of the year, I think is absolutely the right thing to do.
No! Thinking about learning experiences that are relevant to these rapidly changing times; to our children's native information experience; and an increasingly digital, networked, and info-abundant environment is the right thing to do. When we can imagine and talk about that, then we can reshape and perhaps even expand the learning time to fit it.
To be clear, how you use that time, there's lots of room for creativity. It's not just children sitting in their seats for 12 hours a day. It's opening up the schools for a variety of activities for children, academic enrichment programs for children, but also art, and drama, and sports, and music and chess, and debate, and academic decathalon, and all those things that give children reason to be excited about coming to school.
Not just for children and their older brothers and sisters, but also for parents, GED classes, ESL, family literacy nights. And the more our schools become the center of faimly acitiviy in the two heards of the neighborhoods, the better our children are going to do.
Asked about his vision of summer education Duncan said…
i think it has to stretch children. I'd like to see more students getting on to college campases. I want students to pursue their interests and passions, whether it's drama, or sports, or art, or music, or dance, or what ever it might be.
Now this excites me a bit. There seems to be room for some interesting ideas here. But, again, I think that the interesting and more relevant ideas need to come first.
Duncan described an interesting program that they implemented late during his tenure at Chicago Public Schools. They brought 15,000 incoming high school freshmen a month early (voluntary), worked toward academic support and team building, and they hired a thousand juniors and seniors to serve as mentors and help the freshmen transition in.
I have to say that I am a little more encouraged about our new education department and I see some more room for innovation and flexibility.
The conductor just came by reminding us that it's lunch time.
Powered by ScribeFire.