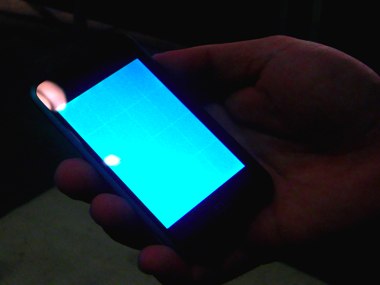 Jeremy Taylor, the high school band director, showed me this iPod midi program, which he had mapped to the auditorium's lighting system. Touching different regions of the display causes lights to rise or lower.
I'm sitting in the auditorium of the Old Saybrook High School in Connecticut.  I do not start for another hour, and since another computer is connected to the project, I have mine on my lap.  This is great, because I can keep rearranging my slides :-/
Also, scanning through my aggregator, I ran across a post (There is no need for a 'Creepy Treehouse' in using the Web in the Classroom) by my friend Bora Zivkovic, where he comments about an article that I read yesterday morning in the Raleigh News & Observer.
After my talk in Chapel Hill last week, Susan Wells, the principal of Culbreth Middle School, came up and described their project to give students iPod Touches, and how excited they are about the opportunity to explore the possibilities.  The article (An iPod Touch for each Student?) emphasizes that the district is pursuing the 1:1 access to these technologies, without a full vision for how they will be used.
Bora mentions the creepy treehouse affect, which was a new term to me.  But I wonder if, going into an exploritory adventure with technology, especially if they give students an opportunity to share their insights, the affect might be more akin to a tree-based telescope.
The line that struck me from the Observer article was…
..an experiment that would challenge teachers and administrators to ensure the hand-held devices are used as learning tools, not toys.
I understand this concern.  But might we find that a learning tool can be a toy, and that a toy can be a learning tool.