It seems that me and my Deepest Sender window have been estranged lately. By the way, Deepest Sender, a Firefox extention, is my blog editor of choice. It isn't that I haven't had blogable ideas in my head. It is that the ideas are too big, or too scattered yet, or I am uncertain as to whether the are even important. Still working on it.
Mostly, I have been stingily using my days at home to work on a programming project, trying to build a web site inside of WordPress. I am rebuilding Hitchhikr and the project seems to be progressing very well. Look for Hitchhikr 2.0 to arise in the coming days. You can give me a mountain of legos or an interesting problem to solve with computer code. It's the same joy.
I have been wanting to share a summary of a study I read about from Stephen Abram's Lighthouse (Who Blogs) the other day, while Brenda drove me to Charlotte. I read it on my iPhone, so couldn't blog about it immediately, and you may well have already read about this from other bloggers, on the very thin chance that you aren't already scanning Stephen's Lighthouse everyday.
It's a bi-annual study, conducted by the consumer intelligence firm, BIGresearch, called the Simultaneous Media Survey, or SIMM. The focus of this report (BIGresearch's SIMM 11 Profiles Bloggers ((Wissinger, Chrissy. "BIGresearch's SIMM 11 Profiles Bloggers." Simultaneous Media Survey. 12 Feb 2008. BIGresearch. 30 Apr 2008 http://www.bigresearch.com/news/big021208.htm.)) ) is bloggers, indicating in the subheading that they are younger and that a higher percentage of Hispanics and African Americans are blogging than the "general population." The following table illustrates the ethnic breakdown:
% of
Population
% of
Bloggers
White/Caucasian
76.1%
69.7%
African American
11.4%
12.2%
Asian
2%
3.7%
Hispanic
14.8%
20%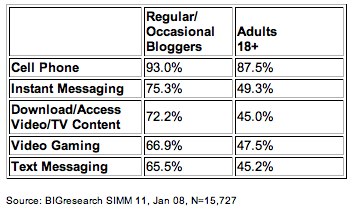 It was also interesting to see the fairly significant differences between regular and occassional bloggers' use of New Media applications compared to the general (18+) population. The article labels the applications as "Top 5," though I'm not sure what that means. See the table to the right.
Is is possible that these five applications exceed the usage of e-mail. I doubt it, but does anyone know?
I'm not sure how useful these numbers may be to educators, unless a case might be made about one of the last findings reported in the article. It says that:
More Bloggers regularly seek advice from others before purchasing products or services (21.3% vs. 16.8% of adults 18+).
They are also more likely to give advice.
But this begs the age-old statistics question, are the bloggers because they are more likely to ask questions, or are they more likely to ask questions because they blog. It seems that a logical case might be made either way.
What do you think?