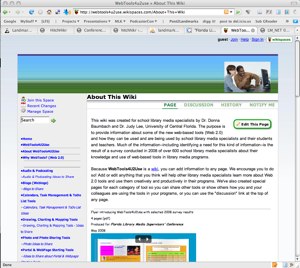 Web Tools 4 U 2 Use Wiki Site
Marlene Woo-Lun just forwarded to me a post from LM-Net (about 9 million librarians online), apparently posted by Donna (taglines) Baumbach, of University of Central Florida. ((Baumbach, Donna. "Web 2.0 Tools – Need Your Input." E-mail to LM_NET Mailing List.25 Apr 2008.)) The message is thanking more than 600 LM-Net members (school librarians) who contributed information for a giant wiki site on Web 2.0 tools —
Web Tools 4 U 2 Use
. This is possibly the largest and best organized new-web resources site I've seen, and I've del.icio.us'ed it already.
The headings include:
Audio & Podcasting
Blogs
Calendars, Task Management, & ToDo Lists
Drawing
Photo & Photo Sharing
Portal & WebPage starting tools
Presentaiton Tools
Quiz & Polling tools
RSS & Aggregators
Social Bookmarking
Social Networks, and others.
This amazing resource site was created for the Florida Library Media Supervisors' Conference (couldn't find URL) in May 2008. I hope that it continues to be available to us.
Thanks Donna!