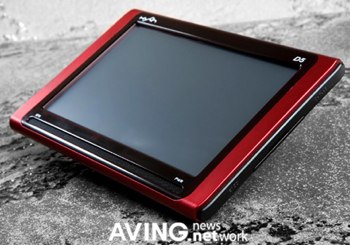 It looks like a somewhat sleeker version of the Etch-A-Sketch I got for Christmas when I was somewhat less than 10 years old. This puppy, however, sports bott T-DMB and S-DMB, displaying at an astounding 800 X 480 resolution LCD, a SiRFstarIII GPS chipset and two 1.5-watt speakers — and absolutely no aluminum powder.
To bring it down, this is an incredible GPS device that also carries terrestrial and satellite digital multimedia broadcasting. Alas, Santa only delivered them in South Korea last night.
I don't know what Santa's brought me yet. The rest of the family is still asleep and I'm taking a quick scan of my aggregator,
..and being especially thankful of for my family, my health, my friends — near and far — and for the privilege of living in such exciting times where we all have such a hand in molding the future.
Do it carefully and do it joyously!
Happy holidays to all of you!
---
Rose, 25 Dec 2007. "Hyon to Launch Dual-DMB Navigation ."
AVING Global News.Network
. 22 Dec 2007. NSBS Corporation. <http://aving.net/usa/news/default.asp?mode=read &c_num=68566&C_Code=01&SP_Num=0>.