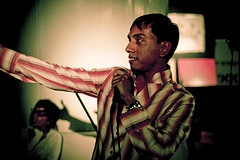 Pecha Kucha comes from a Japanese term that describes the sound of conversation — or chit-chat. It also describes a brand new medium for communication that was originally invented by Tokyo architects Mark Dytham (born in the UK) and Astrid Klein (born in Italy). A Pecha Kucha is a presentation with slide show, utilizing 20 slides, each lasting 20 seconds. So a single Pecha Kucha presentation will last six minutes and forty seconds.
The architect duo originally developed the performance medium to attract attendance at their performance space, SuperDeluxe. However, the concept has grown to almost a hundred other cities, eight of them in the U.S.
It seems, with our renewed interest in creativity, communication, and collaboration as essential skills (Partnership for 21st Century Skills & ISTE NETS Refresh), Pecha Kucha may be an interesting medium of communication for assignments that ask students to express what they have learned. Twenty by twenty may be a bit large for some assignments, but it may be ok to assign Half (半分) Kuchas or Quarter (四分の) Kuchas.
As I was reading about Pecha Kuchas, I was envisioning self-contained presentations, with audio built in. But seeing some of the events, they are stand-up presentations with timed slides counting down. I'm thinking, however, of including videos of 20/20 versions of my presentations with my online handouts.
Anyway, here are a few resources that you might access to learn more about this communication scheme:
---
Image Attribution:
Lativ, Moed. "Pecha Kucha Nite, By British Council."
Moediativ's Photostream
. 23 Jun 2007. 25 Aug 2007 <http://flickr.com/photos/ml/604026958/>.