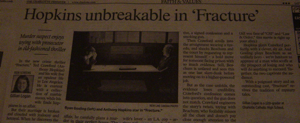 I'm at home, in my home town, in western piedmont North Carolina. I was just reading a movie review in the Charlotte Observer about Fractured, a suspence thriller that Brenda and I went to see last weekend, and thoroughly enjoyed.
The review was right on, reporting just enough of the plot, the ease at which Anthony Hopkins played the confident but obviously guilty murderer, and Ryan Gosling as the over confident and unlikely hero.
At the end of the article, the reviewer was described as a 12th grader at a Charlotte high school — and they provided a picture of her. This confuses me in about seven different ways!