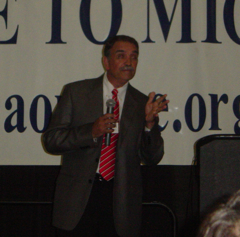 Steve Mazingo, Superintendent of Greene County Schools
On Wednesday night, I was invited to a leadership dinner at the MICCA conference in Baltimore. It was good food and good thought. Anthony Salcito, General Manager for Microsoft Education, gave an engaging presentation about Philadelphia's School of the Future. He talked mostly about what went into the planning and the catalyst for wanting to create models. Salcito said that they were spending less per child at the School of the Future than was being spent at other Philadelphia schools. I'd like to see that analyzed and explained.
Salcito was followed by Steve Mazingo, Superintendent of Greene County Schools in eastern North Carolina. As Anthony described what went into the planning for 21st century learning environments, Mazingo demonstrated what the outcomes might be. I grabbed a couple of his slides with my camera, and according to Mazingo…
53% of high school students were at or above grade level before 1:1, and now it's 78%
59% of middle school students at or above grade level before, and now it is 76%
Prior to 1 to 1 laptops, 25% of high school graduates entered college. Last year it was 79%. 84% have already been accepted among this year's graduating class
Teen Pregnancy rate was #2 in North Carolina. Now it's #18.
I know Greene County and much of that part of the state. It is incredibly economically depressed. It is almost exclusively agricultural with almost no industry. Mazingo reported that they have just built a community recreation center and a golf course resort, and in the first two weeks, they sold out on the first two phases of property offerings — people who wanted to move in. Knowing the area, this probably impressed me they most. They've made Greene County a place people want to move to.
I'm sure there are other factors, but I suspect that their 1:1 initiative was the catalyst…
Oh yeah! I almost forgot. We are so often impressed by the multimedia shows put together by young students. At the end of his presentation, Mazingo played a multimedia show that he, a superintendent, had produced. Now I'm really impressed 😉