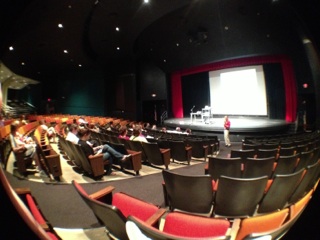 One of several sessions conducted that day (and the day before) by the high school principal for parents about the 1:1 program
I am home from a grueling couple of days in Eldridge, Iowa, where I spoke to parents and community members of the North-Scott School District and then to the faculties of the junior and high schools. North-Scott is implementing a one to one program for secondary schools, and the superintendent and school board members thought it might help for me to deliver a couple of kickoff presentations. They'd seen me at the Iowa Association of School Boards conference a few months earlier. I must have been in the zone that day, because I'm spending a good bit of time in Iowa in the next few months. No other explanation.
First of all, the community session enjoyed an excellent turnout. Too often, when I volunteer to do these things, I'll get only a dozen or fewer parents show up. Just too much else going on. But the seventy-some people who showed up were engaged and put me through rich and progressive Q&A afterward. There was a lot of concern about how teachers were going to learn to implement the devices and how they were going to keep up.
The next day, the principals and ed tech staff did something that I haven't seen before. They ran and EdCamp-style event between the two presentations I delivered, three sets of concurrent sessions, which the teachers defined in the auditorium and one of the principals typed into a Google Doc schedule. Then they all walked up, took pictures of the schedule with the phones and set out to learn from each other.
I have to confess that I was a little skeptical about this experiment. Most EdCamps are attended by teachers who are already pretty Web 2.0 savvy and committed to the whole value-of-the-audience thing. But I've never known of this type of unconference PD being imposed on a group of teachers. These guys surprised me. I spent some time in about a third of the conversations, and they were active, rich with questions and answers, entirely focused on learning, and most had at least a couple of people who had experience with the topic at hand. All of the teachers were engaged and seemed truly appreciative.
I have spoken to lots of faculties, who were told to be there and I often get the sense that my goal is to get the clueless to get one, a clue. But lately, that whole thing seems to have changed. The clueless seem to be very much in the minority, and they are paying attention to their colleagues who have knowledge and attitude.
It was a hard couple of days for me, but incredibly rewarding and encouraging.