You may see more politically-focused writing from me in the near future. Though I'll continue to write about education, certain developments here in North Carolina and in the United States have me concerned about the future of public schools and the future of democracy.
Communication:
Suffered from the decline of tobacco and cotton, and local manufacturing, the town of Wilson (pop 50,000) decided to reposition itself for the emerging digital economy. With a long history of investment in local infrastructure and utilities, the town built Greenlight, a municipally owned and operated fiber-to-the-home optic communication network. The decision and its subsequent implementation earned the town recognition and praise and, according to a recent ILSR paper, "
People and businesses have moved to Wilson to take advantage of the new network and even some who initially opposed it are now strongly supportive.
One of its most avid and vocal supports has been Branch Bank & Trust (BB&T), a major employer in the town.
Wilson had long been frustrated by the poor service provided by CenturyLink and Time Warner and tried for years to work with the incumbent providers to improve the town's and county's broadband service. CenturyLink (then EMBARQ) worked with the city for a time, but then backed out. Time Warner had literally laughed at the idea. (O'Boyle, 2001)
By 2011, customers of Greenlight were the first in the state to enjoy 100 Mbps home service. Businesses could purchase up to 1 Gbps with existing equipment and even higher speeds could be accommodated. The price for home service was less than what families in neighboring communities were paying for a tenth of the speed. (O'Boyle & Mitchell 2012)
That same year, North Carolina's legislature, which had just won Republican control for the first time since reconstruction, passed House Bill 129, called "Level Playing Field/Local Gov't Competition." The law effectively stops local governments from competing with telcos by preventing them from establishing their own common-good broadband services. Backed by Time Warner, AT&T, CenturyLink and the North Carolina Cable Television Association (NCCTA), and more than a million dollars ($1,159,930) that they donated to state legislative campaigns – and supported by the American Legislative Exchange Council (ALEC) (O'Boyle & Mitchell 2013), the law follows a disturbing trend in this state – the legislative takeover of local governments' authorities to implement taxes, enact environmental regulation and manage their own landfills, water infrastructures and airports, to mention only a few.
Education:
On another front, our General Assembly, further empowered by the obscenely funded 2012 elections (infographic to come) that resulted in a Republican Governor and more conservative ALEC influenced legislators, has set about what I can best describe as the systematic discrediting and disassembly of public education in North Carolina.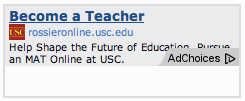 Ironically, the Fayetteville newspaper web page cited here also displayed this Google ad urging readers to consider becoming school teachers.
They have dramatically cut funding and vital programs, eliminated class-size caps, phased out teacher tenure, eliminated higher pay for teachers who earn graduate degrees and eliminated more than 5,000 teaching positions and nearly 4,000 teacher assistants. (Hasty, 2013)
During the same legislative session, state law makers, seeking to save deserving children from our "failing public schools," appropriated $10,000,000 of taxpayer money to award $4,200 vouchers to families so that their children can attend private schools. The program grows to $40,000,000 the second year. Portrayed as a "way out" for low performing public school children, a fiscal note that accompanied the original bill (House Bill 944) showed that 30% of the children receiving the vouchers were going to be attending private schools, even without the vouchers.
Conclusion?
If we might follow the purpose and practice of this regressive regime down a few more legislative sessions, it may not be too extreme to envision a law that prohibits local towns and counties from providing public schooling for their children.
The tax which will be paid for [the] purpose [of education] is not more than the thousandth part of what will be paid to kings, priests and nobles who will rise up among us if we leave the people in ignorance.
–Thomas Jefferson to George Wythe, 1786. (Coates)
Coates, E. R. (n.d.). Favorite jefferson quotes: From the writings of thomas jefferson. Retrieved from http://www.famguardian.org/Subjects/Politics/ThomasJefferson/jeff5.htm
Hasty, K. (2013, July 26). Partnership for children luncheon: Governor's education advisor says there's hope for n.c. schools. The Fayetteville Observer. Retrieved from http://fayobserver.com/articles/2013/07/26/1272034
O'Boyle, T., & Mitchell, C. (2013). How national cable and dsl companies banned the competition in north carolina. Retrieved from Institute for Local Self-Reliance website: http://www.ilsr.org/wp-content/uploads/2013/01/nc-killing-competition.pdf
O'Boyle, T. (2001, April 19). Interview by Grant Goings
O'Boyle, T., & Mitchell, C. (2012). Wilson gives greenlight to fast internet. Retrieved from Institute for Local Self-Reliance website: http://www.ilsr.org/wp-content/uploads/2012/12/wilson-greenlight.pdf