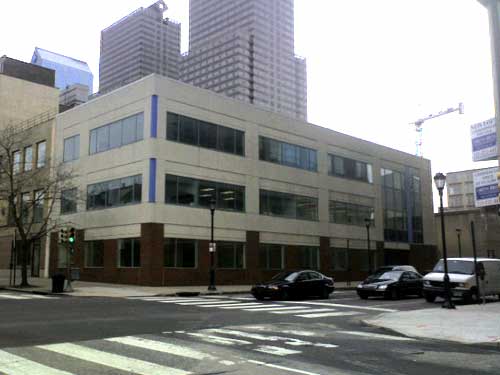 Science Leadership Academy, Philadelphia
Yesterday, I visited a school that is brand new in almost any way that you can imagine, and in many ways you probably couldn't. Led by Chris Lehmann, the Science Leadership Academy is a new school (approximately five months) in inner-city Philadelphia. It is also one of the only schools that is explicitly labeling itself and putting into practice School 2.0 — a conversation I would like to have had more of yesterday. Evidence of this conversation was everywhere and by every stakeholder (the parents have their own room).
It is a 1:1 school. All the students carried bookbags, but in most cases they were empty except for a Macintosh iBook (or were they MacBooks — I've lost track). In the classroom, these computers are open more than they are closed. Teachers are directing students in work, not in listening. The computers are not talked about very much, perhaps only a little more than pencils are talked about in traditional classrooms, and this is a good thing. I suspect that five months from now, they'll be talked about even less.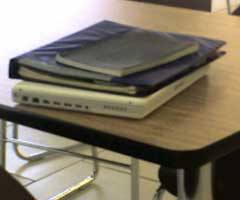 Contents of an SLA Bookbag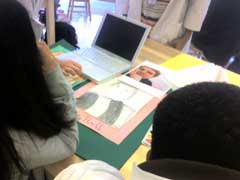 A laptop with water colors. Eggads!
A sign of things to come!
..and this is what I look forward to now — revisiting this school in five more months. What I saw yesterday was a school that is looking for pavement, and it's exciting. You see, this is a school that has opened up. It's opened up its curriculum, its resources, its pedagogy, its schedule, and even more importantly, its avenues for communication, using the latest in Web 2.0 applications (Moodle, elgg, del.icio.us, blogging, podcasting, and others that I heard mention of yesterday). Their challenge is that these 14 and 15 year old students are finding themselves floating in this open environment along with teachers who are mostly coming from traditional schools. But I saw students and teachers desperately and skillfully trying to find and define the new boundaries that these new avenues avail and to use those boundaries for traction.
The word that I most often think of to describe school 2.0 is conversations. In old school, conversation usually goes in one direction. From teacher to student, from textbook to student, from worksheet to student, and the student responds through tests and essays. In School 2.0 the conversations are alive and they flow in almost any direction. I heard reference more than once yesterday to a new conversation between the school and the community, and students are becoming responsible for much of that conversation.
But this is an enormous challenge, and the word that I couldn't think of yesterday that I think best describes their challenge is channel. They are trying to re-channel learning through a learning environment that is no longer a shoebox, but a vibrant network of conversations that are spoken, written, and drawn, tagged, posted, read, built-on, responded to, and re-tagged and posted again. Those of you who are practiced in Web 2.0 applications know what all of this implies — learning through conversation and crafting classrooms that can channel that conversation in potent ways.
Today, I visit one of the oldest schools in North American, a school that first opened its doors to learners in the 17th century. I'm sure I'll have more to say tomorrow — when I'll be back home for a few days.