6:03 AM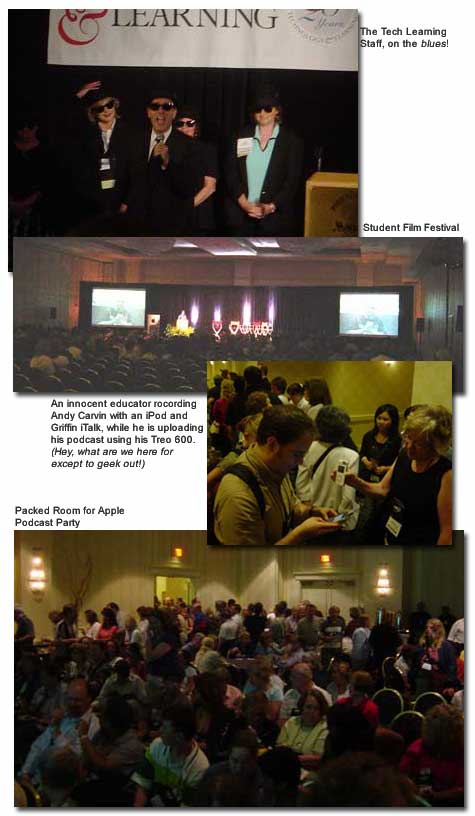 Last night will go down as a high point in 2005 NECC. First of all, I went to the Technology & Learning Reception, celebrating their 25 years in service to educators. It was outstanding fun visiting with old friends and making some new ones. I'd planned to also visit at least one other reception, but fatigue and lack of time prevented it. I did make it to the student film festival, which, as anticipated, knocked my socks off. They were all not surprisingly good, and a few were professional quality in the production and imagination. I'm convinced that kids look at video information in ways that I don't. They see nuances in how information is delivered, and leverage them in their own productions. I was more than impressed.
As the showcase was ending, Andy Carvin ran up to me and Clint Kennedy, saying that there was a long line at the door to the Podcasting party that Apple was putting on. To be honest, I was expecting a birds of a feather type session with 15 or 20 geeks talking about how the generated their RSS feeds. The line was long and thick, awaiting the gates' opening for a rock concert. We got in line and performed a dueling podcast.
They got half of us into the room and decided to do two parties so that everyone who came could have the podcast experience. Apple's presentation was quite good. They presented the podcast concept very clearly — impressively clearly. Although podcasting is quite simple, the vocabulary and the exceptions can make it confusing to someone who is learning from scratch. Andy Carvin did catch them on one, very important, exception, and the speaker acknowledged the omission. Still, the point was to portray podcasting as a communication avenue that is simple — made infinitely more simple by iTunes 4.9. "Yaaaaaay!"
Now, Apple is at NECC to make a living, as am I. So I blame them for nothing about their presentation. But during my session tomorrow, Step Aside, CNN! I'm Listening to My Podcasts [12:00PM, PACC 113A], I will acknowledge the real pioneers of education podcasting, and many of them will be in the room.
I must confess some skepticism about podcasting's hype. It's part of being more than a half-century old. Most of the people I talked with in line, did not know what podcasting was. It is a buzz. It is the new "thing". It does have enormous potential, but not as the new technology to integrate into the classroom. Its potential is in helping students learn to communicate richly and compellingly. Its potential is in bringing rich and appropriate content into the classroom that plugs into learning styles that textbooks just don't hit. It's not about technology. It's about the "new shape of knowledge" — the changing nature of information.